Peaches, pecan pie, and fish! There are a lot of reasons to plan a trip to Georgia.
The lakes, rivers, and coastal waters present all sorts of fishing opportunities. Some Georgia fish prefer shallow marshy waters, others thrive in the cool depths of large lakes. Whether you want to try trolling or casting, you'll be able to take your pick. Let's explore the best species for summertime fishing.
Read on to learn about the 6 best fish to catch in Georgia this summer!
1. Trout
When you're fishing Georgia lakes, you have to try your hand at catching trout. There's a variety of trout here, but the 2 most popular this summer are rainbow and browns. These trout thrive in water temperatures between 50-60 degrees, so they're active during the summer.
From mid-spring throughout the entire summer, the Georgia trout are abundant. Popular fisheries focus solely on raising brown and rainbow trout. Some of these hatcheries sit in Clayton, Buford, and Summerville counties.
Wild trout streams provide self-sustaining fisheries with brown, rainbow, and brook trout. If you get lucky, you might find all 3 trout in a single stream. However, it's more common to see rainbows and browns dominating the environment.
Fishing Tips
The key to success is to use a lure or fly with a single hook. Flies usually come on a single hook already. However, spinners and crankbaits are generally on a treble hook. You'll want to remove the treble hook and use a single hook that's the same size as the flies.
Match the lure size to the size of the common trout in Georgia. Hatcheries usually stock trout between 10-15 inches in size. Once your gear is ready, head out for some fun in the sun, fishing style!
2. Crappie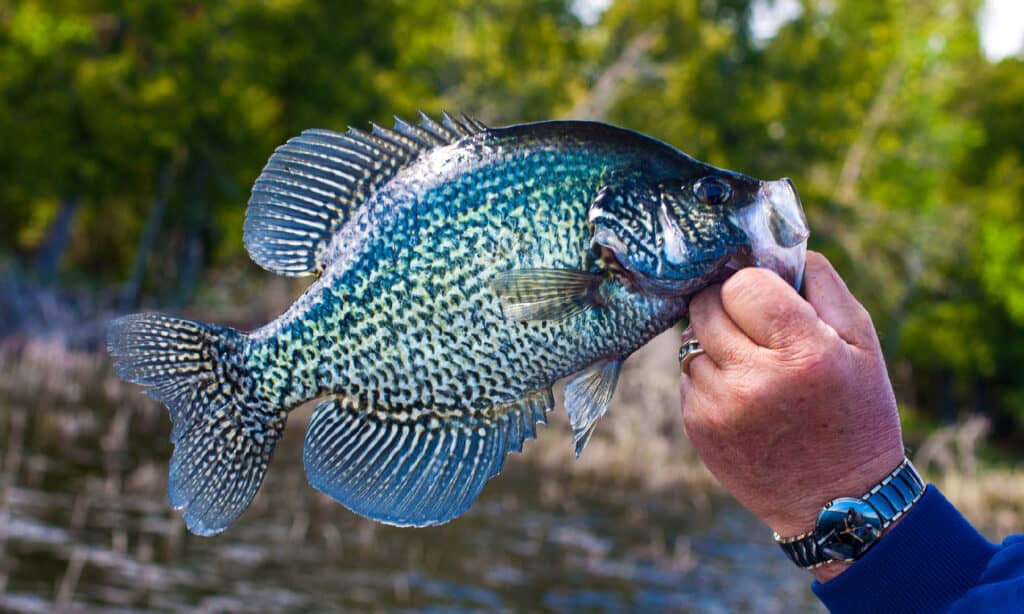 The warm summer weather means the crappie are ready to spawn in Georgia. Even after spawning at the beginning of summer, these fish are active. After all, they still have to eat!
One of the best places to find crappie is at Clarks Hill Lake. The lake is enormous and covers a whopping 71,535 acres. There are a lot of creeks feeding the lake and more than 1,200 miles of shoreline. You'll enjoy large open water areas and gorgeous views.
You can also try fishing Lake Oconee in Greene County. There are a lot of crappie tournaments at this lake, and it's also quite large. Lake Oconee has 19,050 surface acres, and it's the perfect shape for promoting fish activity. The narrow lake keeps the waters moving, which is ideal for attracting hungry crappie.
Finally, try fishing Lake Sinclair, a 14,750 surface acres reservoir. The Georgia Department of Natural Resources manages the Sinclair fishery. You'll quickly catch fish in the 10-15 inch range. 
3. Redfish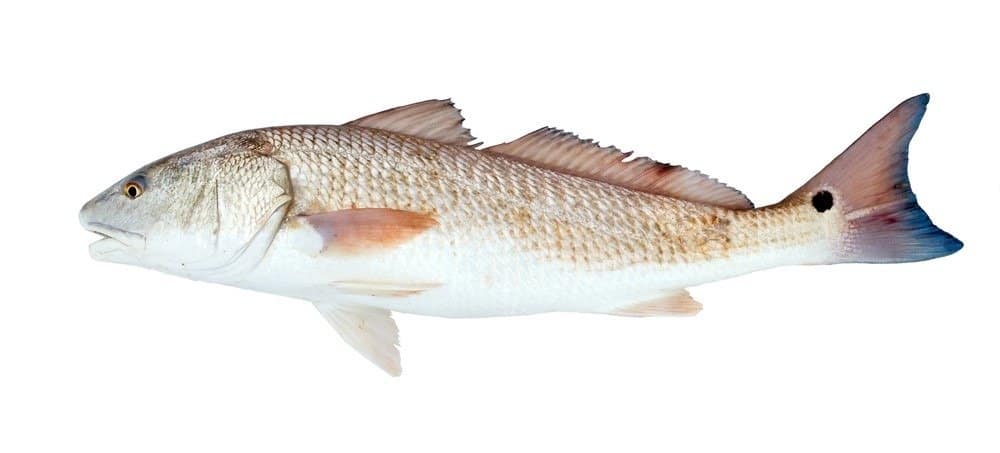 How would you like to catch a huge bull redfish? This fish is on our list of the best fish to catch in Georgia because they get so big. Larger reds weigh 25 pounds or more and grow to be between 14-23 inches long. The best fishing technique will depend on what type of red you're targeting.
Fishing Tips
To catch a yearling, you'll need to focus on fishing the marshy waters. Yearlings feed aggressively and like hanging out in shallow water. They'll be eager to take artificial and live bait. Shrimp, minnows, mullet, and cut bait will work well.
When the reds are 2-3 years old, they'll forage in deeper waters but still prefer marshy areas. You'll have to be stealthy and move slowly along the water, looking for fish activity. Finally, bull reds hang out by the sandbars. Bull reds swim in large numbers, and they're voracious feeders!
4. Flounder
Crabs, sardines, minnows, and shrimp all work great for catching flounder in Georgia. Sometimes referred to as fluke, flounders will eat any time of day. If you want the biggest flounder, focus your efforts in the early morning and late afternoon hours. Nighttime is fun for catching undersized flounders and escaping the summer sun.
Fishing Tips
Since they have large mouths and are aggressive biters, you'll want to use a wide gap or fluke hook. You can also catch flounder with small hooks baited with sweet corn or prawn. As long as you're willing to alternate a variety of baits between the hooks, you'll make regular catches. 
5. Mahi Mahi
Mahi Mahi, or dolphinfish, is one of the largest pelagic fish you can catch in Georgia. These fish have gorgeous green, blue, yellow, and striking purple colors. It's common to catch dolphins that weigh 30 pounds or more. You'll need to head to coastal Georgia to find these saltwater fish.
Along with tasty dolphinfish, you'll also have access to sailfish, wahoo, snapper, and grouper. Since dolphins are carnivorous, the best bait tends to be ballyhoo squid.
Fishing Tips
Mahi is a fish for experienced anglers. You need skills, high-quality gear, and an understanding of the fish's behavior. For instance, knowing where to look for mahi will already put you ahead of the game.
You'll get the most action in depths between 100-300 feet. It's here in these deep waters that they forage for food. Amazingly, mahi and other deep water fish call out to each other, and the choruses create a rich soundscape in the coastal waters. You can use special electronics to locate them faster. Just make sure you're familiar with your equipment before hitting the waters.
6. Catfish
Catch a Georgia classic, the giant catfish! One of the best spots right now is in the Altamaha river. The river sits in Wayne county, and it's a catfish hotspot. Flatheads can easily exceed 80 pounds, and channel catfish can reach over 40 pounds!
Fishing Tips
For most bites, you'll want to use live bait. The bigger the bait, the bigger the fish will be for you to catch. If you wish to have a bragging-size catfish, you need a 7-8 inch bream as bait. You'll also want to target deep holes and focus on the bends of rivers. Let the bait drift into the holds and use heavy tackle. You can also try setting up along a sandbar. You'll get bites if the shoal is inside the river bend. 
---
The Featured Image
---