Animals that are amazing, powerful, and dangerous abound on the planet. But, you might be intrigued to learn that more frightful creatures may have trod the earth's surface in the past. 
The first animal that springs to mind has to be a dinosaur, including the fearsome Allosaurus and the dreaded T. Rex. But, there is more to extinct animals than just that. More vicious, dreadful, scary, murderous, and absolutely repulsive animals formerly roamed the planet. In fact, we are relieved that they are no longer alive. 
The following list of the 15 most terrifying extinct animals includes creatures as large as the Titanic and crawlers the size of elephants. Some of these are sure to give people nightmares. We are quite fortunate that they are no longer around.
Edestus
A mystery fish that has been extinct for a long time may be the first known animal to kill its food by vertically thrashing its external teeth, according to a new study into its feeding habits. Tropical regions of the planet were covered in lush fern and pine forests. Some of the forests towered 100 feet above the surface, during the Carboniferous Era, some 300 million years ago. 
The Edestus possessed a symphyseal tooth pattern and a curve of teeth that many have compared to pinking shears on the top and the floor of its mouth. Paleontologists have pondered how Edestus used its tooth whorls to capture and consume its food for a long time because of its extremely unusual tooth morphology and highly curled whorls.
Titanoboa 
There once was a gigantic snake stalking its victim deep in a South American forest. The stealthy hunter would creep up on an unwary animal and then strike in an instant. Often snapping its victim's neck in one rapid motion.
The Titanoboa snake approached its prey 60 million years ago, but the prey didn't even hear it coming above the din of the ancient jungle. Titanoboa was an enormous snake that once roamed present-day Colombia, measuring up to 50 feet long and 2,500 pounds in weight.
This massive serpent was three feet wide at its thickest point, which is longer than an arm. Titanoboa blended beautifully in with the steamy, muggy jungle because of its brown skin, which was hidden entirely as it slithered through murky water.
Megapiranha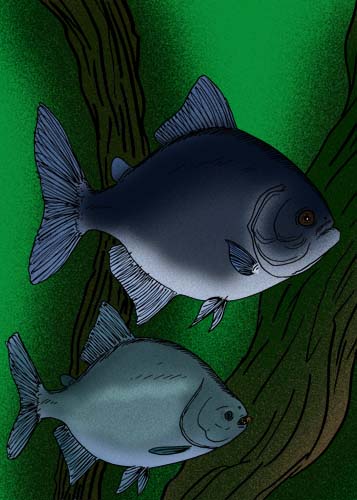 How big of a fish was Megapiranha? You might be surprised to discover that this prehistoric fish, which dates back 10 million years, weighed just 20 to 25 pounds. Piranhas of today weigh a maximum of two to three pounds. 
Based on a recently released study by an international scientific team, Megapiranha was at minimum ten times as big as present-day piranhas. It had even more force behind its lethal jaws.
The black piranha, the largest species of modern piranha, can bite with a bite force of 70 to 75 pounds per square inch. This is almost 30 times its own body weight, to devour prey. This new research reveals that Megapiranha, on the other hand, bites with a force of up to 1,000 pounds per square inch. This is around 50 times its own body weight.
Safe to say you wouldn't want to be caught in the water with one of these bad boys! 
Phoberomys Pattersoni
Today, guinea pigs are a common pet. Yet, eight million years ago, it would have been challenging to locate a cage big enough to house one. 
Before then, a mouse from South America by the name of Phoberomys Pattersoni could get as large as a bison. Researchers have come to this conclusion after discovering some new Phoberomys fossils in northwest Venezuela. The rodents may have been able to weigh more than 1,600 pounds, according to examinations of the eight million-year-old fossils. 
The rodent species Phoberomys is a member of the caviomorph family. They are genetically linked to capybaras, chinchillas, and guinea pigs of today. Phoberomys was initially discovered by scientists in 1980. Its bone and teeth relics weren't complete enough until recently for them to determine the size of the animal.
Haast's Eagle
The greatest predator in New Zealand's prehistoric wildlife was his enormous indigenous eagle. With a wingspan of up to 10 feet and a weight of up to 40 pounds, it is the largest and heaviest eagle species ever described. 
It possessed a body and wings of a massive eagle, legs and a bill stronger and larger than the largest existing vulture species, and feet and claws as big as those of a current tiger. About all of its skeleton has been discovered. 
Because of these qualities, it dominated the South Island terrestrial ecosystems during the prehistoric period. Similar to the well-known moa, Haast's eagle evolved across several glacial times, when having a larger body would have boosted its chances of surviving, and it survived. 
Julius von Haast, the first director of the Canterbury Museum, inspired the naming of the species.
Pentecopterus Decorahensis
If a sea creature isn't built like a predator, you wouldn't name it after a Greek vessel. Such is undoubtedly the case with the recently found Pentecopterus, an enormous sea scorpion that resembles a penteconter, one of the earliest Greek galley ships, according to its streamlined characteristics.
 According to a Yale University study team, Pentecopterus, which could reach heights of nearly six feet and had a broad head shield, a compact body, and big, grasping appendages for entangling food, existed 467 million years ago. 
It is the earliest eurypterid ever described, which is a phylum of aquatic arthropods that includes the current spider, lobster, and leech. At this point in the article, we think it would've been best to stay out of the water all those years ago. Well, just wait for the next extinct animal! 
Megalodon
Megalodon, one of the biggest monsters to have ever existed, is fascinating to humans for a good reason. Twenty million years ago, the earliest megalodon fossils were discovered. The gigantic shark ruled the oceans for the following 13 million years before going extinct just over three million years ago. 
This enormous shark is well-known for inspiring the film The Meg released in 2018. Yet, these creatures were a tad smaller in size than the imagined 75-foot-long monster. According to estimates, Megalodon reached a maximum size of between 45 and 60 feet, which is three times more than the biggest great white shark ever seen.
O. megalodon was a warm-weather species that can be found in tropical and subtropical regions all over the world. Megalodon teeth have been discovered on every continent but Antarctica, proving how globally distributed the creature was.
Meganeura
Around 300 million years ago, during the Carboniferous period, a genus of prehistoric insects called Meganeura resembled and was linked to modern dragonflies. From 25.6 inches to over 28 inches, its wingspans range. 
One of the biggest species of flying insects is M.Monyi. Meganeura were predators, and other insects made up the majority of their diet. Meganerua spent most of their lives in the air; they only come to land to breed, lay eggs, find refuge from storms, and occasionally consume prey. In regions with water, larvae lived in vertical burrows. 
They were ambush predators during this stage of their development, eating spiders, bugs, and small amphibians.
Dunkleosteus
Dunkleosteus was one of the planet's first apex predators, terrifying subtropical waters 360 million years ago in the Devonian Period. This creature was equipped with a mouth that could tear a shark in half. It has an armored face only a parent could love. 
The enormous fish may have been as long as a semi-truck, according to some estimations. The arthrodires, a prehistoric fish group that dominated the oceans during the Devonian, included Dunkleosteus. 
Only the heavy armor plates that covered Dunkleosteus's head and neck were recovered as fossils. The majority of its body was likely built of brittle cartilage. These plates protect the predator's sharp teeth, but they don't tell anything about the remainder of its body.
Deinosuchus
Many people are scared of alligators and crocodiles. Just wait until they see a Deinosuchus. Between 83 and 72 million years ago, the greatest predator in North America was Deinosuchus. 
An extinct giant relative of alligators called Deinosuchus riograndenis was the main predator in the estuaries and waterways along the east coast of southern Laramidi. Deinosuchus is believed to have grown to be more than 300 feet long and 14,000 pounds in weight from fossil remnants. This is considerably beyond any existing alligator or crocodile.
It preyed on dinosaurs, as evidenced by bite marks that have been preserved on fossilized dinosaur bones. It was twice as big as the largest tyrannosaurs of its day.
Phorusrhacidae
The scientific name for these birds, which are popularly referred to as "terror birds," is phorusrhacids, after the family to which they all originate. With a name like that, there's no wonder why they've made it on this list! When Florentino Ameghino named it in 1887, there was no history of huge carnivorous birds in South America. 
Phorusrhacids resembled other giant flightless birds in their physical characteristics. The ostrich is commonly used as an approximate gauge for size. Phorusrhacids frequently had extremely long legs, which allowed them to carry themselves up off the ground when they ran.
Even though they were swift runners, terror birds might have approached prey by hiding in a bush. This is due to the fact that their huge, and more critically tall, bodies would be simple to spot from a distance. This gave herbivores the opportunity to cover more land before being discovered by their predator.
Hallucigenia Fortis
About 500 million years ago, in the middle of the Cambrian epoch, hallucinations were a thing. This time period followed the "Cambrian explosion," during which the diversity of life on Earth expanded from simple, multicellular organisms to complex organisms, the ancestors of modern animals. 
The first remains of an odd, worm-like organism were found by Charles Doolittle Walcott in Canada's Burgess Shale in 1911. Mr. Walcott was a renowned paleontologist who went on to lead the Smithsonian Institution from 1907 to 1927. Lars Ramsköld and Hou Xianguang made the first about-face in the tale of this monster fifty years after Walcott's finding.
These creatures had plates on their backs instead of spines. This made it simple to distinguish their "tentacles" from what they actually were: legs. In addition to having lengthy spines on its back, which were likely employed for defense, Hallucigenia also had teeth surrounding its mouth, two basic eyes, and teeth within the throat-like portion of its gut, which were likely utilized for digestion.
Anomalocaris
Think of the Cambrian Explosion 530 million years ago, when the waters were teeming with organisms that are unknown to us today. Anomalocaris, which means "unusual shrimp" in Greek, was a dominant predator in those prehistoric oceans. 
The Burgess Shale in Canada, as well as strata in China, Greenland, Australia, and Utah, include Cambrian fossils. This demonstrates the global distribution of this enormous, extinct shrimp at that time.
The largest fossilized animal found in the Burgess Shale is the "unusual shrimp." It could reach a length of six feet. Scientists have gained an understanding of Anomalocaris' manner of movement and its aggressive behavior from scientific investigations of fossil parts of the body and whole specimens. 
Anomalocaris had stalked large eyes with thousands of lenses, giving him razor-sharp vision. It was probably a quick swimmer due to its rumored rippling swimming pattern. The creature had sharp points on each section of its front limbs. It allows it to seize its prey once it had caught up to it. Its superior vision, quickness, and thorny front arms would have rendered it a fearsome predator.
Arcdotus
Short-faced bears belonging to the extinct genus Arctodus once roamed North America some 12,000 years ago. The smaller short-faced bear (Arctodus pristinus) and the larger short-faced bear (Arctodus simus), commonly referred to as the bulldog bear, are two known species. In the geologic record, both species are comparatively uncommon. 
Arctodus simus is thought to be one of the biggest recorded terrestrial mammalian carnivorans that have ever lived. It is now thought to be a massive omnivore. Females of adult A. simus clustered around 1,100 pounds, with weights ranging from 660 pounds to 2,100 pounds.
Both Arctodus species exhibit significant intraspecific diversity. The sexual dimorphism that results in smaller, more delicately formed females and larger, gigantic males is mostly responsible for this diversity. 
Most researchers today agree that Arctodus simus was a massive, aggressive omnivore with a varied, locally adapted diet similar to the brown bear. It developed from the smaller A. pristinus over one million years ago.
Gigantopithecus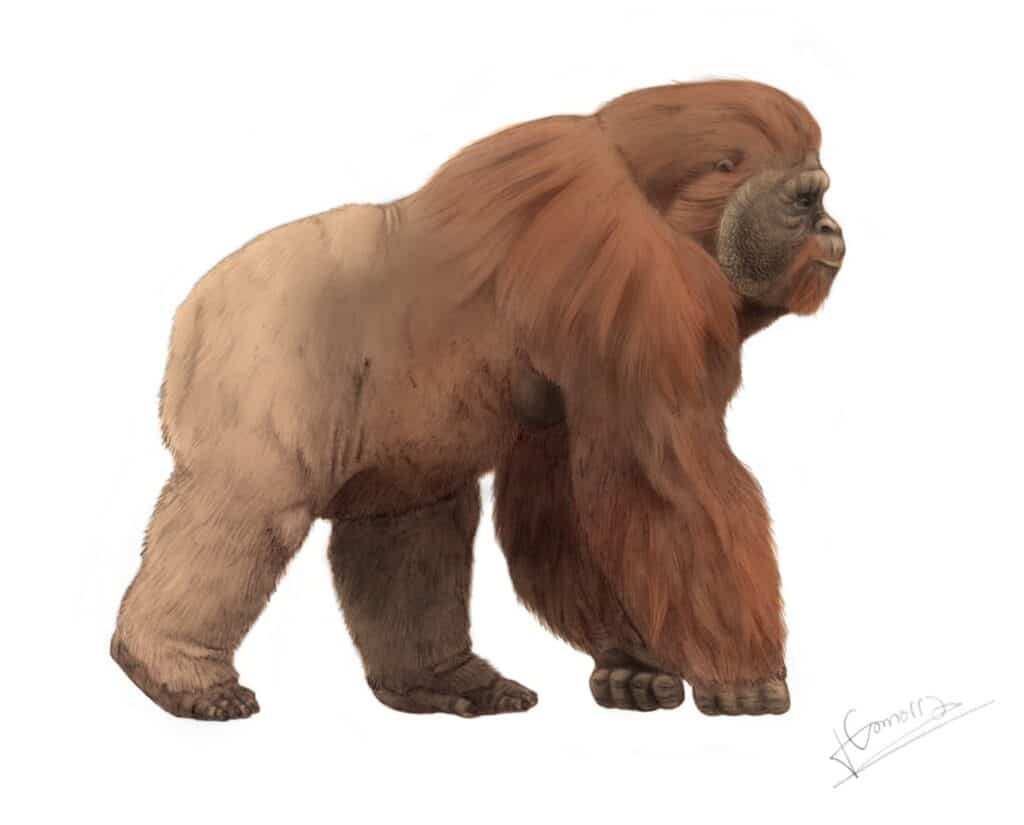 We've all heard the legends of Big Foot, but have you heard about the Gigantopithecus? An ape the size of a polar bear flourished in South Asia over a million years ago. It went extinct 300,000 years ago. 
Reconstructions of Gigantopithecus are largely speculative because no whole or even nearly complete skeleton is known. The bits that are known do disclose a startling amount of data. 
The lower jaw anatomy of Gigantopithecus is actually far more similar to that of an orangutan than to that of a gorilla. Despite the fact that gorillas are the largest living apes. According to scientists, Gigantopithecus was over 10 feet tall and weighed 1,200 pounds.
Gigantopithecus is reportedly still alive and living in the woods of the Pacific Northwest, according to certain bigfoot enthusiasts. However, other Sasquatch fans argue that this is unlikely because Bigfoot is thought to be a quick, nimble, upright walker rather than a hulking, 1,200-pound quadruped.
Final Thoughts
Wow! Now that you know about all of these extinct creatures, what do you think? Are you happy you weren't around during these eras? Perhaps we should all be grateful none of these critters are around now! 
From massive alligator-like creatures to spikey shrimp, who knows what else is out there today? There are plenty more extinct animals that we can cover. Let us know if you'd like to read more! 
---