One of the few U.S. states with four different seasons is Texas. The state experiences long, hot, humid summers that can get quite hot in its semi-arid regions and mild to cold winters. The prettiest trees in Texas reveal their true colors during spring. Some flowering trees thrive in the state's climate, among others. The seven distinct regions that comprise the Lone Star State's varied topography include canyons, plateaus, plains, valleys, mountains, extinct volcanoes, and islands.
Texas is home to a wide variety of trees, including palm trees, sycamore, Cathedral Oak, red maple, pine, cotton, and more, due to its diverse landscape and sunny climate. The most resilient and beautiful flowering trees can be found in the Lone Star State, and they boast various colors from pink, white, yellow, and purple. If you're looking for a stunning flowering tree that can thrive amidst the state's climate, below is a list of some of Texas's most beautiful flowering trees.
Discover 17 Flowering Trees in Texas
1. Texas Mountain Laurel
This tree, sometimes known as the "Grape Kool-Aid Tree," is one of the earliest to bloom in the spring, and its blossoms indeed have a grape Kool-Aid-like scent. The Texas Mountain Laurel has lush, dark green, lustrous leaves and a small, slowly-growing, multi-trunked body. This tree can withstand drought conditions and thrives in sunny or somewhat shady locations with well-drained, arid, rugged, and calcareous soils. Native Americans employed its red mescal beans (seeds) for ceremonial purposes. However, the beans can be hazardous to people if cracked and chewed.
2. Texas Smoke Tree
This little, multi-trunked tree also goes by the name "American Smoke Tree" and bears flower clusters with a diameter of 6 to 10 inches and long, thin petioles that resemble a puff of smoke. The Texas Smoke Tree is an upright, multiple-trunked, tiny tree with an open crown and spreading branches indigenous to Kentucky, Tennessee, and northern Alabama. This tree grows best in sunny or shady locations with rocky, well-drained soils made of limestone, sand, or clay.
3. Crape Myrtle
The Crape Myrtle is a southern charmer with its colorful blooms in the summer and fall and comes in various sizes and hues. It has earned the moniker "flowering tree of 100 days" due to its extended blooming season. Crape myrtles can grow in various soil conditions, including the alkaline, dark clay found throughout much of North Texas. They are hardy plants that come in a variety of hues to assist you in creating the optimum aesthetic appearance.
4. Texas Redbud
Texas Redbud is a tiny tree with hairy, glossy, wavy-edged, heart- or kidney-shaped, round-tipped leaves native to central Texas and south to northeastern Mexico. One of Texas' prettiest blossoming trees, this one is difficult to miss when it is in bloom, and as one of the state's most recognizable floral trees, it is frequently utilized in landscaping. This tree, which can withstand droughts to some extent, does best in partly shaded or sunny areas and in well-drained rocky, sandy, limestone-based, chalky, and clay soils.
5. Magnolia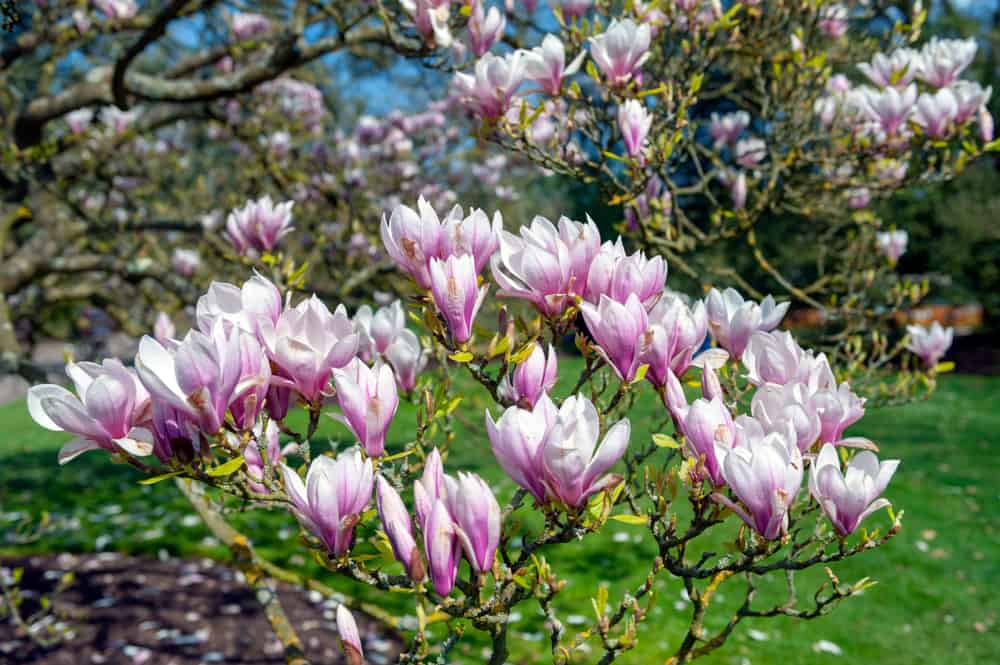 There are numerous species belonging to the magnolia family. And the majority of them grow pink flowers that can be anything from rose quartz to bright pink. Naturally, the best magnolia tree with pink blooms Texas offers will vary depending on the climate. Little Gem Magnolias are a beautiful addition to a smaller landscape or indoor garden because they bloom for six months. Greater varieties, such as the 60 to 70-foot-tall DD Blanchard Southern Magnolia, will thrive as the magnificent focal point of a yard.
6. Retama
A member of the Legume family, the retama is a tiny tree or shrub with green bark. It has slender, spreading branches with fluffy foliage and a height range of 10 to 15 feet. This attractive drought-tolerant tree with lime green branches and brilliant yellow blossoms goes by several popular names. It is found all across Texas to Arizona. Small mammals and birds can eat their seeds.
7. Flowering Dogwood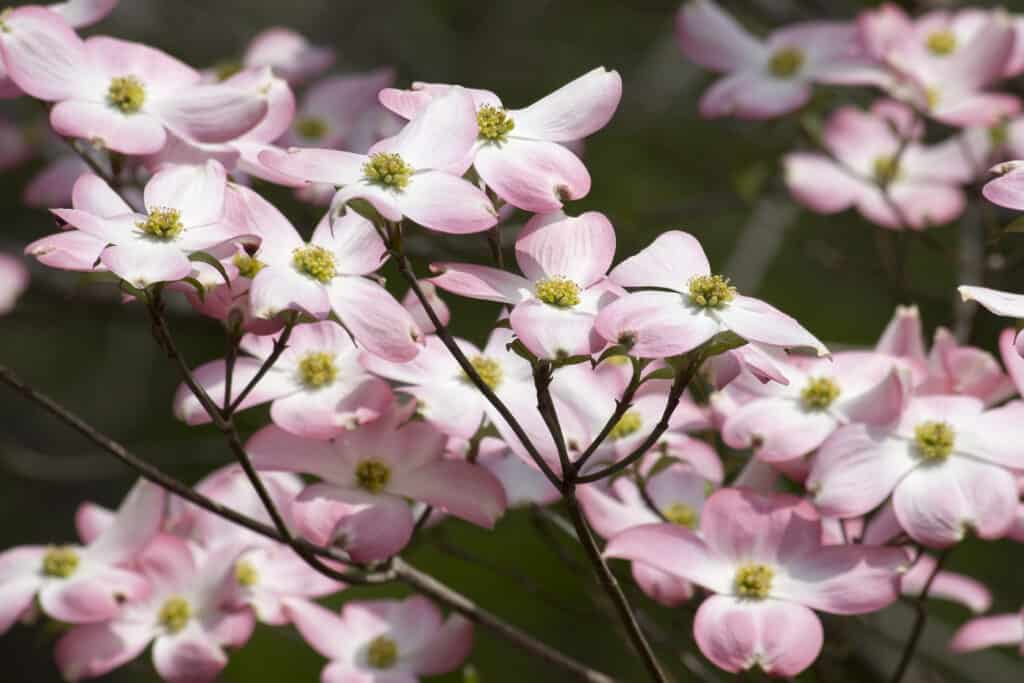 As far north as Maine and west to eastern Texas and Missouri, flowering dogwoods are found in eastern deciduous woodlands. A medium-sized, low-branching flowering tree, the flowering dogwood has flat-topped, conical, or rounded leaves with an oval shape that are deciduous and turn reddish-purple in the fall. Although it will grow in drier environments, flowering dogwood thrives on damp soil. Native to eastern North America and northern Mexico, dogwood trees produce tiny white flowers.
8. Huisache
Texas rangelands are home to the hardy, invasive huisache tree. When the soil is disturbed, it can swiftly take over a landscape and thrive in deep, poorly drained soils. The blossoms, however, emit a beautiful smell. But the tree cannot blossom yearly if a late frost strikes the flower buds in some regions. This tree is planted throughout southern Europe to create scent. Additionally, it is a fantastic source of seeds for birds and nectar for bees.
9. Vitex Texas (Chaste Tree)
From May through September, Vitex, commonly known as the Chaste tree or Texas lilac, blooms with stunning, lilac-purple, fragrant blossoms. You can grow it in well-draining soil with full light since it can survive in most soil types. When fully mature, this stunning native of the South will grow between 10 and 20 feet tall, or roughly one foot every year. The flowers will be more beautiful if the plant is aggressively clipped after bloom. Vitex is a coarse-growing plant that will swiftly grow into a small tree.
10. Pawpaw
The little, understory pawpaw tree, native to the Southeast of the United States, has broad, somewhat drooping green leaves that turn yellow in the fall. Although it does not grow in great quantities everywhere, pawpaw can be found in lush woodlands near streams in extreme east Texas and northeast Texas along the Red River. It produces purple, cup-shaped, six-petaled blooms followed by juicy, young fruits that are yellowish-green in color but eventually turn dark brown.
11. Mexican Plum
The Mexican plum is a native of North Texas, a deciduous tree whose leaves turn yellow in the fall. Its blossoms attract bees, and birds and other small mammals also eat the plums. Even more intriguing is the fact that people can consume them as well! The Mexican plum is among the first ornamental trees to blossom in the spring, along with the redbud. Before the leaves grow, it blooms on bare branches with beautiful white blossoms.
12. Desert Willow
This huge shrub, native to the southwest United States and northern Mexico, can reach heights of 20 to 30 feet. It is a blooming tree that grows quickly, with deciduous green foliage, a twisted trunk, and thin twigs. This resilient desert tree thrives in dry soil and full light, even in the sweltering Texas heat. It's perfect for the low-maintenance gardener. The desert willow blooms from May to September and attracts hummingbirds and bees with its fragrant trumpet-shaped purple to pink blossoms. Contrary to its name, this plant is not related to the willow.
13. Amelanchier Robin Hill
Delicate, pale pink flowers are produced by this particular hybrid of the Amelanchier Arborea and the Amelanchier Laevis. The blossoms will develop into berries that can be eaten in the fall. However, because they ripen at different times, collecting them could be more difficult than other fruit trees. This Texas tree with pink blossoms typically draws birds later who eat its fruits and then sing merrily.
14. Utah Serviceberry
Utah serviceberry often flourishes on rocky outcrops on the margins of forests. It grows in the dry canyons, on the limestone cliffs of the Guadalupe Mountains, and in other Trans-Pecos regions and covers a large portion from Minnesota to Texas. It is a medium-sized, numerous-branched, perennial tree with oval, grayish-green leaves and an ashy-gray bark. Racemes of white and pink blossoms on Utah serviceberry are followed by small, bird-attractive berries that are dark purple or black.
15. Texas Wild Olive
Texas Wild Olive, also called Mexican Olive, is a medium-sized ornamental tree with a winding stem and broad, velvety, evergreen, oval leaves that are gray-green. Large, exquisite, trumpet-shaped white blooms with yellow edges and a surface mimicking crepe paper are produced by this plant. This drought-tolerant tree works well in various well-drained soils and sunny or shady locations.
16. Texas Buckeye
Texas Buckeye is a medium-sized deciduous tree that has a solid, rounded crown, and is native to the Eastern United States and Canada. Hummingbirds are drawn to the plant's tiny clusters of greenish-yellow flowers. A sunny or somewhat shady location with well-drained, medium-moist soil is ideal for this tree's growth. Furthermore, the lush, dark-green foliage of the Texas Buckeye changes to golden-yellow and orange in the fall.
17. Swamp Willow
This tree, also referred to as the Black Willow, has deciduous, lanceolate, narrow, coarsely serrated, medium-to-dark green foliage. Capsules that are reddish-brown replace the blossoms. Native to North America, the medium to tall Swamp Willow has a spreading, rounded crown and is a fast-growing willow tree. It produces catkins of tiny, unassuming, greenish-yellow blooms. This tree grows well in sunny or shady areas with regularly moist soil.
What Are the Most Common Trees in Texas?
Now we've taken a look at some of Texas's fantastic flowering trees, you might be wondering about other trees in the Lone Star State. Texas has close to 300 native tree species. Depending on the region, certain trees are more common. Here are a few of the most common tree species in Texas.
Live Oak: The Live Oak is one of the most popular trees in the state due to its high heat tolerance. Typically around 40-60 feet tall, Live Oaks' canopies extend 50 to 70 feet, proving plenty of shade from the Texas sun. They bloom in the spring and grow oblong acorns.
Cedar Elm: One of the most common trees in the state, the Cedar Elm is low-maintenance and can grow in a variety of soils. It is widely found across east, south, and central Texas. It is very drought tolerant and has a high pest resistance. It can reach 40 to 70 feet in height and extend 40 to 70 feet in width. It blooms in summer and fall.
Pecan: The Pecan is the state tree of Texas and highly valued for its seeds that are pecans, delicious as a snack or in desserts such as pecan pie. It is a species of hickory that can range from 66 to 131 feet in height with a spread of 39-75 feet.
Red Oak: Another species of oak that can be found in Texas is the Red Oak. Its foliage changes shades throughout the year, with its brightest reds occurring during the fall. It is hardy and able to withstand pollution. It grows 60 to 80 feet tall, and in forest areas can reach up to 92-141 feet tall. Acorns take two years of growing on the tree before they are fully developed.
Bald Cypress: This hardy species native to Texas can adapt to different soil conditions and is able to withstand poorly drained areas. The Bald Cypress usually grows to 35-120 feet and has needle-like leaves that appear feathery. It is a member of the Redwood family and one of the first trees in the state to shed its leaves in the fall and the final to bud in the spring.
Summary of 17 Gorgeous Flowering Trees in Texas
Here's a recap of the beautiful flowering trees in the state of Texas we've taken a close look at:
| Number | Tree |
| --- | --- |
| 1 | Texas Mountain Laurel |
| 2 | Texas Smoke Tree |
| 3 | Crape Myrtle |
| 4 | Texas Redbud |
| 5 | Magnolia |
| 6 | Retama |
| 7 | Flowering Dogwood  |
| 8 | Huisache |
| 9 | Vitex Texas (Chaste Tree) |
| 10 | Pawpaw |
| 11 | Mexican Plum |
| 12 | Desert Willow |
| 13 | Amelanchier Robin Hill |
| 14 | Utah Serviceberry |
| 15 | Texas Wild Olive |
| 16 | Texas Buckeye |
| 17 | Swamp Willow |
---