Vermont is a small yet beautiful state in the New England region of the United States. However, it has a wide variety of ecosystems which include mountains, rivers, lakes, and forests. It also has a vast amount of wildlife estimated to exceed more than 26,000 different species. Of these, there are eleven species of snakes in the state, including one venomous snake. As several of these snakes are black or have black markings, it's a good idea to know how to identify them and how to tell which one is venomous. So read on to learn more about the black snakes in Vermont!
1. Timber Rattlesnake (Crotalus horridus)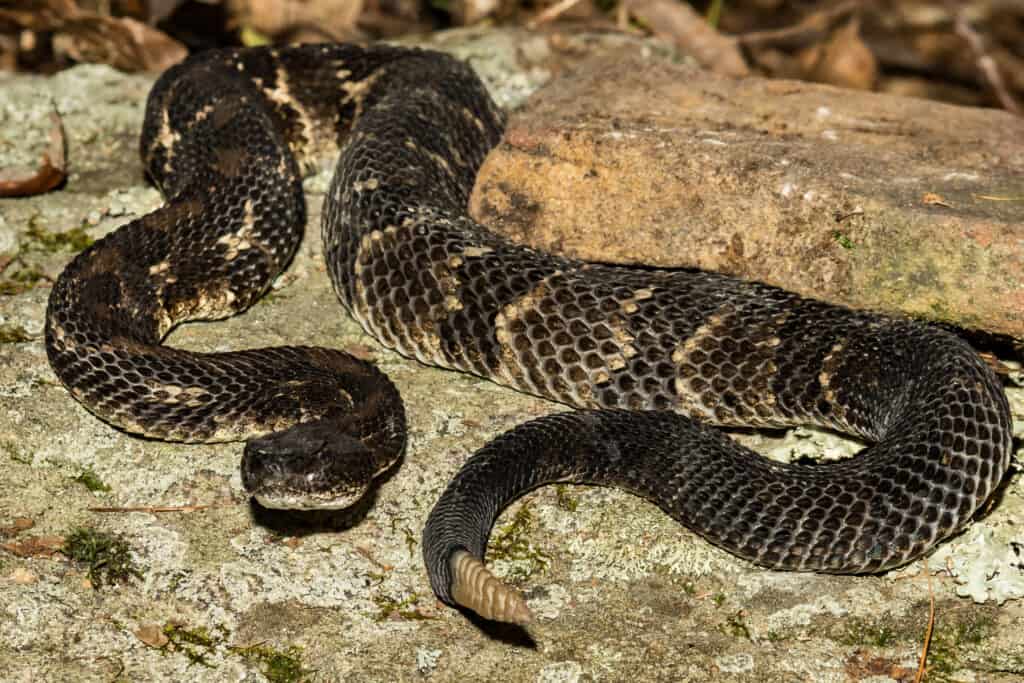 The first snake is the timber rattlesnake, the single most dangerous snake in the state. Timber rattlesnakes are large snakes – reaching 36 to 60 inches long – and have dark brown bodies with darker brown or black crossband markings. However, there is also a "black phase" color whereby the snake is almost entirely black with dark markings on a dark ground color. They are an endangered species in the state and only live in scattered locations where they inhabit rocky outcrops and woodlands. Timber rattlesnakes are extremely venomous, although this is balanced out somewhat by their relatively calm nature.
2. Eastern Racer (Coluber constrictor)
The next black snake in Vermont is the eastern racer which is a threatened species within the state. Eastern racers are 20 to 60 inches long, black on their upper side, and have a white chin and a light-colored belly, although there can be some variation between the different subspecies. These snakes can live in a variety of habitats, although in Vermont, they are restricted to the southeastern corner of the state and generally inhabit open grasslands and pastures. They are agile, fast-moving snakes and prefer to flee in the face of danger. They often pause with their head above the ground as they scan the surrounding area for prey.
3. Eastern Rat Snake (Pantherophis alleghaniensis)
The longest snake on this list is the eastern rat snake which is 42 to 72 inches long – although they can sometimes reach 100 inches. Eastern rat snakes are glossy black with a white belly, throat, and chin. However, as juveniles, they look completely different and are light grey with brown and grey blotches. Eastern rat snakes are mainly found in fields, farms, and old buildings, where they prey on a wide range of birds and rodents. Unfortunately, they are found only in small populations in the western region of the state and, as such, are classed as a species of Greatest Conservation Need in the state.
4. Northern Water Snake (Nerodia sipedon)
Another black snake in Vermont is the northern water snake which is a fairly large snake – attaining lengths of up to 54 inches. These snakes have dark brownish-black bodies with darker blotches on their body and crossbands on their neck. They are often mistaken for the venomous cottonmouth snake (not found in Vermont), such is the similarity of their appearance. Although they can be found in virtually all wetland habitats, northern water snakes mainly live in shallow wetlands along the western edge of the state. Northern water snakes are rarely found away from water but are proficient hunters both on land and in the water. They are not venomous, but they do bite when they are threatened. Their saliva contains an anticoagulant that prevents blood from clotting easily. This means that if you are bitten by one, then the wound will bleed a lot.
5. Eastern Ribbon Snake (Thamnophis sauritus sauritus)
The eastern ribbon snake is a subspecies of the ribbon snake. Unfortunately, it is classed as a species of Special Concern in Vermont. These snakes occur in and around water near pastures and woodlands. However, they are only found in a few locations in the state – mainly the southeast corner and along the western border. Eastern ribbon snakes can be anything between 7 and 34 inches long and have black bodies with yellow stripes and yellow bars near each eye. They are diurnal snakes and prey on a range of insects, fish, salamanders, and amphibians.
6. Common Garter Snake (Thamnophis sirtalis)
One of the most widespread snakes in Vermont is the common garter snake which occurs across the whole state. They can live in various habitats but often live in forested areas near a water source. Common garter snakes are around 52 inches long and look very similar to the eastern ribbon snake. These snakes are usually black or brown with yellow or cream stripes and small red markings along their sides. Although common garter snakes are not dangerous, their saliva can cause an itching or burning sensation. They are also immune to the poison secreted by toads – which is useful as they make up most of their diet.
7. Ring-Necked Snake (Diadophis punctatus)
The last black snake in Vermont is the ring-necked snake. They are also the smallest on this list at only 10 to 20 inches long. Ring-necked snakes have a very distinctive appearance as they are mostly black with a bright ring of color around their neck. This can be either red, orange, or yellow, and they sometimes have a belly that is the same color. Ring-necked snakes are widespread across Vermont, but this does not necessarily mean that you will see them as they are actually very secretive and nocturnal. Ring-necked snakes are not a threat to people, but they are mildly venomous toward their prey. However, they do not produce true venom – instead, it is a venom-like substance produced in their Durvenoy gland.
Up Next
The photo featured at the top of this post is © Steve Byland/Shutterstock.com
Discover the "Monster" Snake 5X Bigger than an Anaconda
Every day A-Z Animals sends out some of the most incredible facts in the world from our free newsletter. Want to discover the 10 most beautiful snakes in the world, a "snake island" where you're never more than 3 feet from danger, or a "monster" snake 5X larger than an anaconda? Then sign up right now and you'll start receiving our daily newsletter absolutely free.
---
Sources

Vermont Reptile and Amphibian Atlas, Available here: https://www.vtherpatlas.org/herp-species-in-vermont/thamnophis-sirtalis/
Vermont Reptile and Amphibian Atlas, Available here: https://www.vtherpatlas.org/herp-species-in-vermont/pantherophis-alleghaniensis/
Vermont Reptile and Amphibian Atlas, Available here: https://www.vtherpatlas.org/herp-species-in-vermont/thamnophis-saurita/
Vermont Reptile and Amphibian Atlas, Available here: https://www.vtherpatlas.org/herp-species-in-vermont/nerodia-sipedon/
Vermont Reptile and Amphibian Atlas, Available here: https://www.vtherpatlas.org/herp-species-in-vermont/diadophis-punctatus/
Vermont Reptile and Amphibian Atlas, Available here: https://www.vtherpatlas.org/herp-species-in-vermont/coluber-constrictor/
Vermont Reptile and Amphibian Atlas, Available here: https://www.vtherpatlas.org/herp-species-in-vermont/crotalus-horridus/