Wyoming is situated in the western United States. It is the tenth-largest state in the nation in terms of total area. Oregon ranks just slightly above Wyoming in ninth place. However, if all of Oregon's territory that is covered by water is eliminated, Wyoming would move ahead of it as the ninth-largest state in the U.S. Here are the details of Wyoming's size and how it compares with other U.S. states.
Length and Width of Wyoming
Wyoming is one of three states whose borders consist entirely of straight lines (Utah and Colorado are the others). The Equality State is a rectangle that measures nearly 100 miles further east to west than its north-to-south measurement.
Wyoming stretches 375 miles (604 kilometers) from east to west. South Dakota, Wyoming's neighbor to the east, has a nearly identical width of 370 miles (595 kilometers).
Wyoming measures 276 miles (444 kilometers) from north to south. Colorado has a very similar north-to-south distance of 280 miles (451 kilometers).
Square Miles and Kilometers
Wyoming's total area spans 97,813 square miles or 253,335 square kilometers. Of that total area, 720 square miles (1,865 square kilometers) are covered by lakes and waterways, giving the state a land area of 97,093 square miles (251,470 square kilometers).
Acres
An American football field (without the end zones) is just over one acre in size. There are 640 acres in a square mile. Wyoming's territory covers 62,600,320 acres.
Other States
As noted earlier, Oregon and Wyoming are very similar in size. Oregon's total area covers 98,379 square miles (254,800 square kilometers).
Wyoming is just slightly larger than Michigan in terms of total area. Michigan spans 96,714 square miles (250,488 kilometers). However, nearly 42% of Michigan's area is covered by water, giving the Wolverine State a land area of just 56,539 square miles (146,435 square kilometers).
Rhode Island is the smallest U.S. state at 1,214 square miles (3,144 square kilometers). You could fit 80 ½ Rhode Islands inside of Wyoming!
Wyoming is bigger than the smallest ten U.S. states combined. You could fit West Virginia, Maryland, Hawaii, Massachusetts, Vermont, New Hampshire, New Jersey, Connecticut, Delaware, and Rhode Island inside of Wyoming's borders. In fact, along with those ten states, you could add another Delaware or two more Rhode Islands.
At 665,384 square miles (1,723,337 square kilometers), Alaska is easily the largest state in the nation. It is nearly seven times the size of Wyoming. Texas is 2.75 times the size of Wyoming. California outsizes Wyoming by about 1.7 times. Montana, which borders Wyoming to the north, is about one and a half times larger than the Equality State.
Wyoming accounts for just over two and a half percent of the total area of the United States. For added perspective, Rhode Island accounts for a minuscule 0.04% of U.S. land, while a jaw-dropping 17.48% of U.S. land lies in Alaska.
State Borders
Wyoming shares borders with six states: Montana to the north and northwest, South Dakota and Nebraska to the east, Colorado to the south, Utah to the southwest, and Idaho to the west.
Population
While Wyoming is the tenth-largest state (or ninth in terms of land area), it is the least populated among all 50 U.S. states. The U.S. Census Bureau estimated Wyoming's 2022 population to be 581,381.
The next least populous state is Vermont, with a 2022 estimated population of 647,064. Wyoming is more than ten times larger than Vermont in terms of area, yet it has 65,693 fewer residents than the Green Mountain State.
More people live in the 68 square miles of Washington, D.C., than in the 97,813 square miles of Wyoming. Washington, D.C., has 671,803 residents (2022 estimate).
California is the most populous state in the nation. With a 2022 estimate of 39,029,342 residents, California's population is more than 67 times that of Wyoming.
Wyoming's large area and tiny population give the state the second-lowest population density in the nation. Population density is measured by the number of people per square mile of land area. Wyoming has a population density of 5.9 people per square mile. Only Alaska has a lower population density than Wyoming, with just 1.3 people per square mile.
New Jersey is the most densely populated state in the nation, with 1,263 people per square mile.
Largest Cities
Not surprisingly, given the state's small population, Wyoming has no cities with over 100,000 residents. Cheyenne is Wyoming's capital and the state's largest city, with a 2022 population estimate of 64,610. The Greater Cheyenne metro is home to just under 100,000 people.
While many capital cities are located near the center of their states, Cheyenne is found in extreme southeastern Wyoming. Cheyenne is over 410 miles "as the crow flies" from the state's northwestern corner, further illustrating the size of Wyoming as a whole.
Casper is the only other Wyoming city with more than 50,000 residents. An estimated 58,543 people reside in this east-central Wyoming city, with nearly 80,000 people living in the Casper metro area. Over thirty percent of Wyomingites live in Cheyenne and Casper and their surrounding metro areas.
Counties
Wyoming has 23 counties, which is far fewer than the average U.S. state (62). This small number of counties in such a large state means the counties are exceptionally large.
The Equality State's biggest county by area is Sweetwater County which spans 10,426 square miles (27,003 square kilometers). This Wyoming county is larger than the six smallest U.S. states.
Hot Springs County is the smallest county in the state at 2,004 square miles (5,190 square kilometers). Even though it is the smallest county in Wyoming, it is still nearly the size of the state of Delaware.
Wyoming's most populous county is Laramie County which houses the state capital of Cheyenne. The county had a 2022 estimated population of 100,723.
The county with the fewest residents is Niobrara County. Only 2,380 residents called the county home in 2022.
Parks and More
The National Park Service manages about 2.4 million acres in Wyoming, which is nearly four percent of the state's total area.
Wyoming is home to two national parks.
Yellowstone National Park became the world's first national park in 1872. The park spans 2.2 million acres and is home to rugged mountains, lakes, rivers, and geothermal areas, which include about half of the world's geysers. The wildlife of Yellowstone is abundant and diverse. There are 67 mammal species that live in the park, including bison, black and grizzly bears, wolves, elk, bighorn sheep, and pronghorn. Wyoming shares Yellowstone National Park with Idaho and Montana. It is the only national park with territory in three states.
Grand Teton National Park lies just south of Yellowstone. The two parks are connected by the John D. Rockefeller Memorial Parkway. This national park encompasses about 310,000 acres and is home to the major peaks of the Teton Range, along with lakes, plains, and the Snake River.
Along with these two national parks, Wyoming also houses the Bighorn Canyon National Recreation Area (shared with Montana), Devils Tower National Monument, Fort Laramie National Historic Site, and Fossil Butte National Monument.
State Animals
Wyoming has six official state animals. The bison was named the state mammal on February 23, 1985.
Other official animals include the blotched tiger salamander (state amphibian), western meadowlark (state bird), Sheridan's green hairstreak (state butterfly), cutthroat trout (state fish), and greater short-horned lizard (state reptile).
Wyoming also recognizes the Knightia as the state fossil and the triceratops as the state dinosaur.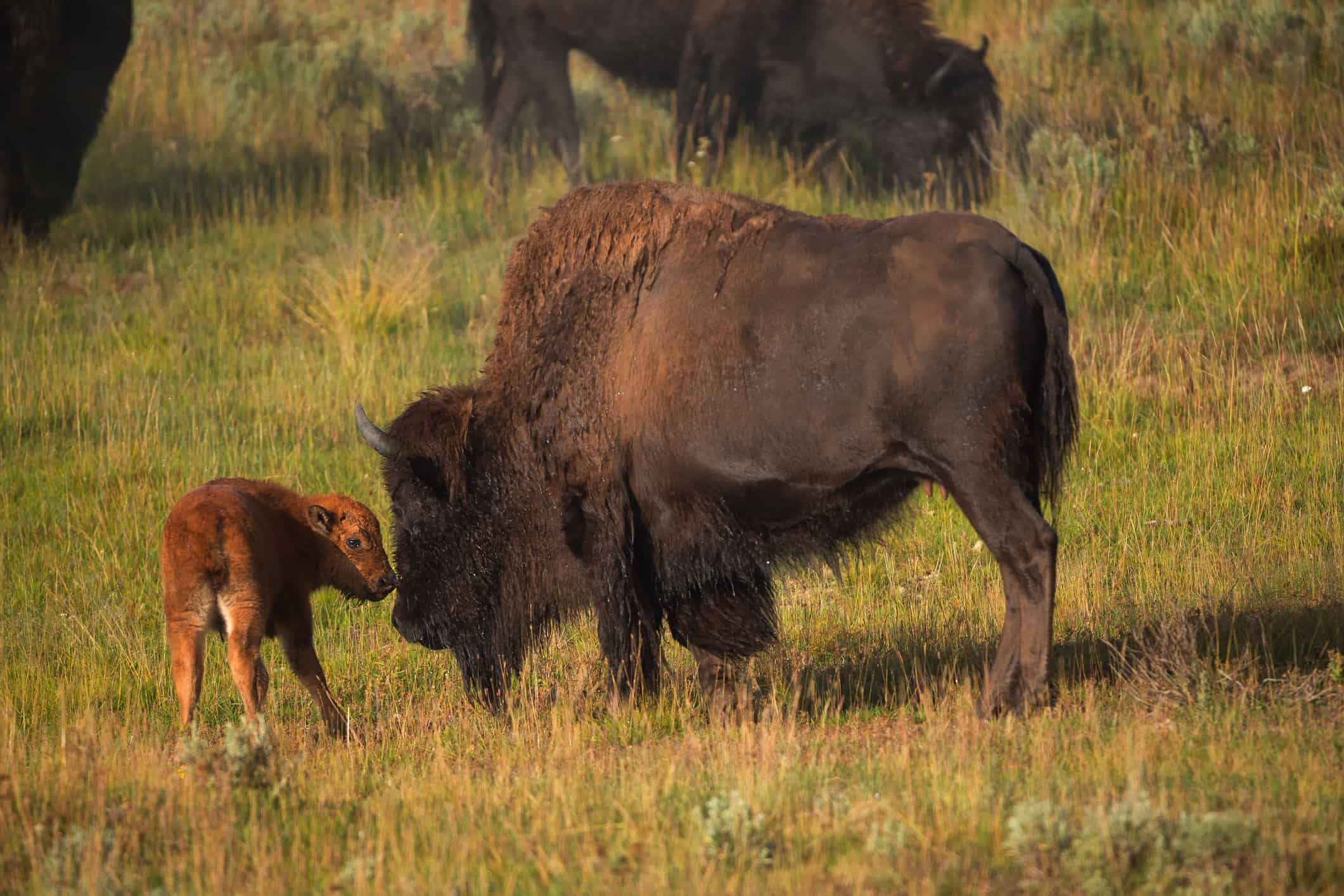 The photo featured at the top of this post is © PeterHermesFurian/iStock via Getty Images
---