New Hampshire is a mosaic of natural communities encompassing habitats for fish and wildlife, from granite peaks, forests, and wetlands to grasslands and coastal islands. The Lake Region of New Hampshire is one of the most breathtakingly gorgeous places in the United States. The magnificent lakes and majestic mountains provide an unmatched backdrop in the Northeast. It's the ideal location for those who enjoy being immersed in a beautiful setting with seemingly endless recreational and relaxation opportunities. There's a spot in the Lakes Region for everyone, whether you're planning a vacation or making it your year-round home. New Hampshire's Lakes Region alone has 273 lakes and ponds, ensuring plenty of fun throughout the seasons. For anyone visiting or considering relocating to the Lakes Region, here is a breakdown of the 10 biggest lakes in New Hampshire:
Discover the 10 Biggest Lakes in New Hampshire
10. Great East Lake
Great East Lake is a 1,825-acre (7.4 square kilometer) lake in Carroll and York counties in New Hampshire and Maine, respectively. The lake is shared by the towns of Wakefield, New Hampshire, and Acton, Maine, with Acton accounting for 45% of the lake's surface area and Wakefield for 55%. The Great East Lake shoreline, with a length of 18.02 miles (29.00 kilometers), mostly has medium-density residential houses and campgrounds. Lake trout, rainbow trout, smallmouth bass, largemouth bass, American eel, hornpout, white perch, black crappie, and chain pickerel are among the 21 fish species found in Great East Lake. Water-based sports are available at this beautiful lake, including boating, swimming, wakeboarding, skiing, kayaking, paddle boarding, canoeing, and tubing.
9. Lake Wentworth
Lake Wentworth, located in Wolfeboro, is in Carroll County, New Hampshire, United States. It's the ninth-largest lake entirely in New Hampshire, covering 3,097 acres (12.61 square kilometers). It's arguably one of the most beautiful lakes in the state. At Lake Wentworth, you can catch largemouth bass, smallmouth bass, black crappie, rainbow trout, bluegill, pumpkinseed sunfish, white perch, and chain pickerel. While most often overlook Lake Wentworth due to its proximity to the more well-known Lake Winnipesaukee, it is strikingly gorgeous and will take your breath away. The lake's two public beaches, Albee Beach and Wentworth State Park Beach, are the most popular spots for swimming. Meanwhile, the beaches are ideal for picnics, tubing, and waterskiing, while the lake's surrounding areas are ideal for antiquing and museum hopping.
8. Moore Reservoir
Moore Reservoir is a Connecticut River impoundment that spans the towns of Littleton, New Hampshire, Dalton, New Hampshire, Waterford, Vermont, and Concord, Vermont. It has a total area of 3,181 acres (14.12 square kilometers). When it comes to fishing, the reservoir is famous for the massive Northern pike that inhabits its waters. The lake is known as a cold- and warm-water fishery, with observed species including brook trout, rainbow trout, brown trout, smallmouth and largemouth bass, chain pickerel, bullpout, northern pike, and rock bass. It's a popular site for swimming, boating, kayaking, fishing, paddleboarding, sunbathing, and other activities. Numerous locations along the nearly 30-mile shoreline allow access to areas where you can fish from the bank. There is also a mountain bike trail nearby if you're looking for a fun outdoor excursion or walk.
7. Ossipee Lake
Ossipee Lake is in Carroll County, New Hampshire, located in the towns of Ossipee and Freedom. It's an artificial reservoir with an impressive surface size of 3,257 acres, making it a wonderful playground for all four seasons. It's one of the state's largest lakes, and its numerous amenities make it a popular one. The area is home to many condos, cabins, and lake house developments. Some buildings are available for vacation rentals, as they are in most lake districts, and many of them feature private beaches.
The villages around Ossipee Lake that look like they haven't changed in a century are one of the most popular attractions. Rainbow trout, lake trout, land-locked salmon, smallmouth and largemouth bass, chain pickerel, yellow perch, white perch, sunfish, and brown bullhead thrive in the lake, classified as a cold- and warm-water fishery.
6. Lake Sunapee
Lake Sunapee is the state's sixth-largest lake, straddling both Sullivan and Merrimack counties in the western part of New Hampshire. This glacial lake has 4,136 acres (16.74 square kilometers) and is home to three of New Hampshire's five lighthouses. Lake Sunapee has a rustic vibe, making it an ideal location for hiking. Hiking routes abound at Mt. Sunapee State Park, and the Newbury Trail in Newbury offers breathtaking views.
If you enjoy fishing, Lake Sunapee provides the opportunity to catch smallmouth bass, lake trout, salmon, or pickerel. Over the years, Lake Sunapee gained a solid reputation as a fishing hotspot. The water is crystal clear, and visibility is excellent during the summer months. The Lake Sunapee Region is well-known for its diverse biodiversity. Bears, deer, moose, coyotes, turkeys, and foxes are widespread sights in backyards and highways.
5. Lake Winnisquam
Lake Winnisquam is in Belknap County in the Lakes Region of central New Hampshire, United States, in Meredith, Laconia, Sanbornton, Belmont, and Tilton. It's the fifth-largest lake entirely in New Hampshire, with 4,214 acres (17.15 square kilometers). Nothing compares to the inexplicable beauty of New Hampshire's outdoors, as visitors soon fall in love with the recreational opportunities offered. The lake is most accessible through the city of Laconia, located on the lake's eastern shore. Hence, out-of-town visitors and regular visits from water-loving residents are no strangers to the lake. Fishing tournaments, animal observation, hiking, and swimming are popular activities. It offers pristine waters and excellent fishing for rainbow trout, largemouth and smallmouth bass, lake trout, and yellow perch.
4. Newfound Lake
The Newfound Lake is in Grafton County, New Hampshire, and ranks as the fourth-largest in the state overall, with a surface area of 4,451 acres (18.01 square kilometers). It's one of the cleanest lakes in the United States and the deepest in New Hampshire. One of the most appealing aspects of Newfound Lake is the abundance of hiking opportunities. Hiking Mount Cardigan in Alexandria provides a spectacular view of the area. Swimming, fishing, and hiking are also available nearby at Wellington State Park in Bristol. The Newfound Lake watershed now supports 22 different fish species. The 2006 New Hampshire Wildlife Action Plan identified six species requiring special consideration: brook trout, burbot, lake trout, rainbow smelt, round whitefish, and slimy sculpin. The population state of a species, its integral ecological function, or the ability to extrapolate from it to suggest a healthy aquatic ecosystem are all factors in its selection.
3. Squam Lake
Squam Lake is a lake in southern New Hampshire, located south of the White Mountains and straddling the borders of Grafton, Carroll, and Belknap counties. With a surface area of 6,791 acres (27.48 square kilometers), it is the state's third-largest lake, with 67 islands to explore. Originally called Keeseenunknipee, which meant "the goose lake in the highlands," it is one of the cleanest bodies of water in the country. And you can tell when you go for a swim in the crystal clear water. The Squam Lakes Natural Science Center has open meadows, mature forests, and marsh boardwalks that connect interactive natural exhibits where native animals reside: black bear, mountain lion, raptors, river otter, bobcat, and more.
 2. Umbagog Lake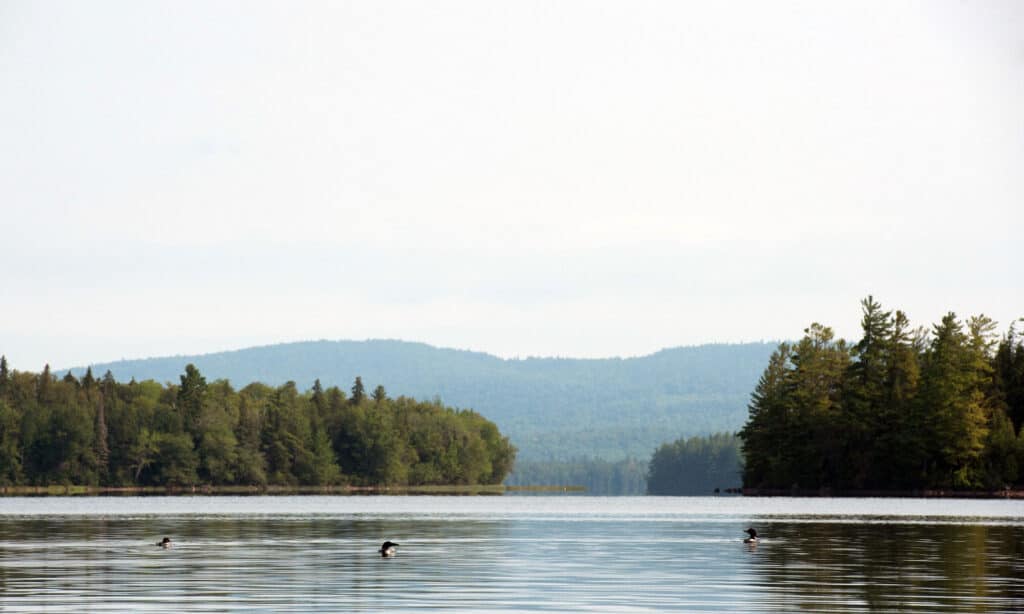 Umbagog Lake is a wilderness lake in New Hampshire's Coös County and Maine's Oxford County. Umbagog came from the Abenaki word for "shallow water," pronounced with the stress on the second syllable (um-BAY-gog). Its surface area is 7,850 acres (31.77 square kilometers), making it the second-largest lake along the Maine/New Hampshire border.
Umbagog Lake State Park is home to the primary boat launch ramp and access to the shoreline for bank fishing. Swimming, good fishing, wildlife viewing, and boating are all available at the park. Mink, river otter, muskrat, and beaver thrive in the lakes and rivers, while raccoons, black bears, coyotes, fishers, red foxes, marten, bobcats, gray foxes, white-tailed deer, and a dense population of moose inhabit the uplands.
1. Lake Winnipesaukee
Lake Winnipesaukee is the largest lake in New Hampshire and the sixth-largest natural lake entirely in the United States. With a whopping surface area of 45,443 acres (183.9 square kilometers), it's no wonder that the lake extends into two of the state's counties: Belknap and Carroll. The pure water, combined with the magnificent mountains and woodland that surround the lake, make it a popular swimming, boating, and fishing spot for locals and tourists alike.
Sailing on Lake Winnipesaukee is a year-round activity, with boats navigating the 365 islands that dot the lake's surface. Fishing in the Winnipesaukee River watershed is a fantastic experience at any time of year. Otters, beaver, muskrat, mink, fisher, moose, deer, black bear, coyote, and bobcats are among the animals that call Lake Winnipesaukee home. Although no one has confirmed seeing a rattlesnake in decades, there were rattlesnakes on the island.
Summary of 10 Biggest Lakes in New Hampshire
Here's a recap of the top 10 largest lakes in New Hampshire that we took a look at.
| Rank | Lake | Surface Area |
| --- | --- | --- |
| 1 | Lake Winnipesaukee | 45,443 acres |
| 2 | Umbagog Lake | 7,850 acres |
| 3 | Squam Lake | 6,791 acres |
| 4 | Newfound Lake | 4,451 acres |
| 5 | Lake Winnisquam | 4,214 acres |
| 6 | Lake Sunapee | 4,136 acres |
| 7 | Ossipee Lake | 3,257 acres |
| 8 | Moore Reservoir | 3,181 acres |
| 9 | Lake Wentworth | 3,097 acres |
| 10 | Great East Lake | 1,825 acres |
The photo featured at the top of this post is © iStock.com/Jason Heid
---