Wow, just how many of these guys are there? This adorable clip shows a family of fox cubs emerging from their den. Just when you think that they are all out, a few more emerge. They are constantly alert and the smallest movement or sound makes them scurry back towards the safety of their burrow. Scroll down to see the latest cute inhabitants of a forest in Guelph, Ontario, Canada.
Which Foxes Live in Canada?
Foxes are small carnivorous mammals that are related to domestic dogs. There are four species of foxes in Canada. These are the red fox, the swift fox, the grey fox, and the arctic fox. The fox cubs in this clip look as if they might be red foxes.
These are the largest of the Canadian fox species. As their name suggests they are often red although their feet and ear tips are black and their tail tip is white. They are commonly seen in woodlands and farming areas. Their distribution extends from the US border to the tundra. They are found in all Canadian provinces except for British Columbia.
How Many Young Do Red Foxes Normally Have?
This may look like a lot of babies to you, but for a red fox, it is pretty average. This species mates in winter and then the female proceeds to build a den. Inside that, she will deliver anything between one and 12 babies. When the cubs are newborn they are brown or gray but within a month they develop distinctive red coats. Interestingly, both the mom and dad fox take care of the youngsters. By the next fall, they are ready to head off and start their own families.
Baby foxes can be called cubs or kits. Some people even called them kittens and a group of baby foxes is called a litter. Baby foxes have such small stomachs that they have to eat several times a day!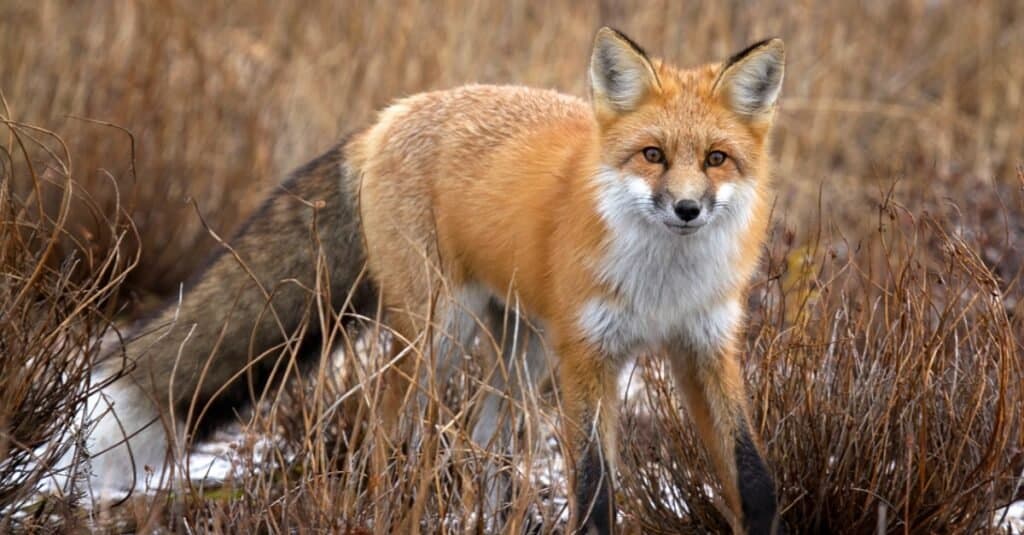 Are Red Foxes Pests?
The decision to categorize an animal species as a pest is very subjective. To some people, an animal may be a pest because it interferes with some aspect of human life. Red foxes have a history of being designated as pests in North America. This is primarily because they pinch domestic chickens.
However, foxes are a valuable part of local ecosystems. They hunt small mammals and insects that would destroy crops! As you can see in this clip, they are also super cute when they are babies!
Watch the Adorable Family Below
The photo featured at the top of this post is © taviphoto/Shutterstock.com
---