Non-human primates are a group of mammals that belong to the taxonomy order Primates. They include monkeys, apes, and lemurs, amongst others. Non-human primates share many characteristics with humans, including their social behavior, communication abilities, and facial features. They have opposable thumbs and hands, which allow them to manipulate objects in ways similar to humans. Non-human primates can also be found throughout much of the world, from tropical rainforests to savannas and even mountain ranges depending on their species. Each species has different dietary needs, such as fruit, nuts, or insects but all non-human primate species require a diet rich in nutrition for survival. Many non-human primates live together in large groups known as troops or bands, while some are solitary creatures living alone or with only one other individual.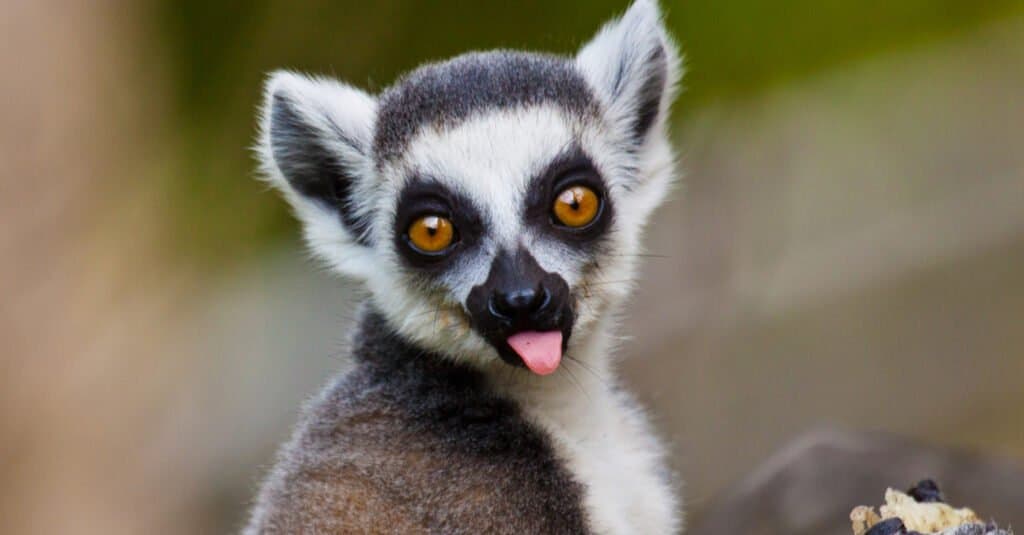 Types of Primates
The classification of primates is expected to alter shortly due to the uncovering of new species and genomic sequencing. Currently, there is a disagreement on which group some species belong to. For example, scientists debate how closely related humans are to the apes of Africa. Some taxonomists believe they should be placed in a distinct family called Pongidae, separate from humans who would be part of their own family, the Hominidae.
Ring-tailed Lemurs and Ruffed Lemurs
Ring-tailed Lemurs and Ruffed Lemurs are two species of primates that belong to the family Lemuridae, which is endemic to Madagascar. The Ring-tailed Lemur is one of the most recognizable species of lemurs due to its distinctive ringed tail and bright, multi-colored fur. They are active during the day and live in groups ranging from 10 – 30 individuals. Their diet consists mainly of leaves and other plant matter, but they will also consume insects or small vertebrates when available. Ruffed Lemurs are larger than their Ring-tailed cousins with a more dense coat and a fluffy ruff around their neck that gives them their name. They can be found living in pairs or small family groups in tropical rainforest habitats across eastern Madagascar, where they feed on fruit, flowers, tree gum, as well as insects and other invertebrates.
Sportive Lemurs
A sportive lemur, or Lepilemur spp., is a primate found in Madagascar. They are identified by their long hind legs and short forelimbs. They live mainly on the ground and can be seen jumping from tree to tree in search of food. Sportive Lemurs have large eyes, which help them see better at night when they are most active. Their diet consists mostly of fruit, flowers, leaves, bark, and insects. Some species even eat small vertebrates like frogs or geckos! These primates rely heavily on scent marking to communicate with each other since they lack the vocal cords that other primates possess. They are also known for playing "tag" games with one another as a way to socialize and exercise during the early morning hours before sunrise.
Dwarf and Mouse Lemurs
These are two distinct species of primates found in Madagascar. Dwarf lemurs, also known as mouse-like or small-bodied lemurs, are the smallest primate species in the world, measuring just 4.75 inches long on average. They have grayish brown fur with white stripes down their back and sides, large black eyes, and a short tail.
Mouse lemurs, on the other hand, can grow up to 6.6 inches long and have more reddish brown fur with lighter patches around their face, head, and body. Unlike dwarf lemurs, they possess a long tail that helps them balance while climbing trees.
Both types of Lemur feed mainly on insects, but they will occasionally eat fruit or nectar when available. These nocturnal primates usually live alone and occupy territories ranging from 0.5 to 1 hectare depending on the size of their home range, though some individuals may occupy larger areas than others during certain seasons due to food availability or breeding opportunities.
Indris, Avahis, and Sifakas
These are all three types of primates. They belong to the lemur family, which is endemic to Madagascar. Indris are large primates with a body length of up to 20 inches and weighing up to 11 pounds. The coat is black or dark brown with white patches on its chest and back. On their heads, they have hair arranged in tufts like those of an owl.
Avahis are small primates that can reach a length of up to 10 inches. Their fur ranges from light gray to tan, often with darker spots on the forehead and/or crown area. They also have long ears that may be tufted at the tips.
Lastly, Sifakas are medium-sized primates whose bodies can range anywhere from 15-20 in length and weigh between 9-17 lbs. These primates have bright white fur on their face, arms, legs, belly, and rear end while having greyish fur along their backside, giving them a unique look amongst other species of primates native to Madagascar.
Aye-Ayes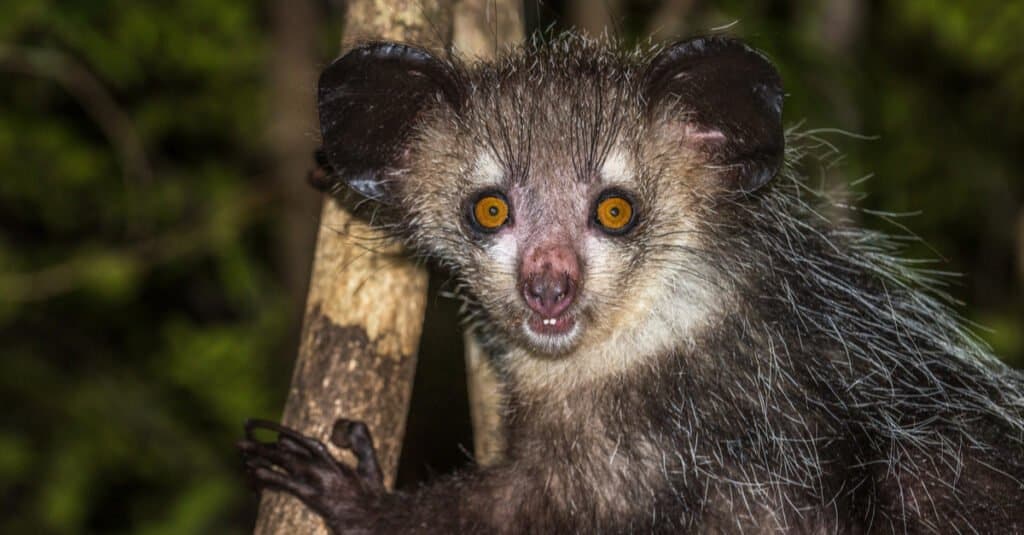 These are a type of primate native to Madagascar. They belong to the genus Daubentonia and are the only species alive today in this genus. Aye-ayes can be recognized by their large eyes, bushy tails, and long fingers with claws. They have thick, grizzled fur that is usually dark brown or black, although albino individuals have been recorded. Aye-ayes are nocturnal animals which means they live primarily at night and sleep during the day. Their diet consists mostly of insects, grubs, and fruit found in tree bark – they use their long middle finger to tap on trees looking for food sources inside them! Due to habitat destruction from deforestation as well as hunting by humans, aye-aye populations have declined drastically over time, making them an endangered species today.
Lorises, Pottos, and Angwantibos
These are all primates that belong to the Strepsirrhini suborder of primates. Lorises are found in parts of Africa, Southeast Asia, and India. They have a slow-moving arboreal lifestyle with a diet consisting mainly of insects. Pottos are also found in Africa, and their diet consists primarily of leaves, fruit, and insects. Angwantibos live only in West African rainforests, where they feed on fruits and invertebrates. All three species share similar physical characteristics, such as large eyes for night-time vision, elongated digits for climbing trees, round heads with short snouts, long hind limbs relative to forelimbs, small body size ranging from 4 ounces to 3 pounds, and thick fur coats adapted to their nocturnal lifestyles.
Bush Babies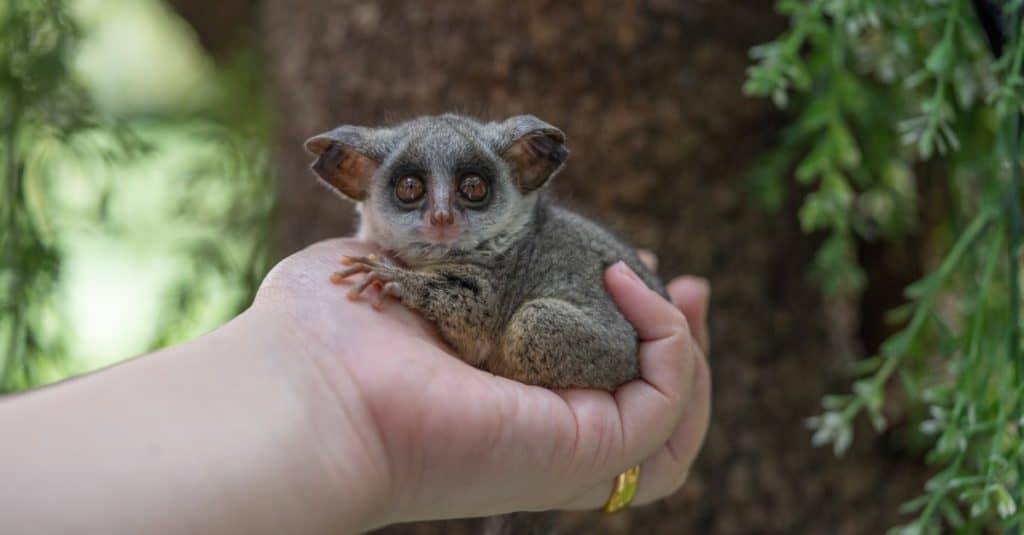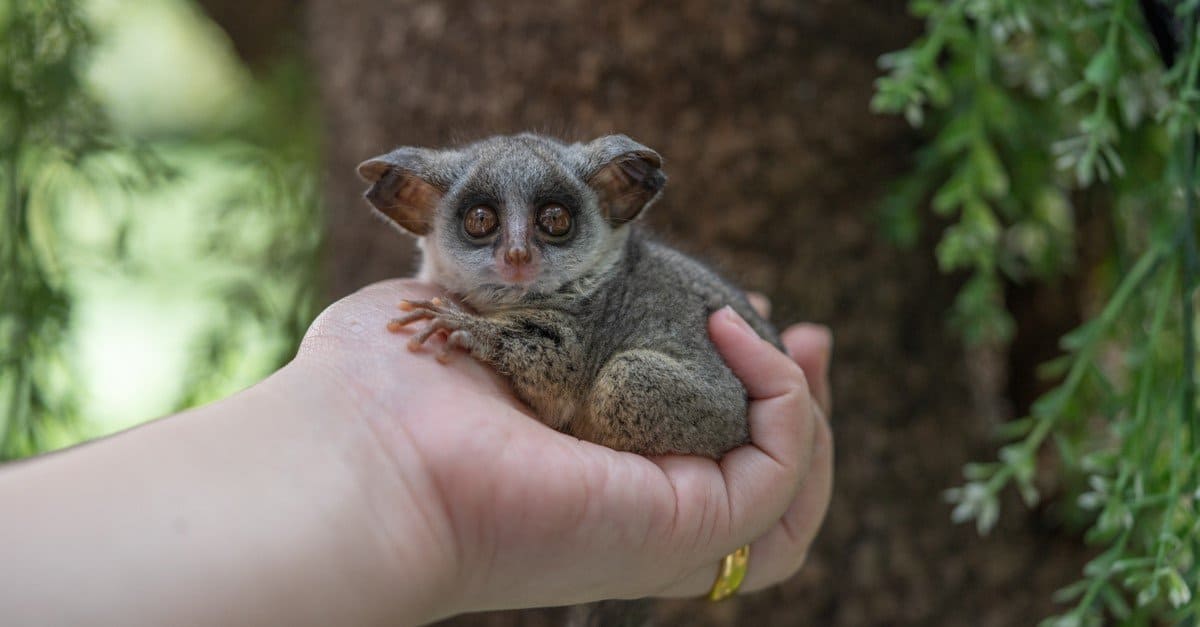 Bush Babies, also known as Galagos, are small primates native to Africa. They are nocturnal and have large eyes that allow them to see well in the dark. Their bodies are covered with soft fur, and they typically measure between 8-18 inches long, including their tail. Bush Babies eat a variety of food, such as insects, eggs, fruit, and nectar which is why they inhabit a wide range of habitats, from savannas to forests. In addition to having big eyes, these animals also possess strong hind legs, which makes it easy for them to leap around trees at night in search of food or shelter. Bush Babies make unique vocalizations like chirps, whistles, and barks, which help them communicate with other members of their species while defending their territory against predators or rivals.
Tarsiers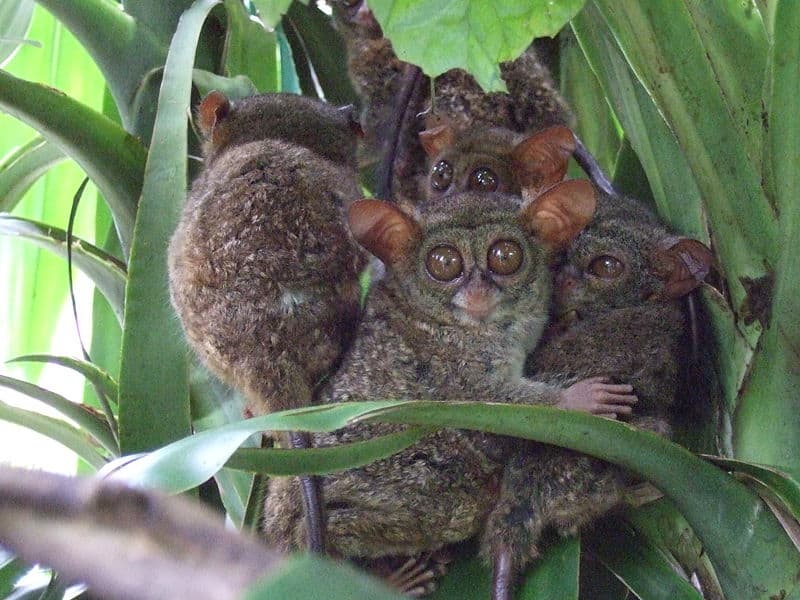 A tarsier is a small, nocturnal primate that can be found in Southeast Asia. They have large, bulbous eyes and long hind legs that allow them to jump up to 9 feet in one leap. Tarsiers are omnivorous creatures, eating both insects and fruit. They are known for their unique form of communication, which involves a series of loud calls made during the night. They also possess a highly specialized auditory system that allows them to hear ultrasound frequencies normally undetectable by humans. All tarsiers belong to the family Tarsiidae and are considered endangered due to habitat destruction caused by human activity.
Marmosets and Tamarins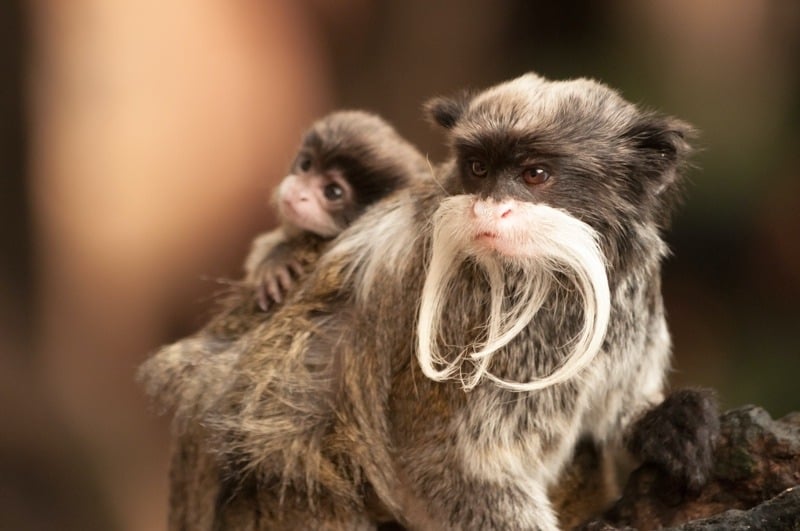 Marmosets and tamarins are small, New World monkeys found in South and Central America. They are classified as Callitrichids, a subfamily of primates that includes marmosets, tamarins, lion tamarins, Goeldi's monkeys, night monkeys, and other species. Marmosets have long tails with white tips, while Tamarins have shorter fur-covered tails without white tips. Most marmoset species are brownish-gray or black, while Tamarin species come in many different colors, including reds, oranges, to yellows. Both marmosets and tamarins live in the trees of tropical forests, where they feed on tree sap from exudates (gum) holes made by them using their sharp lower incisors. These primates usually live together in groups that form bonds among family members for mutual protection against predators such as snakes or birds of prey.
Squirrel Monkeys and Capuchin Monkeys
These monkeys are two of the most common species of primates in the world. Squirrel monkeys, also known as Saimiri sciureus, are small primates native to tropical Central and South America. They inhabit rainforests and savannas, where they feed on fruit, insects, flowers, eggs, frogs, and lizards. They have black faces with white fur around their eyes that extend down to their chin.
Capuchins (Cebus apella) are medium-sized New World monkeys found in many parts of South America. They can be found in a variety of habitats, including forests, woodlands, and even near human settlements such as villages or towns. These agile climbers usually feed on fruits, nuts, and seeds but will also hunt for other small animals like birds or spiders when necessary. Both squirrel monkeys and capuchin monkeys have social hierarchies within their groups, which are important for maintaining order among them.
Night Monkeys and Titi Monkeys
These monkeys are two distinct species of primates that belong to the family of Platyrrhini, which is a group primarily found in South America. Night monkeys, also known as owl monkeys or douroucoulis, are characterized by their large eyes and round heads. They can be found in tropical forests throughout Central and South America. Titi monkeys are diurnal primates with long tails and colorful coats. They inhabit the Amazonian rainforest regions of Brazil, Peru, Bolivia, Ecuador, and Colombia. Both night and titi monkeys have adapted to living in different climates across their range. However, they prefer to live near water sources such as rivers or lakes for easy access to food resources like fruits, insects, flowers, and small vertebrates. These monogamous primates form strong bonds with each other lasting up to 20 years!
Howler Monkeys and Spider Monkeys
These monkeys are two different species of primates. Howler monkeys, which can be found throughout Central and South America, have a distinctive loud howling call that they use to communicate with each other over long distances. They are arboreal animals and feed on leaves, fruits, flowers, nuts, insects, and small vertebrates. Spider monkeys are also native to Central and South America but can be found further north in Mexico as well. Unlike the howlers' loud calls, these primates remain relatively quiet, but their prehensile tails make them very agile tree climbers allowing them to consume a large variety of food sources, including fruits, buds, flowers, leaves, invertebrates, and even bird eggs when available.
Uakaris and Sakis
These are both types of non-human primates that belong to the same family, called Cebidae. Uakaris are considered one of the most endangered species of primate, with only three known species in existence. They can be found inhabiting the lowland rainforests along major rivers in Brazil, Peru, and Bolivia. Uakaris have distinctive red or orange faces with long fur on their head, and back that is usually black or dark gray.
Sakis are also members of the Cebidae family, but they differ from uakaris in several ways. The saki monkey has a longer tail than other primates, which it uses to help balance itself as it jumps through trees. Its fur can range from brownish-gray to black, and its face is typically bare, apart from some white facial hair around its eyes and mouth regions. It lives primarily within tropical forests throughout South America, including countries such as Colombia, Ecuador, Venezuela, Guyana, French Guiana, and Suriname.
Guenons, Verbets, Baboons and Macaques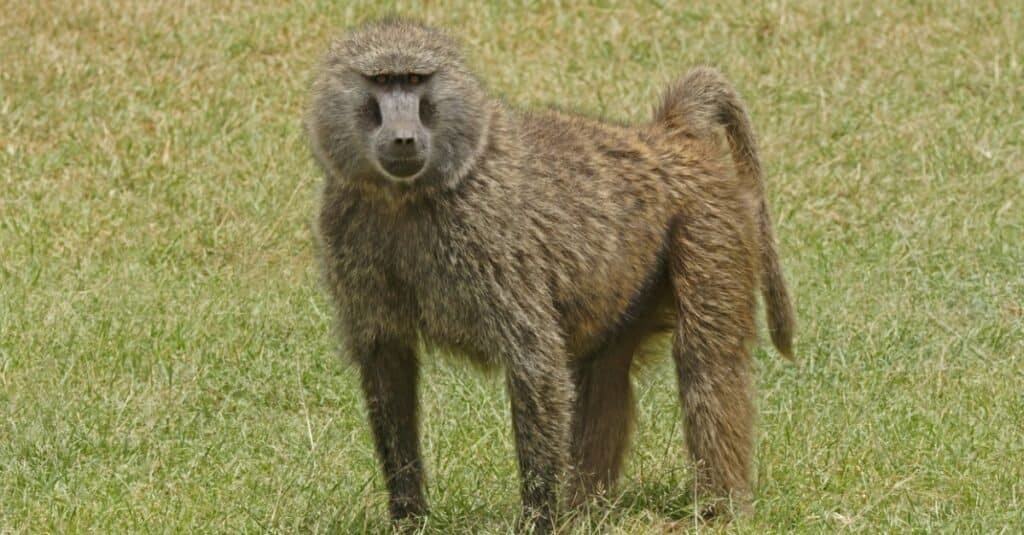 These are all types of non-human primates. Guenons, also known as the "typical" or "true" monkeys, are found in the tropical forests and savannahs of Africa. They have long tails that they use for balance when climbing trees. Verbets are a type of Old World monkey that lives in grassland habitats throughout Africa. These primates typically have short tails with tufted tips and can often be distinguished by their unique facial features, such as white beard patches or colorful markings around the eyes. Baboons are large-bodied primates with short fur and long snouts that inhabit parts of North America, Europe, Asia, and Africa. Finally, macaques are medium-sized primates found throughout Asia whose most distinguishing feature is their wide range of coat colors from light grey to dark brown, depending on the species or location within its range.
Colobuses, Langurs, and Proboscis Monkeys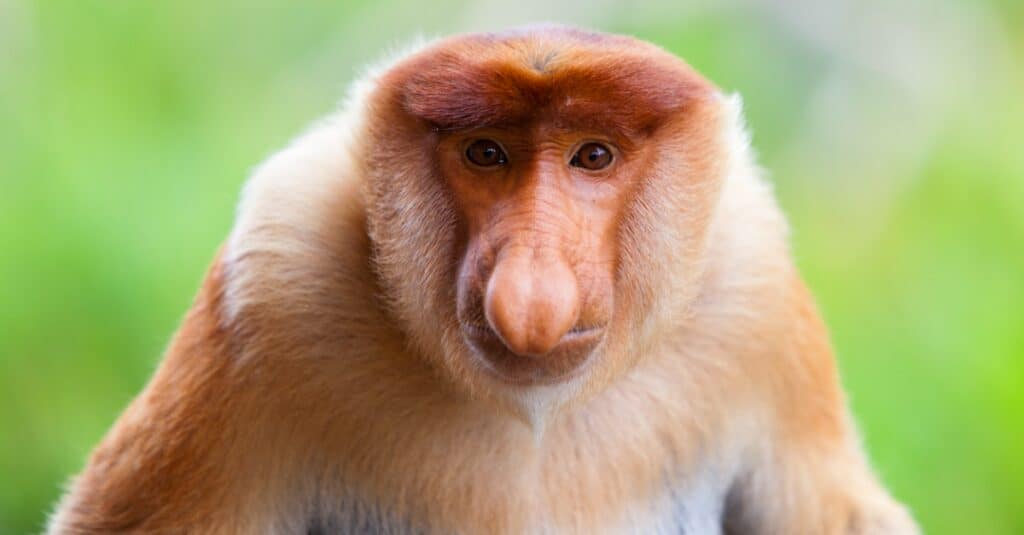 These are all types of non-human primates. Colobuses are a type of Old World Monkey with distinctive long tails and bearded faces. They are in tropical Africa and the Middle East. Langurs are an Old World Monkey species that live primarily in South Asia, with some inhabiting parts of Southeast Asia as well. They have long tails and often have black fur on their bodies with lighter-colored fur on their heads. Proboscis Monkeys are native to Borneo and you can identify them by their large noses, which grow even larger as they age. In addition to having big noses, these monkeys also have unusually long tails, which make them excellent swimmers!
Gibbons and Siamangs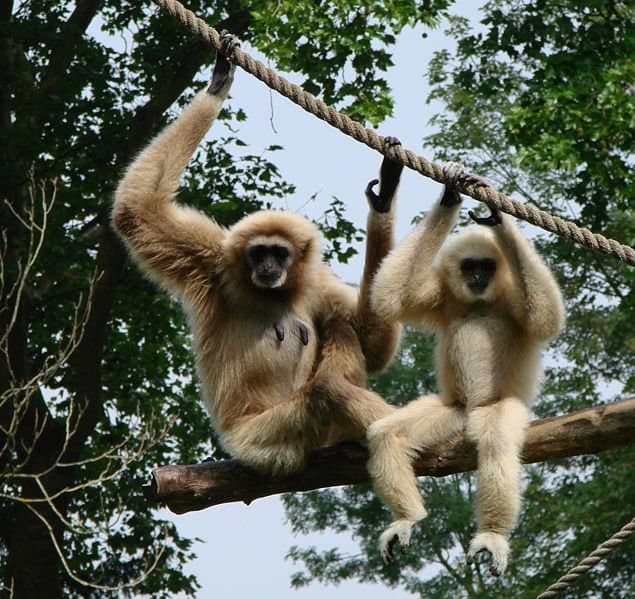 These are both primate species belonging to the family Hylobatidae. They are small-bodied apes that share some of the same physical characteristics, such as long arms for brachiation (swinging from branch to branch), a short face, and no tail. Gibbons live in tropical or subtropical climates throughout Southeast Asia, while siamangs inhabit the rainforests of Sumatra and Malaya. Both primates exhibit loud vocalizations, which they use to communicate with each other over long distances in their densely forested habitats.
In terms of behavior, gibbons tend to be monogamous pairs that spend most of their time high up in trees during daylight hours; siamangs are more social creatures who often form multi-male/multi-female groups similar to those seen among chimps and gorillas. Both species face the threat of deforestation and hunting for bushmeat as well as illegal pet trade activities. Thus, we must continue conservation efforts aimed at helping them survive into future generations.
Orangutans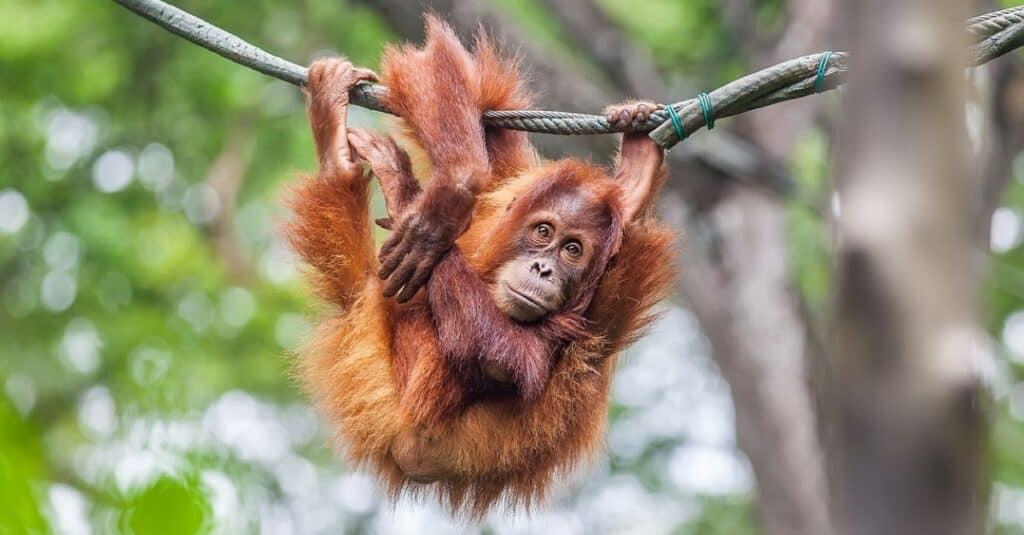 Orangutans are a species of great ape native to Indonesia and Malaysia. They are the only exclusively Asian member of the family Hominidae and the largest arboreal creature in the world. Orangutans have reddish-brown fur and distinctive facial features, including large cheek pads known as flanges. These primates are intelligent animals capable of making tools to help them survive in their forest habitats. In addition to being incredibly strong, orangutans also display complex behavior such as self-awareness, problem-solving, tool use, and even sign language comprehension! Their diet mainly consists of fruit, but they will occasionally consume insects or small vertebrates for additional nutrients. Sadly, due to deforestation and illegal poaching for bushmeat markets, these incredible creatures are now critically endangered, with less than 70 000 surviving in the wild today.
Gorillas
Gorillas are one of the four species of great apes in the world. They belong to the scientific family Hominidae, which includes humans, chimpanzees, and bonobos. Gorillas are mostly herbivores, eating a diet consisting mainly of fruits and leaves. They live in groups called troops that can range from 5-30 members, with a dominant silverback male leading them. The females will often stay within their troop, while males may leave after they reach maturity at around 11 years old. These primates live in tropical or subtropical forests across central Africa, including countries like Uganda, Rwanda, DR Congo, and Gabon.
Chimpanzees and Bonobos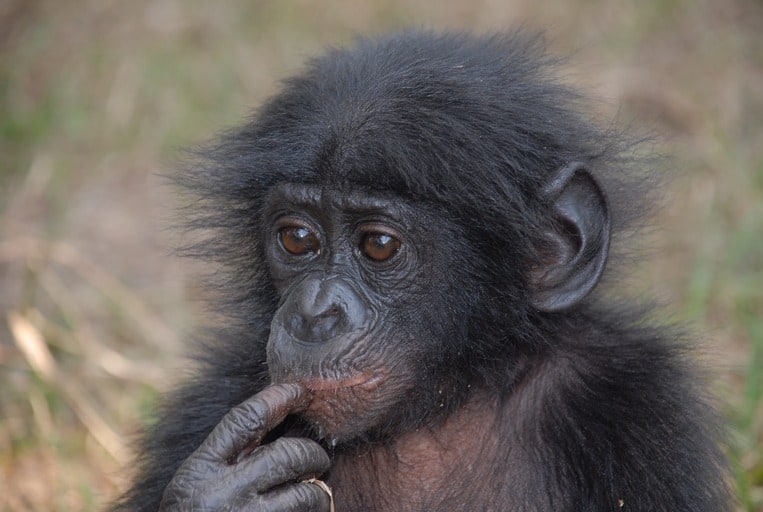 Chimpanzees and bonobos are two of the four species of great apes. Chimps, which live in central and western Africa, are the closest living relatives of humans – sharing over 98% DNA similarity with us. Bonobos, also known as pygmy chimpanzees, are only in the Democratic Republic of Congo and is an endangered species due to their decreasing numbers in wild habitats. Both primates display highly developed social structures that involve strong emotional bonds between individuals within a group. They have been observed engaging in complex problem-solving activities like tools used for obtaining food and other resources from their environment. In addition to this, both species show extraordinary levels of intelligence shown through their high capacity for learning new skills and behaviors even when raised outside of natural habitat environments.
Primate Breakdown
Primate Common Name
Scientific Name
Origins
Ring-Tailed and Ruffed Lemurs
Suborder Strepsirrhini. Infraorder Lemuriformes. Family Lemuridae
Madagascar, Comoro Islands
Sportive Lemurs
Suborder Strepsirrhini. Infraorder Lemuriformes. Family Lepilemuridae
Madagascar, Comoro Islands
Dwarf and Mouse Lemurs
Suborder Strepsirrhini. Infraorder Lemuriformes. Family Cheirogaleidae
Madagascar, Comoro Islands
Indris, Avahis, and Sifakas
Suborder Strepsirrhini. Infraorder Lemuriformes. Family Indriidae
Madagascar
Aye-Ayes
Suborder Strepsirrhini. Infraorder Lemuriformes. Daubentoniidae
Madagascar
Lorises, Pottos, and Angwantibos
Suborder Strepsirrhini. Infraorder Lorisiformes. Family Loridae
India (lorises) and Africa
Galagos/Bush Babies
Suborder Strepsirrhini. Infraorder Lorisiformes. Family Galagonidae
Africa and Zanzibar
Tarsiers
Suborder Haplorrhini. Infraorder Tarsiiformes. Family Tarsiidae
Philippines, Borneo,
Celebes Islands,
Sumatra
Marmosets and Tamarins
Suborder Haplorrhini. Infraorder Simiformes. Parvorder Platyrrhini. Family Callitricidae
Panama and north
and eastern South
America
Squirrel and Capuchin Monkeys
Suborder Haplorrhini. Infraorder Simiformes. Parvorder Platyrrhini. Family Cebidae. Subfamily Cebinae
forested areas of
Central America
and/or north and
Eastern South
America
Night and Titi Monkeys
Suborder Haplorrhini. Infraorder Simiformes. Parvorder Platyrrhini. Family Cebidae. Subfamily Aotinae
forested areas of
Central America
and/or north and
Eastern South
America
Howler and Spider Monkeys
Suborder Haplorrhini. Infraorder Simiformes. Parvorder Platyrrhini. Family Cebidae. Subfamily Atelinae
forested areas of
Central America
and/or north and
Eastern South
America
Uakaris and Sakis
Suborder Haplorrhini. Infraorder Simiformes. Parvorder Platyrrhini. Family Cebidae. Subfamily Pithecenae
forested areas of
Central America
and/or north and
Eastern South
America
Guenons, Verbets, Baboons, Macaques
Suborder Haplorrhini. Infraorder Simiformes. Parvorder Catarrhini. Superfamily Cercopithecoidea. Subfamily Cercopithecinae
Africa, Gibraltar,
South and East Asia
Colobuses, Langurs, and Proboscis Monkeys
Suborder Haplorrhini. Infraorder Simiformes. Parvorder Catarrhini. Superfamily Cercopithecoidea. Subfamily Colobinae
Africa, India, Southeast Asia, Borneo
Gibbons and Siamangs
Suborder Haplorrhini. Infraorder Simiformes. Parvorder Catarrhini. Superfamily Hominoidea. Family Hylobatidae.
Southeast Asia
Orangutans
Suborder Haplorrhini. Infraorder Simiformes. Parvorder Catarrhini. Superfamily Hominoidea. Family Homindae. Subfamily Ponginae
Sumatra and Borneo
Gorillas
Suborder Haplorrhini. Infraorder Simiformes. Parvorder Catarrhini. Superfamily Hominoidea. Family Homindae. Subfamily Gorillinae
Central and West Africa
Chimpanzees and Bonobos
Suborder Haplorrhini. Infraorder Simiformes. Parvorder Catarrhini. Superfamily Hominoidea. Family Homindae. Subfamily Homininae
Africa
---