When people think of Nevada, they automatically assume gambling, the desert, and mining. But the 7th largest state in the United States has a lot more to offer. Nevada is a mountainous state with valleys, forests, and rivers. Despite being a desert state, Nevada has a surprising number of beautiful lakes. Many are one-of-a-kind, ranging from alpine lakes to magnificent desert settings, while others are reservoirs.
The majority of Nevada's bodies of water are reasonably accessible and, in some cases, have developed towns surrounding them with excellent lodging options. There are multiple lakes in the area, with some larger than others. These are the nine biggest lakes in Nevada to explore if you ever find yourself in the state.
The 9 Biggest Lakes in Nevada
9. Topaz Lake
Topaz Lake, dubbed the "Home of the Trophy Trout," is located at the northern end of the Antelope Valley, where California meets Nevada. It's a reservoir about 75 miles (121 kilometers) south of Reno and has a surface size of 2,410 acres (980 ha) and a depth of 92 feet (28 m). The present reservoir was created by diverting water from the West Walker River into an adjacent floodplain that once held a smaller natural lake.
In 1922, the first dam was built, leading to a reservoir with a maximum capacity of 45,000 acre-feet (56,000,000 cubic meter). Spending a day fishing, sailing, or exploring Topaz Lake and its 25 miles of shoreline is a great way to enjoy its beauty and wildlife. Boaters, waterskiers, campers, and anglers flock to Topaz Lake as it is supplied with trout throughout the year. The lake is also a great place to cast a line. Trophy rainbow and brown trout, as well as smallmouth and largemouth bass, are commonly caught here.
8. Wild Horse Reservoir
Wild Horse Reservoir is an artificial reservoir in the United States, located in Elko County. It has a surface area of 2,830 acres (11.5 km2) and a maximum depth of 70 feet (21 m), allowing it to hold 71,500 acre-feet (88,200,000 m3) of water. The man-made lake, like South Fork State Recreation Area, was developed as part of the National Flood Control Act in the late 1930s. Wild horses have become less numerous in the area since the dam was built, but they can still be seen to the west towards the Owyhee Desert.
When the initial dam was structurally unsafe in 1969, the reservoir was increased in size. Wild Horse Reservoir, which sits at a breathtaking 6,200 feet — the same elevation as Lake Tahoe — has some of Nevada's coldest winter temperatures, making it ideal for ice fishing. This lake freezes faster than other reservoirs in the vicinity during the fall months, and it stays frozen the longest. Summer fishing is enjoyable, with rainbow and German Brown trout, yellow perch, smallmouth bass, and catfish supplied.
7. Washoe Lake
Located in Washoe County, Nevada, Washoe Lake is a small, shallow lake with a surface area that varies substantially from year to year but averages 5,800 acres (23.47 km2). Washoe Lake is a eutrophic lake that sits directly east of Lake Tahoe. The lake's maximum depth is only 12 feet (3.7 m) and is quite turbid due to the shallowness and heavy winds.
Washoe Lake is a warm-water fishery where non-native Sacramento perch, channel catfish, brown bullhead, white bass, and carp can be caught. This lake offers a wide range of outdoor activities, including fishing, hiking, horseback riding, windsurfing, camping, and wildlife watching. Washoe Valley is also home to a herd of Nevada's famous wild horses, who wander freely in the areas bordering Virginia City and Lake Tahoe.
6. Lake Mohave
Lake Mohave is a reservoir downstream of the Hoover Dam that defines the border between Nevada and Arizona. The lake is less well-known than Lake Mead but is famous for its 26,500 acres (10,700 ha) of surface area. It boasts a maximum depth of 75 feet (23 meters) and a volume of 246.1 million cubic meters (199,500 acre-ft). The lake is home to two native fish species, which are both endangered: the razorback sucker and the bonytail chub. It is also filled with common freshwater species like rainbow trout, largemouth bass, smallmouth bass, striped bass, crappie, common carp, channel catfish, and sunfish. 
5. Walker Lake
Walker Lake is a natural lake in western Nevada that is 11 miles (17 kilometers) long and 5 miles (8 kilometers) broad. The lake has a total surface area of 32,123.7 acres and a maximum depth of 68 feet (21 meters). The Walker River feeds the lake from the north, and it has no natural outflow other than absorption and evaporation. It is one of central Nevada's must-see outdoor recreation spots, offering swimming, boating, and camping.
Walker Lake is a great place to see wild horses, Desert Bighorn Sheep, and various birds. The water, of course, is a major attraction. Walker Lake is home to over 10,000 water birds featuring common loons, egrets, white pelicans, and herons. Several raptors can also be seen near the lake. Peregrine falcons, red-tail hawks, American kestrels, and bald eagles are the birds to look out for.
4. Honey Lake
Sitting near the Nevada border in northeastern California, Honey Lake dries almost completely in most years, but it still covers 46,720 acres on average. Summer evaporation shrinks the lake to 3,000 acres, resulting in an alkali flat. This big, shallow lake is a vital wetland region that supports many migrating species, notably the stunning arctic Tundra swan, and is bordered by alkali flora and agricultural fields.
Bird viewing, camping, warm-water fishing, picnicking, hiking, and waterfowl hunting are popular activities at Honey Lake. During the spring and fall migration seasons, large flocks of the sandhill crane, white-faced ibis, and snow and Ross's geese occupy the lake.
3. Pyramid Lake
Pyramid Lake is located 40 miles northeast of Reno, Nevada, and is one of the most bizarre lakes in Nevada. The lake was much larger in the early 1800s than now, but a dam and irrigation project redirected most of the water, which is now 80 feet lower. Even in its greatly diminished shape, the lake still ranks as Nevada's largest naturally formed lake, with 125,000 acres and a depth of 350 feet.
The lake's dwindling size has revealed unusual rock structures, the greatest of which is a massive pyramid that lends the lake its name. Anglers travel to Pyramid Lake to try their luck at catching the cui-ui, a rare fish. Below the surface, there are also record-sized Lahontan Cutthroat Trout and Sacramento Perch.
2. Lake Tahoe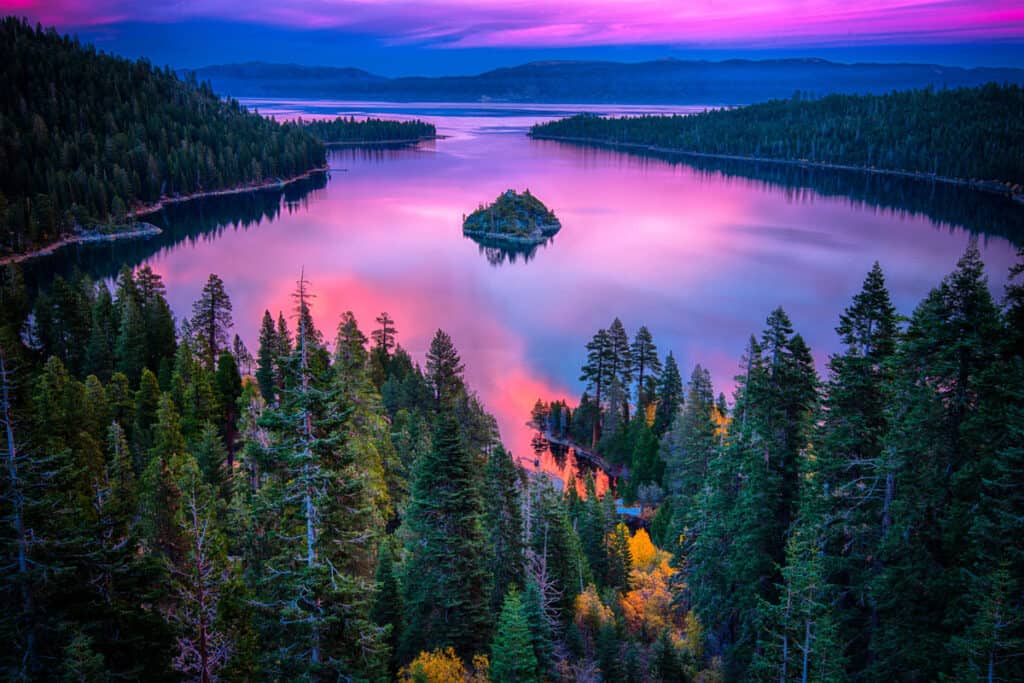 The fourth-deepest lake in North America and the second in the United States, Lake Tahoe is a deep and vast lake shared by Nevada and California. Covering a surface area of 122,600 acres (496.2 km²), Lake Tahoe is also Nevada's second-largest lake. Coincidentally, it is also the second-largest lake that touches California's borders.
Aside from these rankings, Lake Tahoe ranks among the largest lakes in the United States, owing to its massive volume of water. Lake Tahoe is located in the Sierra Nevada and holds a volume of 36 cubic miles (150.7 cubic kilometers). The lake is also known for its incredibly transparent and pure water, which measures 99.994% purity, almost as pure as distilled water. It is also the continent's largest alpine lake, sitting at 6,225 feet (1,897 meters) above sea level.
1. Lake Mead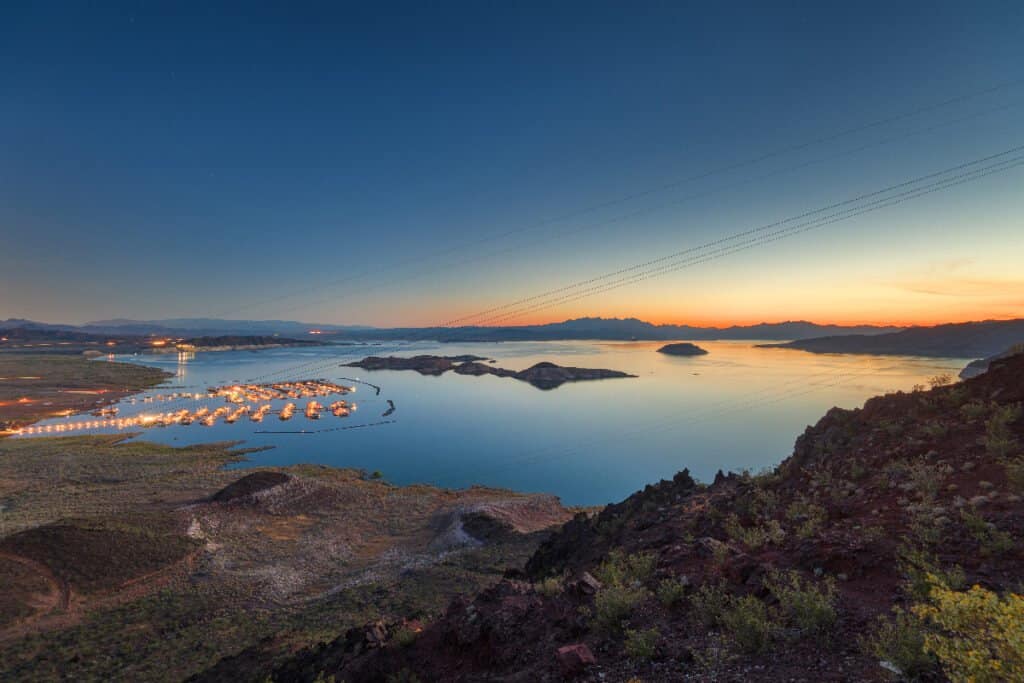 Lake Mead is the largest lake in Nevada and the largest man-made lake in the United States, with a surface area of 158,100 acres and a length of 112 miles. On the Arizona-Nevada border, Lake Mead was created by the damming of the Colorado River by the world-famous Hoover Dam.
The reservoir was established in 1936 to offer hydroelectric power, water, recreational opportunities, and a habitat for various wildlife. Despite being one of the most visit-worthy lakes in the state and the country, it is also one of the most snake-infested. There are four species of rattlesnakes within the recreation area, all of which are considered deadly.
Summary of the 9 Biggest Lakes in Nevada
Here's a recap of the nine largest lakes in Nevada that we took a look at.
| Rank | Lake | Surface Area | Maximum Depth | Activities |
| --- | --- | --- | --- | --- |
| 1 | Lake Mead | 158,100 acres | 532 ft (162 m) | Boating, camping, cycling, fishing, hiking |
| 2 | Lake Tahoe | 122,600 acres | 1,645 ft (501 m) | Boating, fishing, hiking, skiing |
| 3 | Pyramid Lake | 125,000 acres | 350 ft (107 m) | Angling |
| 4 | Honey Lake | 46,720 acres (3,000 acres in summer) | 25 ft (8 m) | Bird watching, camping, warm-water fishing, picnicking, hiking, waterfowl hunting |
| 5 | Walker Lake | 32,123.7 acres | 68 ft (21 m) | Bird and wild horse watching |
| 6 | Lake Mohave | 26,500 acres | 75 ft (23 m) | Fishing |
| 7 | Washoe Lake | 5,800 acres | 12 ft (3.7 m) | Fishing, hiking, horseback riding, windsurfing, camping, wildlife watching |
| 8 | Wild Horse Reservoir | 2,830 acres | 70 ft (21 m) | Angling, ice fishing |
| 9 | Topaz Lake | 2,410 acres | 92 ft (28 m) | Boating, camping, waterskiing, fishing |
---
The Featured Image
---