Louisiana boasts a rich culture and legacy, but it is also replete with breathtaking landscapes. Swamps, deltas, marshes, longleaf coniferous forests, and moist savannahs are all featured in the state. In other words, it's easy to see why Louisiana is known as the Bayou State. It also has an abundance of natural and man-made lakes that offer unlimited opportunities for water sports, fishing, boating, bird viewing, and other outdoor activities.
Most of its lakes are shallow, with moss-covered southern cypress trees with water-dipped roots. Because of their distinct and frequently delicate ecosystems, several lakes are protected by neighboring national parks or conservation reserves. Be it natural or artificial, Louisiana prides itself on massive lakes. Below, we will explore the 12 biggest lakes in Louisiana.
The 12 Biggest Lakes in Louisiana
12. Lake Claiborne
Lake Claiborne is a prominent man-made fishing place secluded in a remote community. This reservoir has a total approximate surface area of 6,400 acres (25.9 km2) and a water capacity of 99,500 acre-ft (0.1227 km3). The Claiborne Dam and Lock, built in 1970, impounds a tiny tributary of the D'Arbonne River, creating the reservoir. The lake was built for navigation and water management and is quite remote.
For those who enjoy swimming, hiking, water skiing, fishing, boating, camping, and bird watching, Lake Claiborne is an ideal vacation location. The lake is also known as Louisiana's "Most Scenic Lake." Largemouth bass, hybrid stripers, chain pickerel, catfish, bluegill, crappie, and walleye are all stocked in the lake. Some of the heaviest Louisiana striped bass have also been caught there. 
11. Black Lake
In North Louisiana, between Creston and Campti, lies a reservoir known as Black Lake. It has around 7,000 acres (28 km2) of surface size and is situated about 102 feet (31 meters) above sea level. Because Black Lake is shallow, the fish migrate to Clear Lake, an adjacent body of water, in colder temperatures and then to Black Bayou as the weather becomes even colder. Therefore, the fish inhabiting the lake can only be found in deeper waters in the winter. Apt to its name, the Black crappie make up most of the crappie populations found at Black Lake.
10. Cross Lake
Cross Lake is an 8,575-acre freshwater reservoir near Shreveport, Louisiana that serves as a water supply for the city. Antique cypress trees and wetlands surround some portions of the lake, but many others are intensively developed with private mansions. The lake is home to various ducks, alligators, and other species.
After the completion of the Cross Lake Dam and its Spillway in 1926, the lake was constructed. It is well-known among anglers for providing outstanding bass fishing possibilities. On the lake, there are numerous local and national fishing contests. Bass, white perch, catfish, bluegill, and red ear sunfish are the most numerous fish in the lake. Fishing regulations in the area mandate anglers to return any bass that measures 14 to 17 inches long into the waters.
9. Lac des Allemands
Located about 25 miles from New Orleans, Lac Des Allemands is a natural lake fed by several bayous in the Barataria Basin, including Bayou Chevreuil and Grand Bayou. Lac des Allemands has a total surface area of approximately 12,000 acres (4,900 ha). Despite its vastness, it is a shallow lake with a maximum depth of 10 feet (3.0 meters) and an average of 5 feet (1.5 m).
Bayous, access canals, drainage canals, and navigation channels abound across the basin. The yearly Louisiana Catfish Festival is held in the lake, recognized as the Catfish Capital of the World. It's also a renowned habitat for a variety of different fish. Egrets, great blue herons, bald eagles, raccoons, otters, frogs, and alligators live in the cypress-lined bayous.
8. Lake D'Arbonne
Lake D'Arbonne is a 15,250-acre reservoir nestled in north Louisiana, near the town of Farmerville, in the middle of a calm, rural area. Lake D'Arbonne State Park surrounds the lake, drawing visitors to this tranquil, majestic state park by piney forests rich with wildlife, undulating hills, five fishing piers, and a gorgeous lake. It is also the only state park in the state to have a tennis court. Residents and tourists enjoy Lake D'Arbonne's recreation, and the lake's record freshwater harvests of catfish, bass, crappie, and bream make it a fishing paradise.
7. Caddo Lake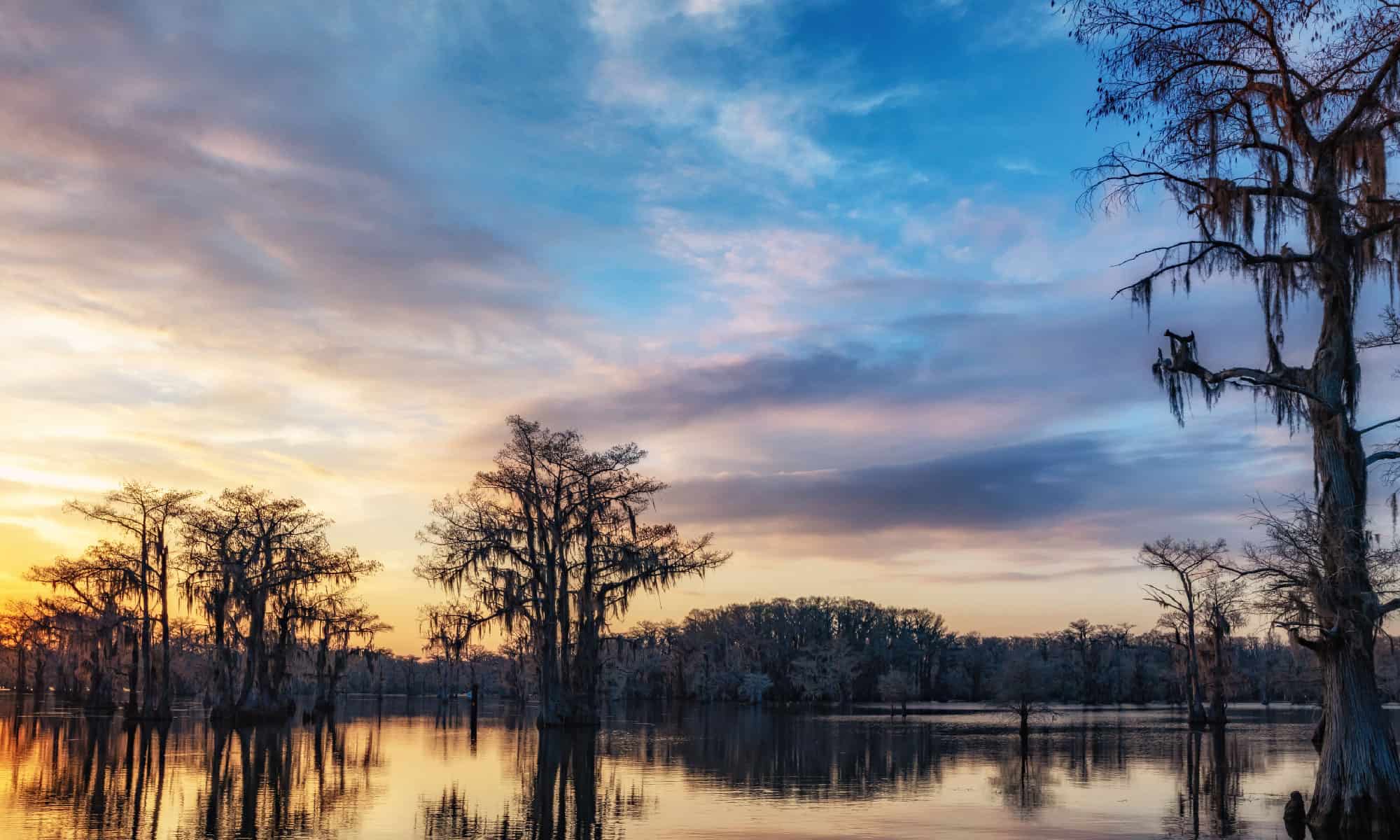 Caddo Lake is a 25,400-acre (10,300-hectare) lake on the Texas-Louisiana border, located in northern Harrison and southern Marion counties in Texas and western Caddo Parish in Louisiana. This magnificent freshwater lake is surrounded by the world's largest Cypress forest, adding to its allure. The Caddo tribe, who once inhabited the area, gave the lake its name.
Caddo Lake is now an internationally protected wetland where owls, eagles, beavers, bobcats, frogs, river otters, snakes, and alligators can be found. It also has over 70 different fish species, making it a popular fishing spot. Since it is one of the country's most alligator-infested lakes, it is not a lake where you may swim though. 
6. Catahoula Lake
Catahoula Lake is a vast freshwater lake in central Louisiana, United States, located in the parishes of LaSalle and Rapides. It is the state's largest natural freshwater lake, comprising about 30,000 acres (12,000 ha). The United States Army Corps of Engineers, the United States Fish and Wildlife Service, and the Louisiana Department of Wildlife and Fisheries maintain the lake.
Catahoula Lake is also renowned as America's Leading moist soil unit and is home to a wide range of waterfowl, including geese, ducks, and wading birds. It is also a popular fishing, hunting, hiking, sightseeing, and bird-watching destination. 
5. Calcasieu Lake
Calcasieu Lake is a 49,149-acre (198.9 km2) lake in Cameron Parish, southwest Louisiana, located about 17 miles from Lake Charles. The water's high salinity is explained by the fact that this brackish lake, also known as Big Lake, opens to the Gulf of Mexico. The saline lake water also explains the abundance of fish, attracting fishers looking for world-record redfish, speckled trout, and flounder. In the lake, brown and white shrimp are also frequently caught. If you don't own a boat, you can easily rent one or go on a fishing cruise.
4. Lake Maurepas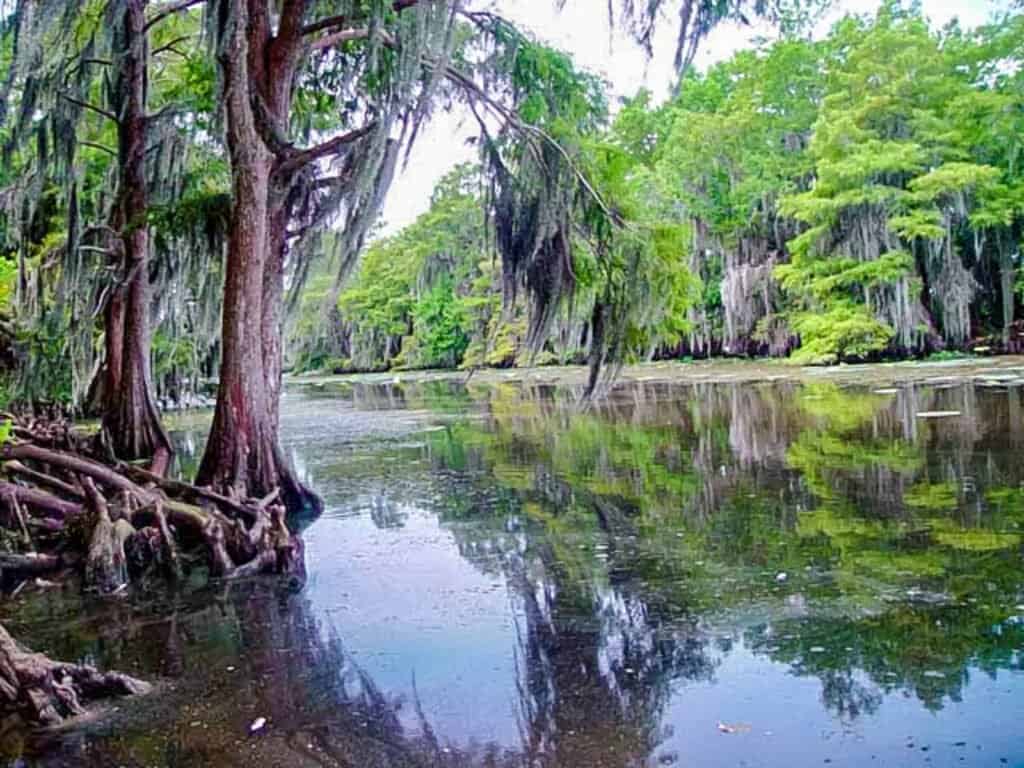 Lake Maurepas is a circular, shallow lake located immediately west of Lake Pontchartrain and named after Jean-Frédéric Phélypeaux, Count of Maurepas. The lake is approximately 59,000 acres (240 km2) in size and has a mean depth of roughly 10 feet. Pass Manchac connects Lake Maurepas to Lake Pontchartrain in the northeast. It is Louisiana's second-largest lake fully within its borders, after its larger sibling, Lake Pontchartrain, located just east of Maurepas. The Blind River, the Amite River, the Tickfaw River, and the Natalbany River supply freshwater to Lake Maurepas. The lake's swamps have a negative reputation for low fisheries productivity, earning its reputation as a "dead swamp."
3. Lake Borgne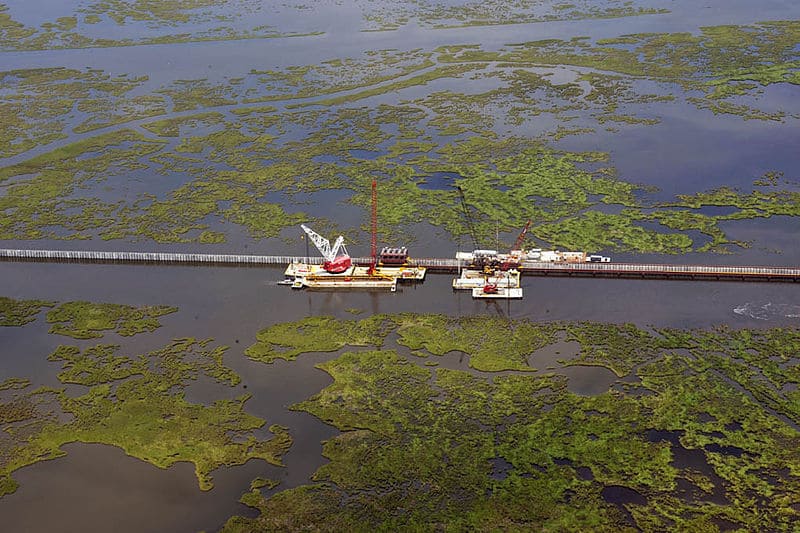 Although maps consider Lake Borgne a lagoon, it was originally a lake surrounded by land. Coastal erosion, however, has turned it into a lagoon, making it an arm of the Gulf of Mexico. Borgne appears on early 18th-century maps as a true lake, isolated from the gulf by a wide area of marshes that have since vanished. The lake has an average depth of 9.8 feet and a surface area of 180,387 acres (730 km2). Lake Borgne offers endless opportunities for various gamefish to sport anglers, and it is one of the most accessible fishing grounds in the vicinity.
2. Toledo Bend Reservoir
The Toledo Bend Reservoir lies between Louisiana and Texas and boasts a surface area of 185,000 acres (748.7 km²). In 1964, the construction of the Toledo Bend Dam began, and the Toledo Bend Dam on the Sabine River started its construction in 1964 and was finished in 1969. The project's main goals are to generate hydroelectric power and provide water and recreation.
Toledo Bend boasts 1,200 miles of beachfront and is gradually becoming a popular vacation destination. The Toledo Bend Dam, South Toledo Bend State Park, and North Toledo Bend State Park are all located on the lake. The massive reservoir is one of the country's largest man-made lakes, and the largest in Texas, with a total water capacity of 4,472,900 acre-feet. Freshwater fishing is a popular sport, and several clubs hold annual contests.
1. Lake Pontchartrain
Spanning a surface area of 402,800 acres, Lake Pontchartrain is the largest lake in Louisiana. However, deeper shipping channels are dredged regularly to ensure safe navigation. Through the Rigolets strait and the Chef Menteur Pass, the lake is connected to the Gulf of Mexico. The lake also has one of the largest wetlands on the Gulf Coast of North America, including cypress swamps and bottomland hardwoods, along with diverse herbaceous wetlands and marshes. Artists and young professionals now live in the New Orleans neighborhood of Lake Pontchartrain, while the north shore is filled with upscale lodgings and well-known restaurants.
Summary of the 12 Largest Lakes in Lousiana
| Rank | Lake | Surface Area |
| --- | --- | --- |
| 12 | Lake Claiborne | 6,400 acres (25.9 km2) |
| 11 | Black Lake | 7,000 acres (28 km2) |
| 10 | Cross Lake | 8,575 acres |
| 9 | Lac des Allemands | 12,000 acres (4,900 ha) |
| 8 | Lake D'Arbonne | 15,250 acres |
| 7 | Caddo Lake | 25,400 acres (10,300-hectare) |
| 6 | Catahoula Lake | 30,000 acres (12,000 ha) |
| 5 | Calcasieu Lake | 49,149 acres (198.9 km2) |
| 4 | Lake Maurepas | 59,000 acres (240 km2) |
| 3 | Lake Borgne | 180,387 acres (730 km2) |
| 2 | Toledo Bend Reservoir | 185,000 acres (748.7 km²) |
| 1 | Lake Pontchartrain | 402,800 acres |
Table of the 12 Biggest Lakes in Louisiana
---
The Featured Image
---