↓
Continue Reading To See This Amazing Video
The Columbia River starts in the Rocky Mountains of British Columbia, Canada, flowing northwest, south into the United States, and west, outlining the Washington-Oregon border. Its source is Columbia Lake in Canada, and its mouth is the Pacific Ocean in Clatsop County, Oregon, and Pacific County, Washington. The river has a length of 1,243 miles and a basin size of 258,000 square miles. 
Along the way, the Columbia River features various habitats, being home to numerous animal species, such as deer, yellow-bellied marmots, black bears, California ground squirrels, and multiple amphibian and reptile species. Garter snakes, among other gorgeous snakes, are often spotted along the river. 
Since snakes are common in Columbia River habitats, let's find out more about 7 of them! We promise they have extraordinary features! Most of them have unique color patterns that will help you tell them apart from other species!
1. Garter Snake
Garter snakes are a unique species of snake, thanks to their ability to recycle toxins from poisonous animals. They absorb the toxins and "use" them later to poison their predators – birds, for example. This way, garter snakes can live longer, usually reaching 4-5 years in the wild. 
These snakes are often found near water sources, like streams, lakes, or rivers, including the Columbia River environment. Moreover, people can stumble upon garter snakes while gardening or working outdoors, as they like living in fields, prairies, forests, and meadows. Their colors range from dark brown and black to green and gray. Some snakes have patterns of blue and red. Their bellies usually have lighter shades. Garter snakes have yellow or white (rarely red or blue) stripes running from their necks to their tails. 
Garter snakes have venom, but it's harmless to people and larger animals. If it bites a human being, it will most often cause irritation and swelling. 
2. California Mountain Kingsnake
California mountain kingsnake is endemic to western North America. It is common from southern Washington state through Oregon and California, reaching northern Baja California. It's a nonvenomous colubrid snake with a similar color pattern to that of a coral snake. 
The color pattern of these snakes consists of red, black, and white crossbands arranged as follows: two black crossbands surround each red crossband, thus forming a triad; then, these triads are separated from each other by a white, cream, or yellow crossband. It's pretty amazing how unique snakes can be, right?!
3. Rubber Boa
Rubber boa snakes are known for resisting temperatures as low as 54 degrees Fahrenheit. They prefer grasslands, meadows, forests, and mountain areas where they seek warm and moist habitats. They live in Washington, California, Montana, Wyoming, Nevada, and Utah in the United States. They have also been spotted in the Columbia River Gorge. 
Rubber boas are divided into two types:
Northern rubber boa, scientifically called Charina bottae, lives in the northern and western regions of the country;
Southern rubber boa, scientifically called Charina umbratica, is shorter than northern rubber boas and lives in southern California; this subspecies is categorized as "Vulnerable."
The unique rubber boa features are the white scales with brown spots on their bellies and brown-yellow scales on their backs. Their small dark eyes usually blend with their scale patterns. Rubber boas can grow as large as 33 inches and weigh less than three ounces. 
4. Ringneck Snake
Ringneck snakes are members of the Colubridae family. They can have color patterns ranging from brown and black to blue and gray. People can identify these snakes by their unique so-called neckbands and ventral colorations. First, they have a red or yellow neckband. Then, the margins of their bodies can have a yellow-orange to red coloration covered in black spots. Some snakes can lack one of these features, but ringneck snakes lacking both are extremely rare. 
These beautiful snakes live in wet habitats, usually along river basins or margins, where plants or places can make for "hiding places." Ringneck snakes feed on salamanders, frogs, and lizards. 
5. Night Snake
Night snakes live in various habitats, including meadows, deserts, rocky areas, and forests. They have been spotted in the Columbia River Gorge. 
These snakes are most active at night and hide beneath bushes or rocks during the day. There are three types of night snakes:
California night snake;
San Diego night snake.
Growing as large as 26 inches, night snakes have thick bodies, narrow snouts that widen when they reach the base of their heads, and eyes with elliptical pupils. Their bodies are gray or light brown with dark brown patches on their backs. The base of their heads has two dark brown splotches. A night snake's belly is white. 
6. Western Rattlesnake
Western rattlesnakes are often called northern pacific rattlesnakes. They are venomous pit vipers that live from the Baja California Peninsula to British Columbia. Scientifically, they are called Crotalus oreganus. 
On average, these snakes can reach 39 inches in length. The biggest western rattlesnake measured 64 inches. When they are born, western rattlesnakes have unique patterns. As they grow, these patterns become less obvious and range from dark brown, olive-brown, or yellowish colors covered in dark blotches. 
In the United States, these venomous snakes can be found in Washington, Oregon, California, Nevada, Idaho, Arizona, Utah, and Colorado. They also live in the Columbia River Estuary but are probably spread all along the Columbia River.
7. Western Yellow-Bellied Racer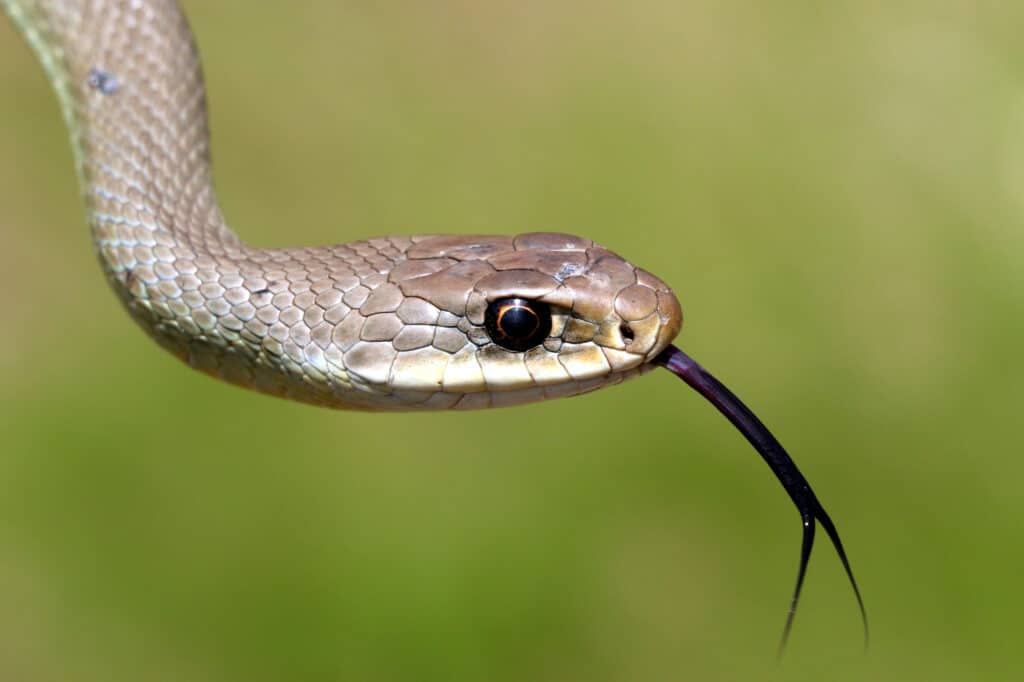 Western yellow-bellied racers are also called western racers and form a subspecies of eastern racers. In turn, eastern racers are members of a species in the Colubridae family. 
Western yellow-bellied racers are endemic to the Western United States and live in Nevada, California, Oregon, Utah, Montana, and Colorado. They distinguish themselves from other snakes thanks to their long and slender shape. 
These snakes are gray and have brown or red blotches when they are young. As adults, western racers have brown, green, or blue shades with a yellow underside. 
Discover the "Monster" Snake 5X Bigger than an Anaconda
Every day A-Z Animals sends out some of the most incredible facts in the world from our free newsletter. Want to discover the 10 most beautiful snakes in the world, a "snake island" where you're never more than 3 feet from danger, or a "monster" snake 5X larger than an anaconda? Then sign up right now and you'll start receiving our daily newsletter absolutely free.
Up Next:
More from A-Z Animals
---
The Featured Image
---