Key Points:
Each year, millions of visitors come to the big lakes spread across Tennessee.
These lakes offer great fishing, boating, swimming, hiking trails, birdwatching, and picnicking.
Some of the lakes are close to major cities, the Smoky Mountains, and other famous attractions, which adds to the recreational opportunities.
Tennessee is a four-season tourist spot named after the Yuchi Indian word "Tana-see," which means "meeting place." True to its name, the state boasts many tourist attractions and is rich in history, nature, and culture. The Appalachian Mountains dominate the east, the state's center is a dome, and the Gulf Coastal Plain rules the west. It's one of the United States' most popular tourist destinations, with national parks, plantations, picturesque trails, bustling cities, and many lakes to explore.
These lakes are where you can launch your kayak, cool down in the water on a hot day, and relax on the bay's dock. Many are also known as reservoirs, the results of dams built on rivers. Locals and visitors come to these larger bodies of water for recreational activities like boating, fishing, and swimming. Each one is distinct due to its tranquil ambiance and stunning scenery. A vacation to these lakes would wash away all your worries and revitalize you completely. Below, we will explore the 10 biggest lakes in Tennessee.
The 10 Biggest Lakes in Tennessee
10. Percy Priest Lake
Percy Priest Lake, officially known as J Percy Priest Lake, is a reservoir located about 10 miles (16 kilometers) east of Nashville. Three campgrounds, 11 picnic places, 12 boat ramps, and eight marinas lie on the 14,200-acre (57.47 km²) lake, making it a popular recreational destination for around five million visitors annually. Anglers can go fishing by boat or stay on the bank fishing locations. Different types of bass fish, sunfish, catfish, bluegill, and trout are among the aquatic species you can see here. There's still plenty of enjoyment to choose from if you don't like fishing.
Rent a paddleboard from the Nashville Paddle Company or schedule a sailing demonstration with River Queen Voyages if you want to get out on the water. Take a horseback ride or a trek along the shoreline if you'd prefer not to get wet. Once you've had your fill of the lake, head downtown to experience the sights and sounds of Nashville.
9. Tellico Reservoir
Tellico Lake is 30 miles southwest of Knoxville, near the Cherokee National Forest's northern border. It's a tributary of the Little Tennessee River, connected to Lake Fort Loudoun by a canal. Tellico Lake has 357 miles of shoreline and a water surface area of over 16,000 acres (64.75 km²). This pure body of water, whose waters come from national forests and the Great Smoky Mountains National Park, offers many recreational opportunities. Boating, paddleboarding, swimming, picnicking, and fishing are popular activities on the lake. The reservoir does not support large numbers of fish, but you can find sufficient Largemouth Bass, White Crappie, Bluegill, Smallmouth Bass, Rainbow Trout, and Walleye for a fun outing. At Lotterdale Cove and Fort Loudoun Park, there's a boat ramp and fishing piers.
8. Center Hill Lake
Center Hill Lake is another fantastic lake to see in Tennessee. It's in the heart of the state in Smithville, sandwiched between Nashville, Knoxville, and Chattanooga. The lake is an artificially-made body of water, constructed in 1948 by the US Army Corps of Engineers to aid flood control and electricity generation. The reservoir's deepest point is 58 meters, and its surface area is around 18,220 acres (73.73 km²).
The lake attracts visitors from all over the country each year because of its stunning emerald-like water and the pristine natural beauty surrounding it. Kayaking, wakeboarding, hiking, picnics, birdwatching, fishing, and other outdoor leisure activities are popular in this area. The fishing for crappie, smallmouth bass, walleye, catfish, trout, sunfish, and striped bass scored good marks. For those who enjoy catching large fish, the lake also includes populations of paddlefish and muskies.
7. Old Hickory Lake
Old Hickory Lake sits in the north-central section of Tennessee, and the counties of Davidson, Sumner, Trousdale, Smith, and Wilson are all next to its boundaries. Pontoon boats are one of the rental options for exploring this 22,500-acre (91 km²) lake connected to the Cumberland River. Despite its proximity to the town, it provides a tranquil haven for outdoor enthusiasts seeking a respite from the bustle and cacophony of the city. The Old Hickory Beach, located along the lake's shoreline, includes a big picnic pavilion with picnic tables and grills that can accommodate up to 100 people. Visitors to this lake are sure to appreciate the variety of birds that flock here, including waterfowl, white egrets, and blue herons.
6. Cherokee Lake
The damming of the Holston River created Cherokee Lake, a 30,300-acre (122.62 km²) reservoir. It sits in Panther Creek State Park, behind Cherokee Dam in eastern Tennessee. Morristown is in the Clinch Mountains' foothills and is the closest community, located 30 miles east of Knoxville. The Cherokee people, who are native to the area and have resided here for almost 200 years, inspired its name. This picturesque lake is a vast, island-studded lake with plenty of leisure opportunities like pontoon boating and fishing.
Visit the boat launches, go for a picnic, hike the trails, or mountain bike to take advantage of everything the lake has to offer. A sand beach lies just outside the Cherokee Dam Campground. Go camping at Panther Creek State Park or Cherokee Dam Campground for a more in-depth experience. Some occasional wildlife also thrives in the area, such as bald eagles, bats, salamanders, moles, and shrews.
5. Douglas Lake
The French Broad River formed Douglas Lake, nestling in East Tennessee, between Sevierville and Dandridge. Douglas Lake is one of Tennessee's largest lakes, with 513 miles of shoreline and 30,600 acres (123.83 km²) of water. The Smoky Mountain foothills encircle the lake and are close to Pigeon Forge and Gatlinburg's tourist attractions. The Baneberry resort community is on the lake's northern banks, making it a densely populated location.
Every year, around 1.7 million visitors come here to enjoy the tranquil nature and abundant recreational opportunities. If you don't have your own boat, you can rent one from one of the outfitters, which also rents out Jet Skis. If you visit Douglas Lake between late July and October, keep an eye out for migratory birds. Douglas Lake is the best reservoir for crappie fishing, but it also has catfish, bass, and bluegill.
4. Norris Lake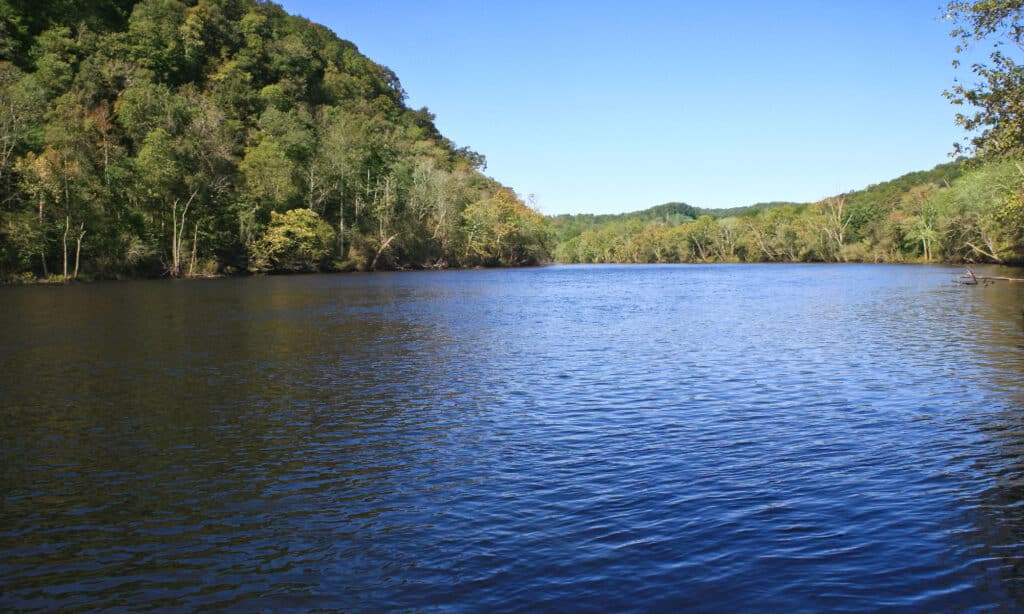 Norris Lake is a peaceful retreat nestled in the Cumberland Mountains' foothills. It's home to roughly 56 different fish species and is a popular fishing spot, with more than a dozen bass, trout, rockfish, walleye, crappie, catfish, and even alligator gar stocked in the lake. Take note of the crystal clear water—the 34,200-acre (138.4 km²) lake is said to be Tennessee's cleanest and deepest. There are lodging alternatives around the lake, including camping, houseboating, and renting a floating home. For a complete experience, dine at one of the many restaurants that overlook the lake. Animals such as deer, cows, horses, eagles, turkeys, and blue herons are some of the wildlife that thrives here.
3. Chickamauga Lake
Chickamauga Lake, located on the Tennessee River between the communities of Birchwood and Georgetown, is a calm, gorgeous spot that provides an excellent lake escape. The Cherokee Chickamauga tribe that once lived in the area inspired its name. Chickamauga Lake is one of Tennessee's best bass fishing lakes, but it also has catfish and bluegill for anglers to catch. The water level of this vast 36,200-acre (146.7 km²), gorgeous lake varies depending on weather conditions and power requirements, as its water temperature drops in the summer. There is plenty of wildlife habitat, with 810 miles of shoreline and two wildlife centers to visit. Song and Vesper sparrows thrive in the fall, though not in large numbers.
2. Watts Bar Lake
Watts Bar Lake, which spans four counties in eastern Tennessee and sits between Chattanooga and Knoxville, is a massive 39,600-acre (160.3 km²) body of water. The fishing is legendary, with black crappie, spotted bass, and largemouth bass being the most common species captured. Keep your eyes peeled and your camera ready for the variety of birds that fly freely around the area. In addition, the lake has several rental homes and campgrounds, making it an excellent destination to spend a long weekend. You may also rent houseboats, pontoons, and fishing boats as a bonus to make the most of your time on the water.
1. Kentucky Lake
Kentucky Lake begins in Kentucky but finishes in Tennessee. Or is it the other way around? The Kentucky Lake, the largest artificial lake in the eastern United States in terms of area, spans Tennessee and Kentucky, covering five counties in each state. It shares borders with Benton, Henry, Houston, Humphrey, and Stewart counties in Tennessee. The Kentucky Dam Village State Resort Park and Kenlake State Resort Park lie on the northern and western shores of this massive lake, with a surface size of 160,309 acres (648.7 km2).
You'll find the Tennessee National Wildlife Refuge in the nearby area, which offers ample opportunities for wildlife viewing and bird watching. White-tail deer are the most common creatures you'll observe at the refuge, while raccoons, squirrels, and foxes are among the smaller species. In fact, the refuge is home to more than 300 bird species, 51 mammals, 89 reptiles, and amphibians. Kentucky Lake is noted for blue, channel, and flathead catfish.
Honorable Mentions: Other Huge Lakes in Tennessee
There are many other massive lakes for water lovers to enjoy in the state of Tennessee that didn't make our top 10. Below are a couple more to consider next time you are searching for a great lake to visit.
Cordell Hull Reservoir
One of the largest lakes in Tennessee is a manmade reservoir that spans 12,000 acres in north-central Tennessee along the Cumberland River, roughly 40 miles east of Nashville. Cordell Hull Reservoir was created by the U.S. Army Corps of Engineers to generate hydroelectric power, as well as for recreational use.
Activities one can enjoy in or around this massive lake are camping, fishing, boating, hiking, biking, picnicking, and horseback riding. Fish that inhabit its depths include largemouth bass, smallmouth bass, crappie, sauger, walleye, catfish, bluegill, and shad.
Reelfoot Lake
Tucked into the northwest corner of Tennessee is Reelfoot Lake State Park which houses Reelfoot Lake. Amazingly, it was formed as the result of massive earthquakes that occurred in succession from 1811-1812. The lakes came about due to the fact that these quakes caused the Mississippi River to flow backward. In essence, this 15,000-acre lake is actually a flooded forest.
One of the beauties of this 20-mile-long lake is its cypress trees and root systems, as well as aquatic flowers and plants that lie along its shorelines. Golden eagles and bald eagles soar in its skies, while its waters teem with catfish, largemouth bass, crappie, sunfish, and bream. Fishing, boating, and hunting are some of the activities enjoyed around the lake, as well as hiking. This lake is not a swimming lake, but well worth a visit for its uniqueness.
Summary Of The 10 Biggest Lakes In Tennessee
| Rank | Lake | Size |
| --- | --- | --- |
| 10 | Percy Priest Lake | 14,200 acres |
| 9 | Tellico Reservoir | 16,000 acres |
| 8 | Center Hill Lake | 18,220 acres |
| 7 | Old Hickory Lake | 22,500 acres |
| 6 | Cherokee Lake | 30,300 acres |
| 5 | Douglas Lake | 30,600 acres |
| 4 | Norris Lake | 34,200 acres |
| 3 | Chickamauga Lake | 36,200 acres |
| 2 | Watts Bar Lake | 39,600 acres |
| 1 | Kentucky Lake | 160,309 acres |
The photo featured at the top of this post is © Litta_Seal/Shutterstock.com
---