With the Caribou-Targhee National Forest, Bryce Canyon National Park, the Grand Staircase-Escalante National Monument, and more, the only way to describe Utah is to say it is breathtakingly gorgeous. It has a diverse range of natural attractions and year-round leisure opportunities. Utah has such a diverse geographical landscape that you could happily spend weeks traveling the state.
Desert dunes, valleys, pine forests, and hillsides can all be found here. Apart from all these picturesque terrains, the state boasts more than 2,000 lakes and 89,000 miles of streams. Both natural lakes and man-made reservoirs abound throughout Utah. Most of these lakes are replete with trout and largemouth bass, making the state even more popular for anglers. Below, we will explore the 12 biggest lakes in Utah and other facts.
The Biggest Lakes in Utah
12. Fish Lake
Fish Lake is one of Utah's most famous lakes for a good reason. It is a 2,500-acre alpine lake in the Fishlake National Forest, lying 8,848 feet (2,700 meters) above sea level. This pristine lake, bordered by the rugged peaks of the Mytoges Mountains, is Utah's largest natural mountain lake. Rainbow trout, lake trout, brown trout, tiger trout, splake, kokanee salmon, and yellow perch can all be found in the lake's waters. Yellow perch are considered an invasive species. Thus anglers are advised to release any that they catch. The Utah Division of Wildlife Resources fish hatchery near Glenwood supplies the lake with fish. The lake is also quite deep, with some areas exceeding 170 feet.
11. Scofield Reservoir
Scofield Reservoir is a 2,815-acre (11.39 square kilometer) reservoir in Carbon County created by Scofield Dam. The reservoir is located on the northern side of the Wasatch Plateau. It serves as a vital water supply for both municipal and industrial purposes. For adjacent communities, it's also a renowned fishing and outdoor activity place. Scofield is one of Utah's most well-known ice fishing spots. Each year, it is also among the earliest reservoirs to freeze. The lake is known for having world-record tiger trout populations. However, in recent years, growing numbers of Utah Chub have upset the balance, generating competition and limiting rainbow trout growth.
10. Deer Creek Reservoir
Deer Creek Reservoir was built in 1941 with the erection of a dam on the Provo River near Heber, Utah. The reservoir has 2,965 acres (12 square kilometer) surface area and is primarily utilized for irrigation and recreation. Rainbow trout, brown trout, largemouth bass, smallmouth bass, perch, walleye, and carp are all supplied in the lake. Because the lake is generally warm, fishing is possible all year. Swimming, water skiing, boating, sailing, and windsurfing are popular activities for visitors. Mount Timpanogos' snow-capped peaks mirror the lake's clear water, offering beautiful sights from the aspen-covered lake margins.
9. Rush Lake
Rush Reservoir, commonly known as Rush Lake, is a shallow salt lake in Tooele County, Utah, United States. The lake is formed by a stream that flows into the Great Salt Lake. It has a total surface area of 3,212 acres (13 square kilometers) and is located at an average altitude of 4,951 feet (1,509 meters). It's a relic of Lake Bonneville, a postglacial inland sea that formerly blanketed much of western North America during the Ice Ages. Several different fish species can be found in the lake, including Utah Chub, largemouth bass, channel catfish, carp, green sunfish, bluegill, yellow perch, black crappie, and black bullhead.
8. Jordanelle Reservoir
Jordanelle Reservoir, nestled between Heber City and Park City, was created in 1992 as a product of the Jordanelle Dam on the Provo River. It spans 3,301 acres (13.36 square kilometers) and sits at the height of 6,188 feet (1,886 meters). Agriculture, flood control, recreational leisure, and fish and wildlife preservation were all reasons for the reservoir's construction. Jordanelle State Park was established in 1995 to give access to the reservoir and recreational activities. Rainbow trout, brown trout, cutthroat trout, and smallmouth bass abound in the Lake, much to the joy of local anglers. 
7. Willard Bay
Willard Bay is a 9,900-acre (40 square kilometer) freshwater reservoir in eastern Box Elder County, Utah, northwest of Ogden, on the Great Salt Lake's north-eastern floodplains. It parted from the bigger lake in 1964 and currently serves as a drinking water source for the nearby communities. This body of water produces excellent walleye and wiper fishing and is a great spot for duck hunting. Willard Bay is also a well-known recreational site, with boating, swimming, jet skiing, water skiing, and fishing among the activities available. You may also enjoy hiking, picnics, and ATVing on land. Jordanelle State Park, which opened on June 29, 1995, is now a favorite summer location for triathletes and runners alike.
6. Strawberry Reservoir
Strawberry Reservoir, nestled 65 miles from the Wasatch Front, has 17,164 acres (69.46 square kilometers) and is 7,602 feet above sea level (2,320 m). In 1973, the reservoir was expanded to accommodate 1,106,500 acre-feet of water. Strawberry Reservoir is a state-favorite recreation site, particularly for fishing, flanked by the gorgeous Wasatch Mountains. It is, in reality, Utah's most renowned fishery, with more than 1.5 million angling hours per year. Cutthroat trout, rainbow trout, kokanee salmon, and crayfish are all abundant in the lake's waters. Parts of the reservoir are located within the Uinta-Wasatch-Cache National Forest, providing tranquility and excellent wilderness walks. A total of 1,524 miles of hiking and bike trails and 245 kilometer (152 miles) of motorized vehicle routes are also available.
5. Flaming Gorge Reservoir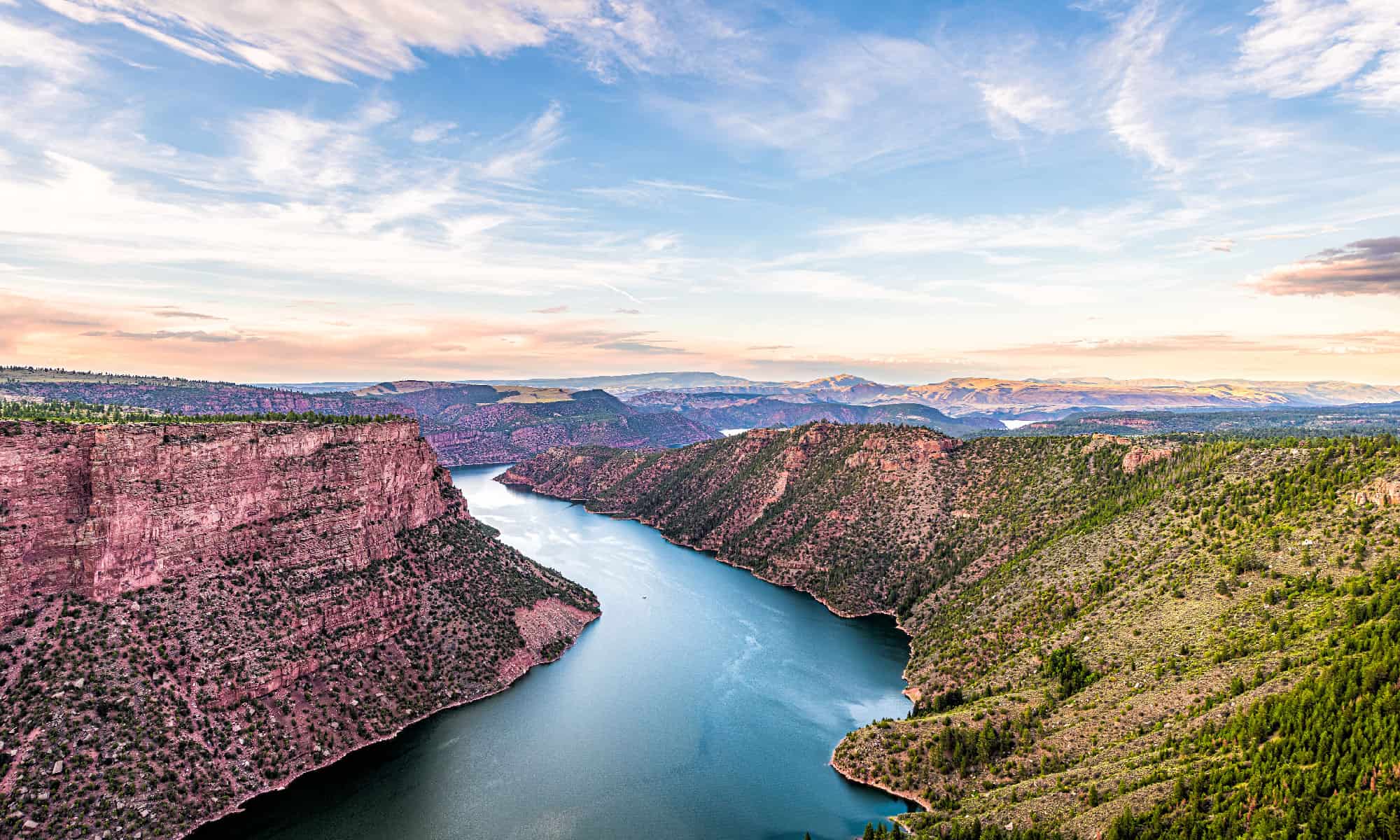 With a surface area of 42,020 acres and sitting at a surface elevation of 6,045 feet, Flaming Gorge Lake can hold 3,788,900 acre-feet of water. It is located in the center of the Ashley National Forest, near the Wyoming-Utah boundary. The recreation area's focus is the lake, which provides great windsurfing, water skiing, boating, and fishing opportunities. Hiking, cross-country skiing, and snowmobiling are also some of the other popular activities. The reservoir is well-known for its lake trout, but it also contains smallmouth bass, kokanee salmon, and rainbow and brown trout. Scuba divers and anglers flock to the Lake for its amazing clarity.
4. Bear Lake
Bear Lake is a natural freshwater lake in the Western United States, located on the border of Utah and Idaho. It covers around 70,000 acres (280 square kilometers) and is split about evenly between the two states. The Utah portion contains Utah's second-largest natural freshwater lake, behind Utah Lake. Bear Lake is a magnificent natural lake used for irrigation, hydropower generation, and flood control, in addition to being a famous tourist destination. The massive lake is known as the "Caribbean of the Rockies," owing its amazing turquoise color to suspended limestone deposits. It also has two state parks, one on the Utah side of the lake and the other on the Idaho side. 
3. Utah Lake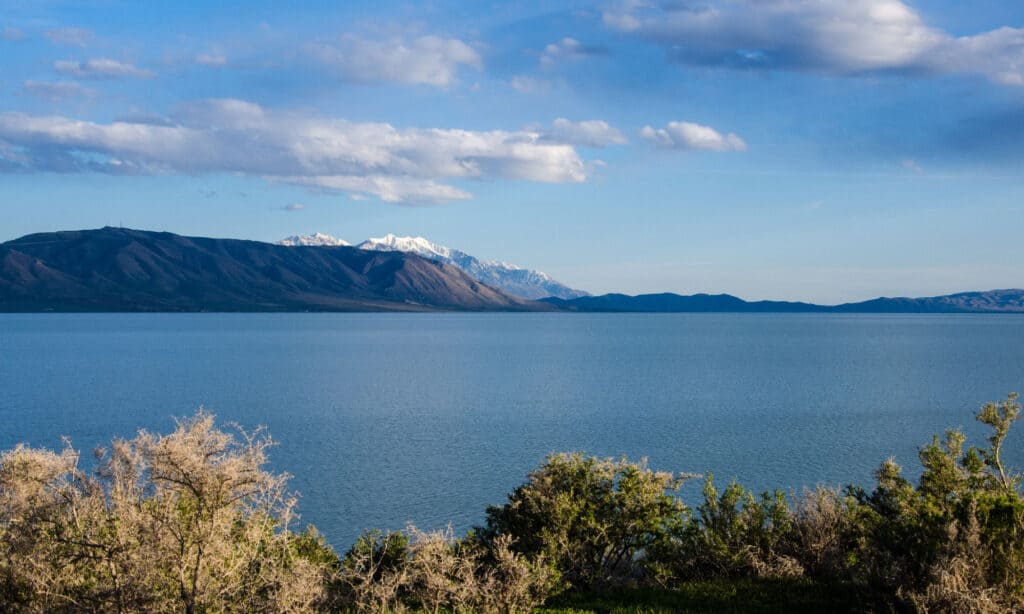 Utah Lake is a 95,000-acre (380 square kilometer) natural freshwater lake located in north-central Utah's Mountainland Region. It is one of the remaining surviving portions of prehistoric Lake Bonneville, which formerly occupied most of Utah. The lake is used for various purposes, such as water conservation, bird observation, and recreation. At least 25 different fish species have been imported into its waters. There are plenty of carp, black bullhead, channel catfish, largemouth bass, white bass, walleye, goldfish, yellow perch, bluegill, and black crappie. The great brown bat, silver-haired bat, Botta's pocket gopher, mule deer, desert woodrat, and striped skunk are some of the mammals that reside near the lake.
2. Lake Powell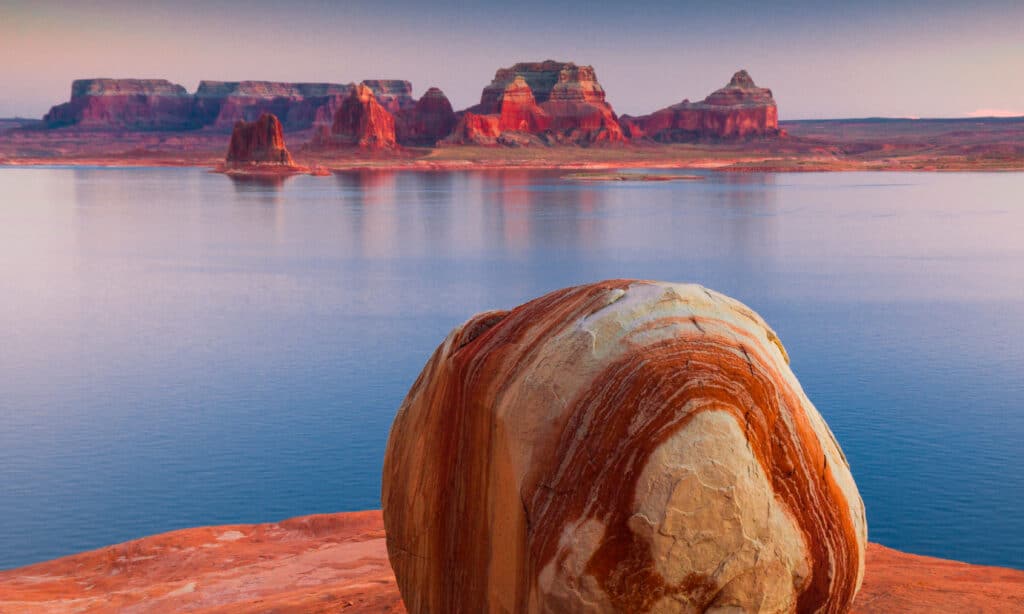 With a total capacity of 26,214,900 acre-feet and a total surface area of 161,390 acres (65,310 hectares), Lake Powell is the second-largest reservoir in the United States by volume and the largest lake touching Arizona's borders. Lake Powell is well-known for its spectacular landscape, attracting over two million tourists and visitors each year and providing massive water storage for the American states of Colorado, Arizona, Utah, Wyoming, and New Mexico. Like Lake Mead, Lake Powell was created by a dam on the Colorado River (Glen Canyon Dam). The Arizona-Utah border has almost 2,000 miles of shoreline and 96 main canyons, so you don't need a houseboat to enjoy them. The waterways are suitable for kayaking, jet skiing, sailing, and waterskiing.
1. Great Salt Lake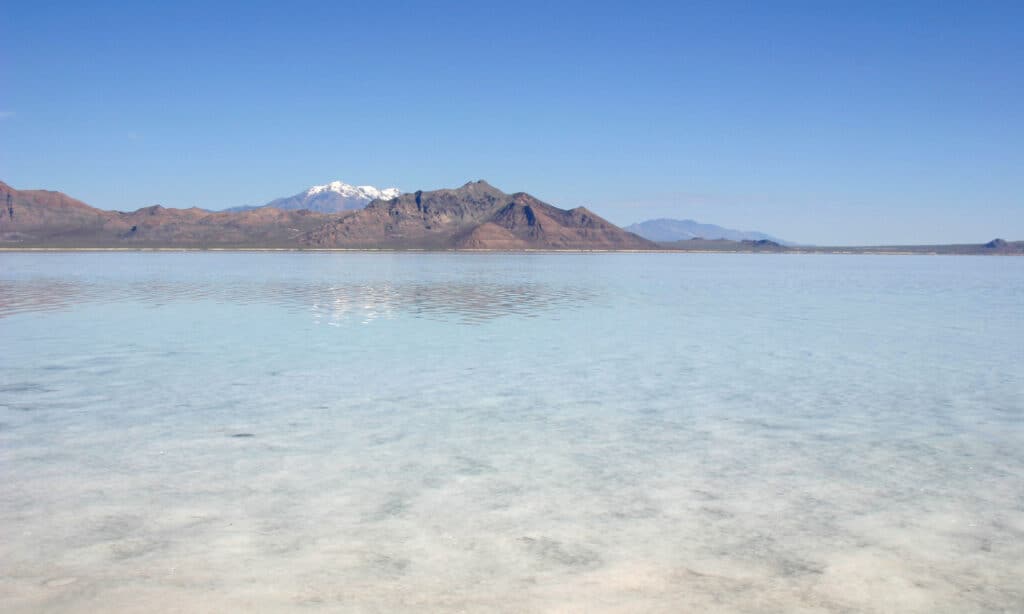 The Great Salt Lake is the largest salt lake in the Western Hemisphere and the world's eighth-largest terminal lake, with a surface area of 1.087 million acres (4,400 square kilometers). It is located in the northern part of Utah and has a substantial impact on the surrounding area's climate, primarily due to lake-effect snow. Low quantities of salt absorbed in the freshwater flow of contributing river systems are constantly brought in because it has no release. It evaporates when water enters the Great Salt Lake, leaving the salt behind.
Summary of the 12 Biggest Lakes in Utah
Here's a recap of the 12 largest lakes in the state of Utah, ranked by their total surface area:
| Rank | Lake | Size |
| --- | --- | --- |
| 1 | Great Salt Lake | 1.087 million acres |
| 2 | Lake Powell  | 161,390 acres |
| 3 | Utah Lake | 95,000 acres |
| 4 | Bear Lake | 70,000 acres |
| 5 | Flaming Gorge Reservoir | 42,020 acres |
| 6 | Strawberry Reservoir | 17,164 acres |
| 7 | Willard Bay | 9,900 acres |
| 8 | Jordanelle Reservoir | 3,301 acres |
| 9 | Rush Lake | 3,212 acres |
| 10 | Deer Creek Reservoir | 2,965 acres |
| 11 | Scofield Reservoir | 2,815 acres |
| 12 | Fish Lake | 2,500 acres |
---