Idaho is one of the most unspoiled states in the United States, with untamed mountainous nature covering most of the land. Like many other natural attractions in the state, the finest lakes in Idaho offer magnificent beauty and rocky backdrops. From the largest lake in Idaho to high mountain bodies of water, the state's vast lakes span from the panhandle to the Utah border. The breathtaking mountain scenery visible from the shore is a regular feature of Idaho's lakes.
Thousands of travelers come to see Idaho's natural beauty and explore its wildlife. Idaho is home to several mountain ranges, rivers, and lakes, making it the perfect location for any outdoor enthusiast. If you like getting your feet wet, these are the 11 biggest lakes in Idaho you can choose from.
The 11 Biggest Lakes in Idaho
11. Lucky Peak Lake
Lucky Peak Lake is only 2,766.3 acres in size, yet it stretches across three counties, most of it in Ada County but also Boise and Elmore counties. Nestled along the Boise River, the lake is home to Idaho's most visited state park, Lucky Peak Reservoir State Park, set at the north end of the lake and offers good swimming and beach volleyball. On the other side of the lake, the Lucky Peak Dam Recreation Area offers a boat ramp, a beautiful beach, and several picnic tables. Boating, fishing, and swimming are just a few of the activities available at Lucky Peak Lake. Although this lake is well-known for excellent Kokanee and rainbow trout fishing, some anglers choose to target smallmouth bass.
10. Deadwood Reservoir
Deadwood Reservoir is a reservoir in Valley County, Idaho, in the western United States. The 2,997-acre (12 km2) body on the Deadwood River is created by Deadwood Dam, sitting in the Boise National Forest about 25 miles (40 km) southeast of Cascade. Late July and early August are the hottest months, and rain and wind are unpredictable in this location. The climate is similar to that of Idaho's other high alpine lakes.
Camping, water skiing, fishing, canoeing, and other outdoor activities are popular at the reservoir and its surrounding area. Rainbow trout, kokanee salmon, bull trout, and cutthroat trout are just a few fish that call this lake home. Common sightings in the area include chipmunks, deer, elk, moose, wolves, black bears, and bats. However, be careful as you explore, as garter snakes and rattlesnakes also thrive around the lake.
9. Payette Lake
The breathtaking Payette Lake, and its sister body of water, Little Payette, are known as Idaho's Four-Season Playground, nestled beneath the peaks of the West Mountains and enshrouded by the Payette National Forest 100 miles north of Boise. A glacier-carved lake near McCall in western Idaho, this 4,987-acre (20.18 km²) lake is a gorgeous escape two hours north of Boise. Like the adjoining Cascade Lake's glistening coastline, this is a favorite spot for boating and sunbathing on sandy beaches. Ponderosa State Park, located on a large peninsula that cuts into Payette Lake, has several hiking trails, campsites, and picnic areas.
8. Henrys Lake
Henrys Lake is a spectacular mountainous body of water that rests at 6,500 feet above sea level, nestled in the stunning Caribou-Targhee National Forest in the far north corner of Eastern Idaho. Henrys Lake, located near the Montana/Wyoming border and Yellowstone National Park, is a hotspot for fishing, boating, and high-altitude activities. It is highly picturesque due to its surroundings and color, covering 6,076.9 acres. The lake's shoreline is home to Henrys Lake State Park and Frome Park, and the Continental Divide Trail surrounds the north end of it.

Because of the abundance of Yellowstone cutthroat and rainbow-cutthroat hybrids, fishing is one of the most popular activities at Henrys Lake. It is also a birdwatcher's paradise, with white pelicans, Canada geese, widgeon, trumpeter swans, bald eagles, and many other species calling it home.
7. C J Strike Reservoir
C.J. Strike Reservoir is in southwestern Idaho, along the Snake River. The 7,500-acre (30.35 km²) reservoir is a fantastic summer getaway because it is easily accessible and family-friendly. The main reason for visiting the lake is fishing, as it is teeming with both regular and big game fish. Species in the reservoir include largemouth bass, black crappie, pumpkinseed, channel catfish, and rainbow trout. There are four campgrounds around the lake, each with a boat launch and picnic spaces. Raptors abound in the reservoir's Wildlife Management Area. In winter, 30,000-90,000 ducks and 5,000-12,000 Canadian geese flock there.
6. Priest Lake
This magnificent lake, which stretches for 19 miles (31 kilometers) over the Idaho Panhandle, is in the northern part of the state. Aptly known as "Idaho's Crown Jewel," this 26,000-acre (105.2 km²) lake has two bodies of water: Upper and Lower Priest Lakes, with Lower Priest being the primary lake.
It dates from the last ice age and offers year-round outdoor activities such as water skiing and hiking along the shore. The lake's mirror-like surface, white-sand beaches, and distinctive clusters of islands attract visitors from all over the country. Smallmouth bass, cutthroat trout, lake trout, bluegill, pumpkinseed sunfish, yellow perch, and kokanee salmon are all available to anglers. The mountains and forest surrounding the lake are home to different species, including moose, bear, and deer.
5. Lake Cascade
Lake Cascade is a massive man-made reservoir 90 miles north of Boise, famous for fishing, camping, and boating on the water. It is the fourth-largest lake in Idaho, with a surface area of 27,152 acres (122 km2). Lake Cascade, dubbed "The Mile High Playground," is a haven for nature lovers, particularly anglers, as smallmouth bass, trout, kokanee salmon, and coho salmon are plentiful in this lake.
The Lake Cascade State Park has over 2,000 campsites for guests to enjoy. It also has a boat ramp and offers hiking, bird watching, snowmobiling, and skiing. Those who prefer a more comfortable stay can lodge at the Tamarack Resort, located on the lake's western shoreline. The Boise National Forest surrounds this large lake, which also offers world-class skiing and ice fishing.
4. Lake Coeur d'Alene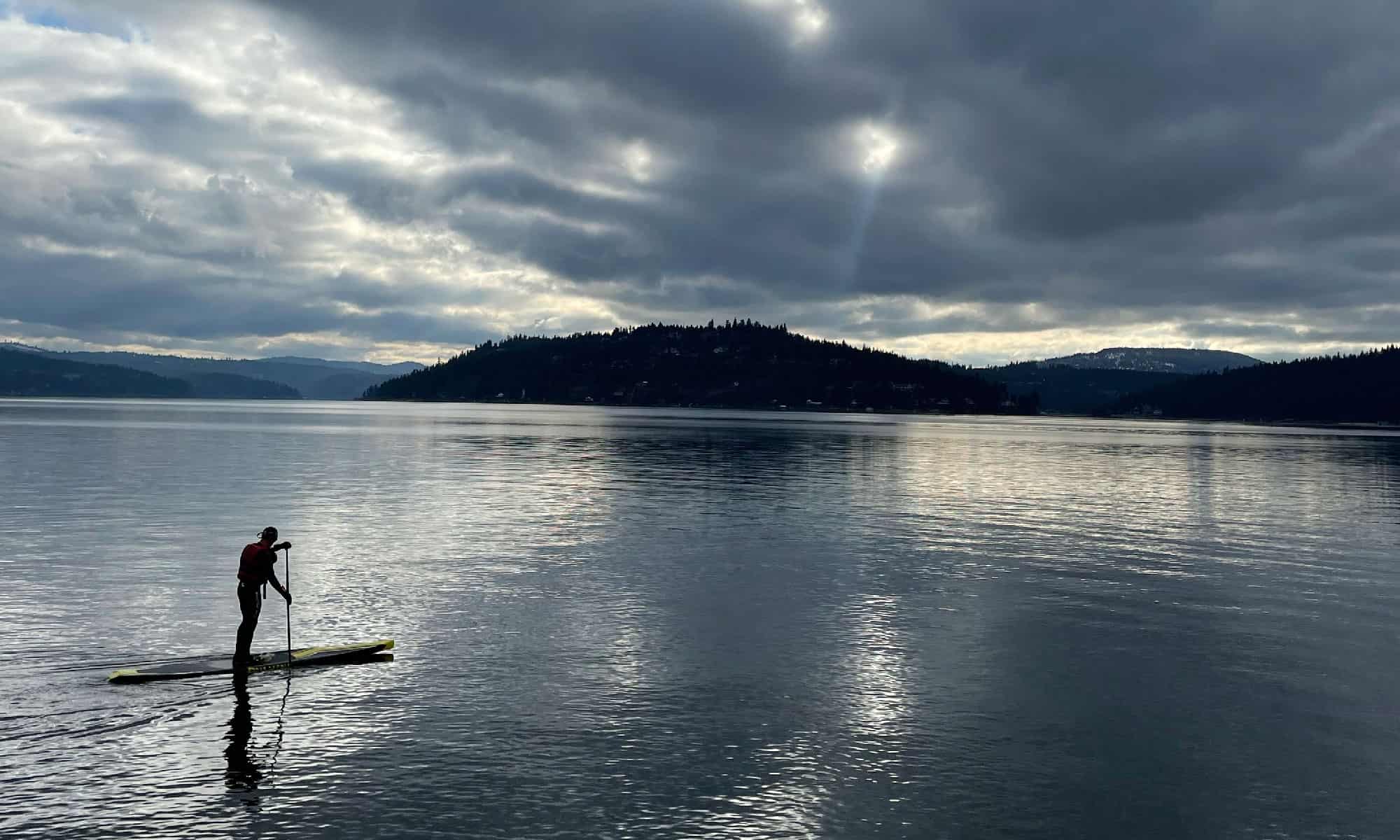 This natural body of water, located 30 miles east of Spokane, Washington, serves as a backdrop to the lovely city of Coeur d'Alene in Northern Idaho. The city of Coeur d'Alene, named after the Coeur d'Alene people, sits on the very north end of this natural lake. The 31,877-acre (129 km²) lake in Northern Idaho spans two counties and has 109 miles of shoreline.
Hiking, mountain biking, golfing, animal viewing, swimming, cliff jumping, kayaking, fishing, and sailing are just a few of the recreational and outdoor activities available to locals and visitors at the lake, surrounded by magnificent forests and mountains. Some of the excellent sport fishing opportunities found in Lake Coeur d'Alene are chinook salmon, smallmouth bass, largemouth bass, northern pike, and Kokanee salmon. Every winter, bald eagles cluster around the lake during migration, a rarely-seen spectacle.
3. American Falls Reservoir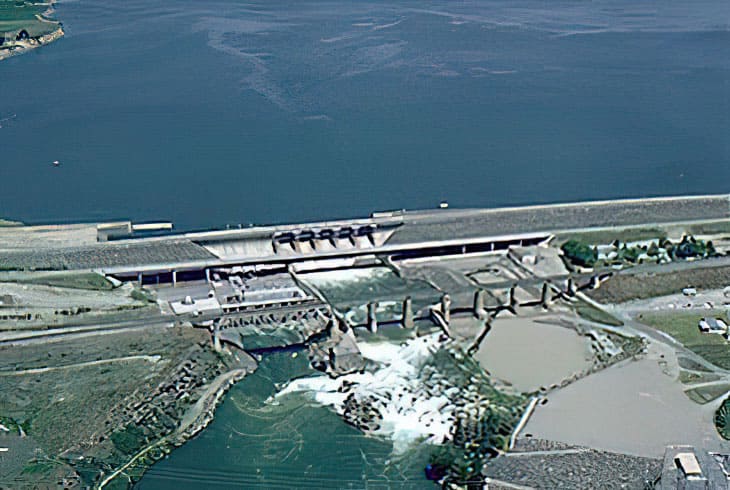 With a surface area of 55,000 acres (223 km²), American Falls Reservoir is the largest of Idaho's Snake River reservoirs. It is located on river mile 714.7 of the Snake River, near the town of American Falls, Idaho. The reservoir's primary purpose is flood control, irrigation, and recreation.
The American Falls Reservoir supports a trophy trout fishery that includes rainbow, brown, and cutthroat trout. Smallmouth bass and yellow perch can also be found here. These fish thrive in the waters, growing to large sizes.
2. Bear Lake
With its turquoise blue water, Bear Lake is known as the "Caribbean of the Rockies" and is a popular destination for water sports such as jet skiing, sailing, fishing, swimming, and many others. The 69,758-acre (282.3 km²) natural freshwater lake split equally between Idaho and Utah is one of Idaho's most visited lakes. Not only for its breathtaking beauty but also for the indigenous fish species that make it their home. Migratory birds pass through the area in winter, making the lake an excellent place for bird watching. On the Idaho side of the lake, the Bear Lake National Wildlife Refuge is home to moose, muskrats, mule deer, swans, white-faced ibis, and sandhill cranes, among other animals. It is also home to the Bear Lake Monster, a legend first observed in 2002.
1. Lake Pend Oreille
Lake Pend Oreille is Idaho's largest and deepest lake, covering 94,720 acres (383.3 km2) and reaching a maximum depth of over 1,100 feet. It is ringed by national forests, making it very scenic. Different fauna, including grey wolves and grizzly bears, thrive in the dense woodlands and beautiful landscapes surrounding the lake. The lake is a popular location for water sports enthusiasts and people who like the natural landscape. It has a variety of paddling trails to choose from, superb sailing, stand-up paddle boarding, water skiing, and fishing.
It is a family-friendly location that has several parks nearby, including Farragut State Park, that provide opportunities for picnics and other activities. If you enjoy bird watching, many species, such as bald eagles and ospreys, are diving into the lake to catch fish. Here, everyone will find something to their liking.
Summary Of The 11 Biggest Lakes In Idaho
| Rank | Lake | Size |
| --- | --- | --- |
| 11 | Lucky Peak Lake | 2,766.3 acres |
| 10 | Deadwood Reservoir | 2,997 acres |
| 9 | Payette Lake | 4,987 acres |
| 8 | Henrys Lake | 6,076.9 acres |
| 7 | C J Strike Reservoir | 7,500 acres |
| 6 | Priest Lake | 26,000 acres |
| 5 | Lake Cascade | 27, 152 acres |
| 4 | Lake Cascade | 31,877 acres |
| 3 | American Falls Reservoir | 55,000 acres |
| 2 | Bear Lake | 69,758 acres |
| 1 | Lake Pend Oreille | 94,720 acres |
The photo featured at the top of this post is © NicoleeeeeKM/Shutterstock.com
---