The largemouth bass is Florida's official state freshwater fish. More specifically, the Florida largemouth bass (Micropterus salmoides floridanus) is the state's official freshwater fish. It is one of two subspecies of largemouth bass, the other being the northern largemouth bass (Micropterus salmoides salmoides).
Along with Florida, the largemouth bass is also the state freshwater fish in Alabama, one of three official state fish in Georgia, and the sole state fish in Mississippi. 
The Largemouth Bass
The largemouth bass is a member of the black bass (Micropterus) genus and part of the Centrarchidae (sunfish) family. It is sometimes confused with the spotted bass (Micropterus punctulatus), often referred to as the Kentucky bass.
The largemouth bass' name comes from one of its most obvious features: its extraordinarily large mouth. Because this freshwater predator can open its mouth so wide, it allows the largemouth bass to consume very large prey relative to its size.
The largemouth bass is not a picky eater. When a bass is small, it will pursue prey such as bait fish, insects, shrimp, and small crustaceans. When mature, largemouth bass will prey on smaller fish, snakes, worms, salamanders, frogs, bats, small birds, and small mammals. They will even target turtle and alligator hatchlings. This aggressive predatory nature has made the largemouth bass the most popular sport fish among freshwater anglers in the United States.
The largemouth bass' popularity is also due to its widespread range. These fish are everywhere! You can even catch largemouth bass in Hawaii. While not native to the state, largemouth bass now swim in Hawaiian reservoirs. In fact, the only state where you won't find largemouth bass is Alaska. 
Florida's Largemouth Bass Population
But, even though this fish is ubiquitous in the U.S., there is no better place to catch them than in Florida. The Florida largemouth bass tends to grow bigger than the northern largemouth. One simple reason is the climate where the fish lives. The warm temperatures in Florida are ideal for largemouth bass to grow to a considerable size.
Billy O'Berry caught the Florida record largemouth bass in Polk County. On July 6, 1986, O'Berry hauled in a lunker largemouth that weighed a whopping 17.27 pounds!
There is some evidence, though, that an even bigger largemouth bass was pulled from Florida waters. On May 19, 1923, Frederick Friebel allegedly caught what could have been a record Florida largemouth. Appropriately, the bass was caught in Big Fish Lake in Florida's Pasco County. The fish reportedly weighed in at 20.13 pounds! However, there was no state biologist on-hand to document the weight, meaning it can't be certified.
Officially, O'Berry's 17.27 largemouth holds the state record. While that record has stood for well over three decades, several catches have come oh-so-close. Florida is famous for producing trophy largemouths. So where should you go to catch them?
Florida has so many lakes that, if you were to fish them all, it would take you more than 20 years of consecutive fishing days to fish each one just once! We're going to narrow it down a little bit (okay, a lot!). 
Dust off your tacklebox and grab your favorite fishing rod, because here are the very best fishing spots to land some Florida "bucketmouths."
Lake Okeechobee
When a lake's nickname is Bass Capital of the World, it must be a hotspot for largemouth bass. While it's difficult to prove conclusively, it is widely believed that Lake Okeechobee holds more 5+ pound largemouth bass than any other lake in the world. Considering the number of five-pounders that are caught here, it's hard to argue. Some professional guide services claim that up to 80% of their guided fishing tours land at least one five-pound largemouth. Again, we can't prove it, but anecdotal evidence would certainly support those claims.
Sometimes referred to as Florida's inland sea, Lake Okeechobee is the largest lake in Florida and the second-largest freshwater lake that lies entirely within U.S. boundaries. The lake is contained by the Herbert Hoover Dike, which was constructed in 1928.
 Okeechobee means "big water" in the Seminole Indian language, and this lake is exactly that. It features 730 square miles of surface area. It is surprisingly shallow, though, with a maximum depth of 12 feet and an average depth of only nine feet. 
The waters of Lake Okeechobee teem with life. The lake has a higher concentration of alligators than any other lake in Florida. It's estimated that 30,000 gators may reside in this lake.
It is also home to a wide variety of waterfowl and wading birds. And the fish population in "The Big O" is second to none. Crappie, bluegill, chain pickerel, gar, and catfish all swim in these waters. But the largemouth bass is the prized fish.
Multiple top-tier professional bass fishing tournaments visit Lake Okeechobee annually. And scads of amateur anglers pull trophies out of the lake every year. If you're looking for Florida largemouth bass fishing, you have to start at Lake Okeechobee.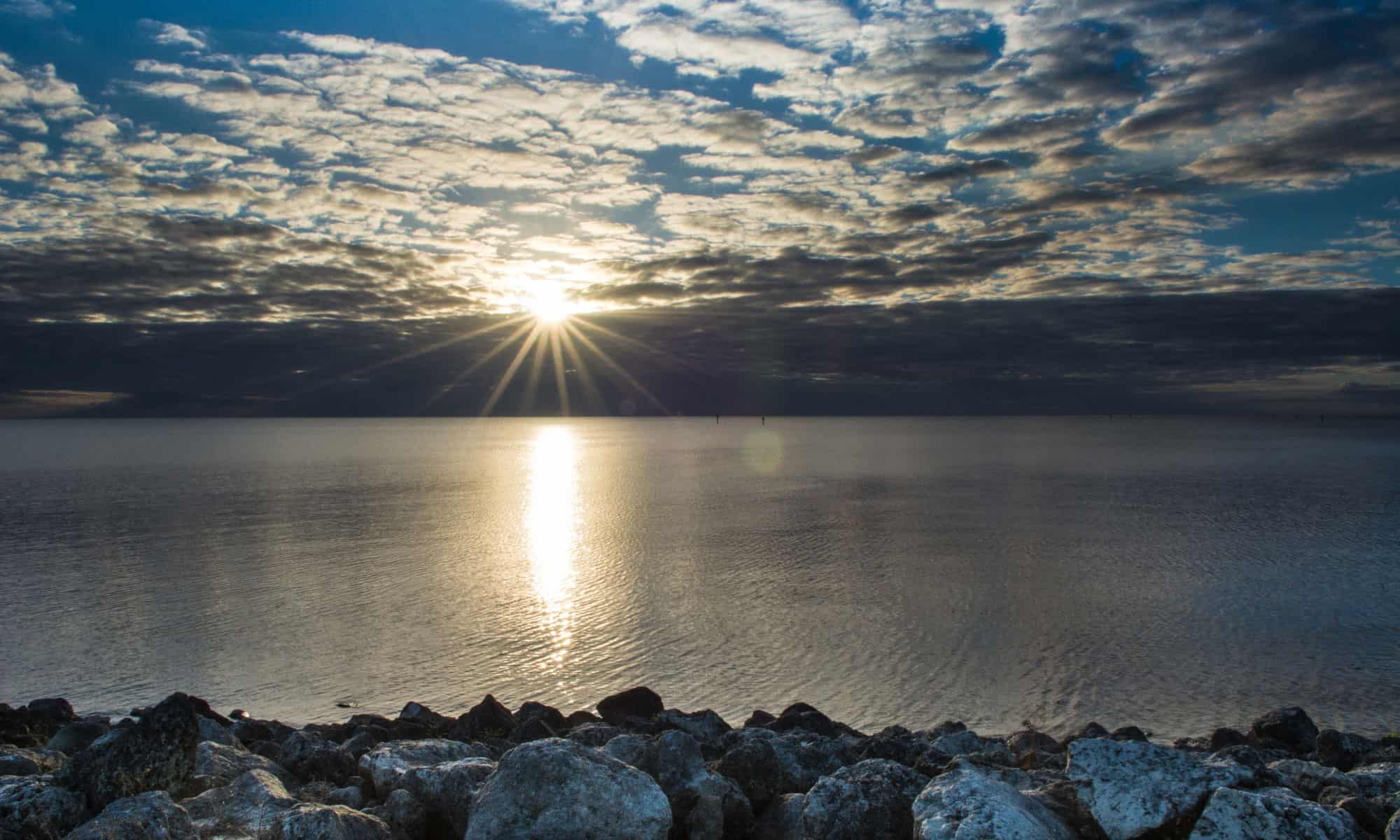 Lake George
Lake George (sometimes known as Lake Welaka) is located in north-central Florida, about 40 miles west/northwest of Daytona Beach. It sits on the eastern edge of the Ocala National Forest.
It is Florida's second-biggest lake, spanning 46,000 acres. The lake is six miles across at its widest point and 11 miles long at its longest point. Like Lake Okeechobee, Lake George is shallow, with an average depth of eight feet.
This lake is a bit of an anomaly. The water is brackish and can support both freshwater and some saltwater species. While sightings are rare, it's not unheard of to see a shark swimming in these waters. The brackish water also makes it a popular spot for crab fishing. Butmthere are also a lot of freshwater alligators in these very same waters.
While not as famous as Lake Okeechobee, the bass fishing in Lake George is fantastic. The lake has abundant aquatic vegetation, primarily eelgrass. Its shallow water remains warm year-round, making it a wonderful ecosystem for baitfish and predators, like largemouth bass.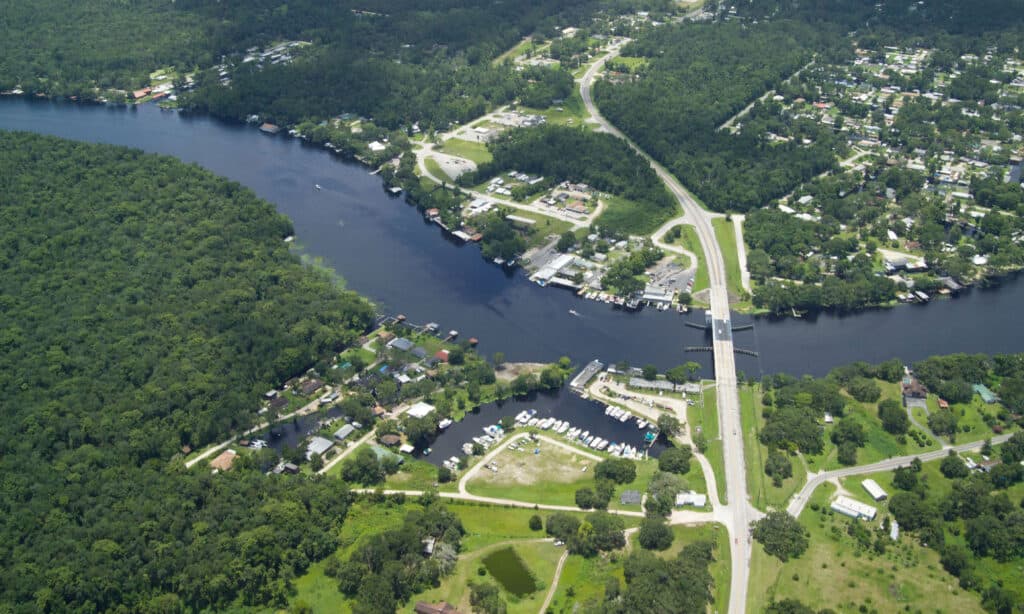 The Kissimmee Chain of Lakes
The Kissimmee chain comprises numerous lakes, from Cypress Lake in the north to Lake Kissimmee in the south. This chain of lakes encompasses an area of 21,000 acres in Polk and Osceola counties.
All the lakes in the chain feature fabulous fishing for crappie, bluegill, redear sunfish, and, of course, largemouth bass.
While you can't go wrong fishing this chain of lakes, Lake Kissimmee often produces more 8+ pound largemouth bass than any other lake in Florida.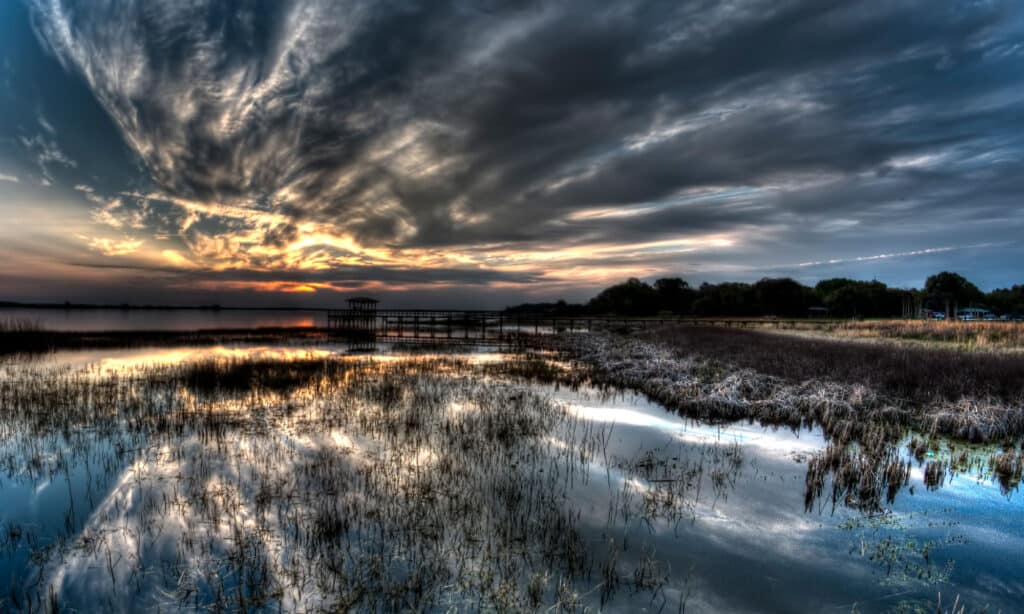 Rodman Reservoir
Rodman Reservoir (sometimes referred to as Lake Ocklawaha) is located on the Ocklawaha River in north-central Florida's Putnam and Marion Counties. Innumerable giant Florida largemouths are patrolling the waters of this 9,500-acre manmade lake. Bass over eight pounds are common.
Recently, a largemouth bass was caught in Rodman Reservoir that challenged the official state record. The fish weighed 17.2 pounds, just .07 pounds shy of tying the Florida record! This lake holds some largemouth behemoths, to be sure. And who knows? The future state record largemouth bass may come from the waters of the Rodman Reservoir.
Northern Florida is a treasure trove of huge largemouth bass. This lake near Gainesville is a prime example, as it provides countless trophy fish throughout the year.
The Tenoroc Fish Management Area
There's a reason almost 25,000 anglers per year cast their lines into this series of lakes in central Florida's Polk County. This fish management area is situated two miles northeast of Lakeland and about an hour from Orlando and is a premier spot for Florida largemouth bass.
The Tenoroc Fish Management Area is a series of 14 lakes formed from reclaimed phosphate pits. This fishery features an exceedingly healthy population of largemouth bass. Fish exceeding nine pounds are commonplace.
As a means of conserving this wonderful fishery, largemouth bass fishing is strictly catch-and-release.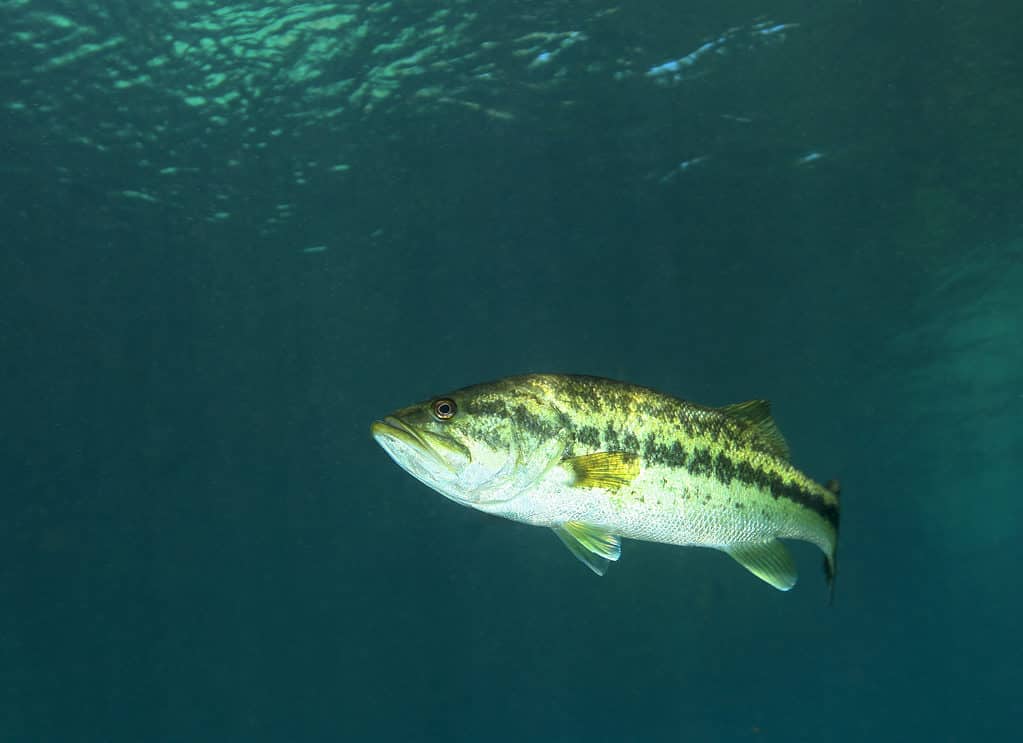 Lake Seminole
Bassmaster, one of the most elite professional bass tournament organizations in the world, held a tournament on Lake Seminole in February 2023. The winning angler of the four-day tournament reeled in an astounding 85 pounds and 2 ounces worth of Florida largemouth bass!
This lake straddles the border of Georgia and the Florida Panhandle. The Jim Woodruff Lock and Dam created the lake in 1952. This 37,500-acre impoundment is fed by the Chattahoochee, Flint, and Apalachicola Rivers.
Because the area was created through dam flooding, there is a lot of submerged timber and structure that make outstanding bass habitat, along with plentiful aquatic vegetation. 
This lake is quite possibly the premier Georgia destination for trophy largemouths. And even in Florida, with its endless supply of largemouth fisheries, Lake Seminole is consistently one of the best.
Lake Talquin
This 8,800-acre reservoir is located right outside Florida's capital city of Tallahassee. As part of Lake Talquin State Park, wildlife abounds around the lake. Sightings of turkey and deer are common. An occasional bear might even show up. While fishing Lake Talquin, look up to the sky because you just might see an osprey or bald eagle flying overhead. The lake also features alligators, turtles, and snakes. This is Florida, after all.
As for fishing, Lake Talquin is stacked with bass. Along with largemouth, there are healthy populations of white bass, striped bass, and spotted bass in this lake. And, along with a high quantity of bass, there is also high quality. Big largemouths patrol these waters and are caught with regularity.
If you're visiting Florida's capital city, be sure to make time to land a few of Florida's official state fish while you're there!
Everglades Water Conservation Areas 2 and 3
These two sections of the northern Everglades habitat often feature some of the best fishing in all of Florida. The water of the marshes and canals of these two water conservation areas teem with fish, including bluegill, redear sunfish, pickerel, oscar, and Mayan cichlid. But there is no doubt that largemouth bass is the star attraction. When water levels are right, these two Everglades water conservation areas feature some of the highest catch totals for largemouths in the state.
The proximity to high-population areas makes this fishery accessible to thousands of anglers. Fishermen and women from Palm Beach, Broward, and Miami-Dade counties all have easy access to these waters.
The most popular time to fish in these water conservation areas is during the winter and spring seasons. Lower water levels typically drive fish into the perimeter canals, creating a high concentration of fish in relatively small areas. When water levels are up, it allows fish access to the sprawling marsh systems in these areas. The fishing can still be quite good, but the fish are spread over a much wider area.
Fellsmere Reservoir (Also Known as Headwaters Lake or Lake Egan)
This newcomer to the Florida bass fishing scene is already making waves if you'll pardon the lake pun. It was only opened to boat traffic in 2020. Before that, it was limited to kayaks.
This 10,000-acre manmade lake in Indian River County was created through a system of levees. Prior to flooding the area, there were already small ponds in the vicinity that were home to largemouth bass and other sport fish. 
The land was converted into a reservoir that would provide water for the town of Fellsmere, a source of irrigation for farmland, flood control, and a top-notch fishery.
Everything about this lake was created with bass fishing in mind. Structure and habitat for bass were put in place before the land was flooded. Once water covered the land, close to a million Florida largemouth bass were stocked, along with crappie, bluegill, and redear sunfish.
Lake Tarpon
Located ten miles northwest of Tampa in Tarpon Springs, Lake Tarpon is 2,500 acres of prime Florida bass fishing real estate. The lake stretches for nearly nine miles and is surrounded by resorts, golf courses, and residential housing. Two county parks are also found on the lake, each with boat ramps. The access points and fishing opportunities in Lake Tarpon are many.
You won't find many places in western Florida with healthier populations of big largemouth bass. Numerous bass tournaments are held on the lake every year. It consistently ranks in the top ten bass lakes in the state.
Along with largemouth bass, Tarpon Lake is a wonderful fishery for blue tilapia, sunfish, catfish, bluegill, and crappie. The shallow water remains warm throughout the year, allowing aquatic vegetation to proliferate. It all adds up to perfect conditions for a vibrant fishery, especially for largemouth bass.
So Many More!
This is just a small sample of the hot fishing spots that Florida has to offer. The largemouth bass has been Florida's official state freshwater fish since 1975, and it's easy to see why. There may be nowhere else in the world with better bass fishing than the Sunshine State!
Up Next:
More from A-Z Animals
---
The Featured Image
---