Key Points:
Many of North Carolina's lakes have a reputation for being clean and stunning due to bordering protected territories like national forests and state parks.
Nestled between the Great Smoky Mountains National Park and the Nantahala National Forest, Lake Fontana is North Carolina's deepest lake.
Falls Lake was developed by the Army Corps of Engineers and lies about 10 miles from both Raleigh and Durham.
Nestled on the United States' East Coast, North Carolina is home to breathtaking natural beauty. In the west, the Blue Ridge Mountains have inspired songs about their grandeur, while in the east, you reach the coastal region with glistening pools that sparkle like pearls in the sun. Lakes and bodies of water of all kinds and sizes abound throughout the state.
Because many of North Carolina's lakes border protected territories like national forests and state parks, they have a reputation for being clean and stunning. The natural scenery around the lakes is similarly magnificent and makes for ideal vacation spots. So, whether you want to try your hand at fishing or relax on the shore, North Carolina has a lake to suit your needs. With so many lakes to choose from, the trickiest part will be deciding which one to visit first. So keep reading to get inspired for your next vacation to 10 of North Carolina's biggest lakes!
The 10 Biggest Lakes in North Carolina
    10. Lake Waccamaw
Lake Waccamaw is a freshwater lake in Columbus County, North Carolina. As part of the Carolina Bays, Lake Waccamaw spans over 8,938 acres (36.17 km²) and has 14 miles of shoreline. Don't miss out on its extraordinary fauna, which you can find on a list available at the park office. Alligators, 52 species of fish, and several plants on the state's rare plant list all make Lake Waccamaw their favorite resting location.
Environmentalists declared the lake a North Carolina state park, allowing visitors to enjoy a more basic experience while allowing them to venture further out. Hiking, boating, and picnics are all popular activities for visitors to the lake. To learn more about the lake, potential visitors should check for programs organized by the park rangers.
    9. Fontana Lake
Lake Fontana is North Carolina's deepest lake, nestled between the Great Smoky Mountains National Park and the Nantahala National Forest. In addition to its 10,230-acre (41.4 km²) surface size, Fontana Lake is the tallest dam in the eastern United States. There's a lot to see and do with your boat on this lake, with dozens of inlets, bays, and islands created by ancient mountain tops jutting through the calm surface waters.
Lake Fontana exemplifies the laid-back vibes of the area by providing a beautiful backdrop for a day of pontooning and a variety of multi-day paths that take you right into the action. Bring your camera and binoculars since animals often swim across the lake or along the Great Smoky Mountains National Park's banks. Fontana Lake is home to rich wildlife, including black bears, foxes, bobcats, wild boars, turkeys, bald and golden eagles, ospreys, otters, and deer.
    8. Lake Wylie
This man-made lake is mainly in South Carolina, although it also spills into North Carolina. Because of its location, it is a popular tourist destination for residents of both states and visitors from other regions. Lake Wylie is a 12,177-acre (49.28-km2) lake on the state's northern border in Tega Cay, South Carolina. These waters teem with crappie, white bass, perch, sunfish, chain pickerel, and catfish.
The lake's 523-kilometer (325-mile) shoreline boasts picnic areas, boat launches, fishing piers, yacht clubs, and golf courses. Annual activities in the Lake Wylie area include water sports team contests, live music festivals, fireworks displays, and beer festivals, to mention a few. If you're lucky, you might be able to plan your lake vacation around one of these fun events.
    7. Falls Lake
The army corps of engineers developed Falls Lake, which is about 10 miles from both Raleigh and Durham. The lake is large enough for boaters to launch from, and there are plenty of coves to explore. Falls Lake is a 12,410-acre (50 km²) reservoir with over 300 campsites ranging from rustic to group camping and RV hookups.
You're not likely to squabble over personal space as there are five swimming beaches, various boat ramps, a network of mountain biking routes, and a separate impoundment perfect for paddling, swimming, and even fishing. Falls Lake has a wide variety of plants and animals. Tick-seed sunflowers, butterfly weeds, and asters are among the colorful wildflowers that grow beside oak and loblolly pine trees. The most prevalent animals include white-tailed deer, rabbit, red fox, and raccoon.
    6. Jordan Lake
Jordan Lake, the piedmont region's natural jewel, sits in the heart of North Carolina's most developed area and provides a breath of fresh air. This enormous reservoir, which spans 13,940 acres (56.41 km²), offers a variety of activities. Swimming, hiking, birdwatching, and boating are just a few activities that draw visitors to Jordan Lake's beaches.
If you're looking for a place to roast marshmallows, you can pick from over 1,000 options. Make sure to book your campground for a long enough time to cover some ground. Many other recognizable animals thrive around the lake, including osprey and hawks, herons, deer, songbirds, flying squirrels, and beavers. Bald eagles are also abundant, so keep your eyes peeled.
    5. High Rock Lake
High Rock Lake, located in Lexington, North Carolina, was built in 1929 and is the state's second-largest man-made lake, following Lake Norman. You won't have to worry about being crowded on top of other lake visitors with 15,180 acres (61.4 km²) and 365 miles of shoreline! This lake sits in the Uwharrie Mountains, named after High Rock Mountain, the range's tallest mountain.
High Rock Lake, known as one of the top fishing lakes in North Carolina, has held numerous Bassmaster Classic fishing derbies. High Rock Lake is a very productive fishery, with a healthy population of bass, largemouth bass, crappie, bluegill, catfish, and stripers. In the surrounding area, you'll find fantastic restaurants, walking paths and parks, vineyards, museums, and more to make your trip to the lake even more enjoyable!
    4. Lake Phelps
Lake Phelps is the second biggest natural lake in North Carolina, comprising 16,600 acres (67 km2). It is predominantly located in Washington County on the Albemarle-Pamlico Peninsula, between the Albemarle Sound and the Pamlico Sound. The lake's easternmost portion extends into Tyrrell County. This massive body of water offers plenty of chances for pleasure on and near the lake to the local communities and visitors.
Within Pettigrew State Park is a large campground, numerous picnic tables, and other amenities. In addition to all the water activities, Pettigrew State Park has some fantastic hiking and biking trails. Somerset Plantation is a beautiful estate located just minutes from Lake Phelps. This historic site is ideal for discovering and learning about North Carolina's rich history.
    3. Lake Norman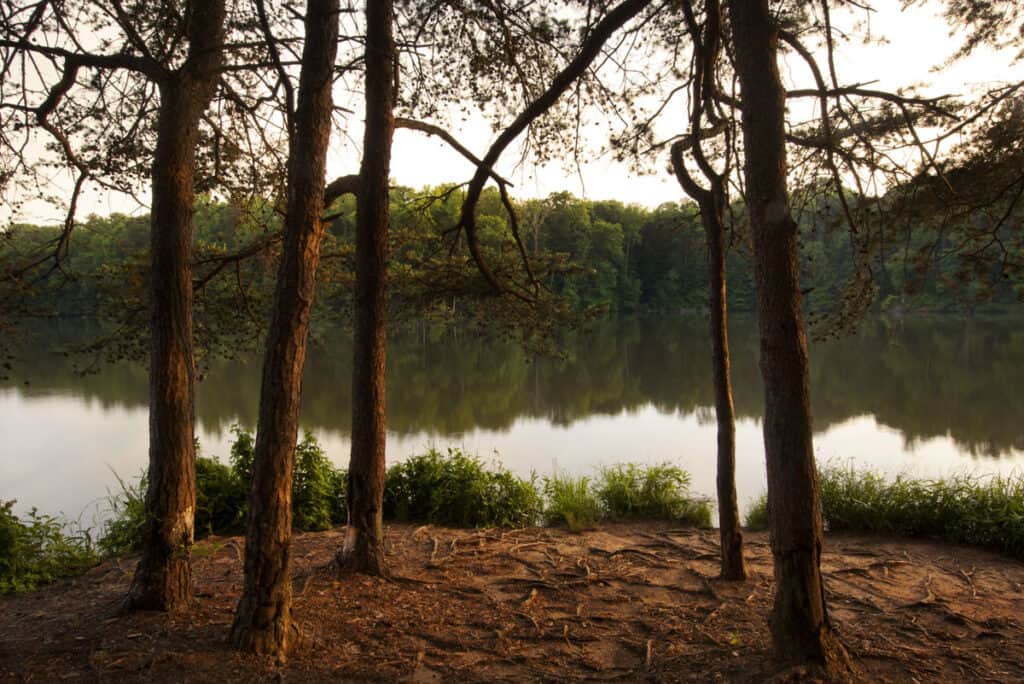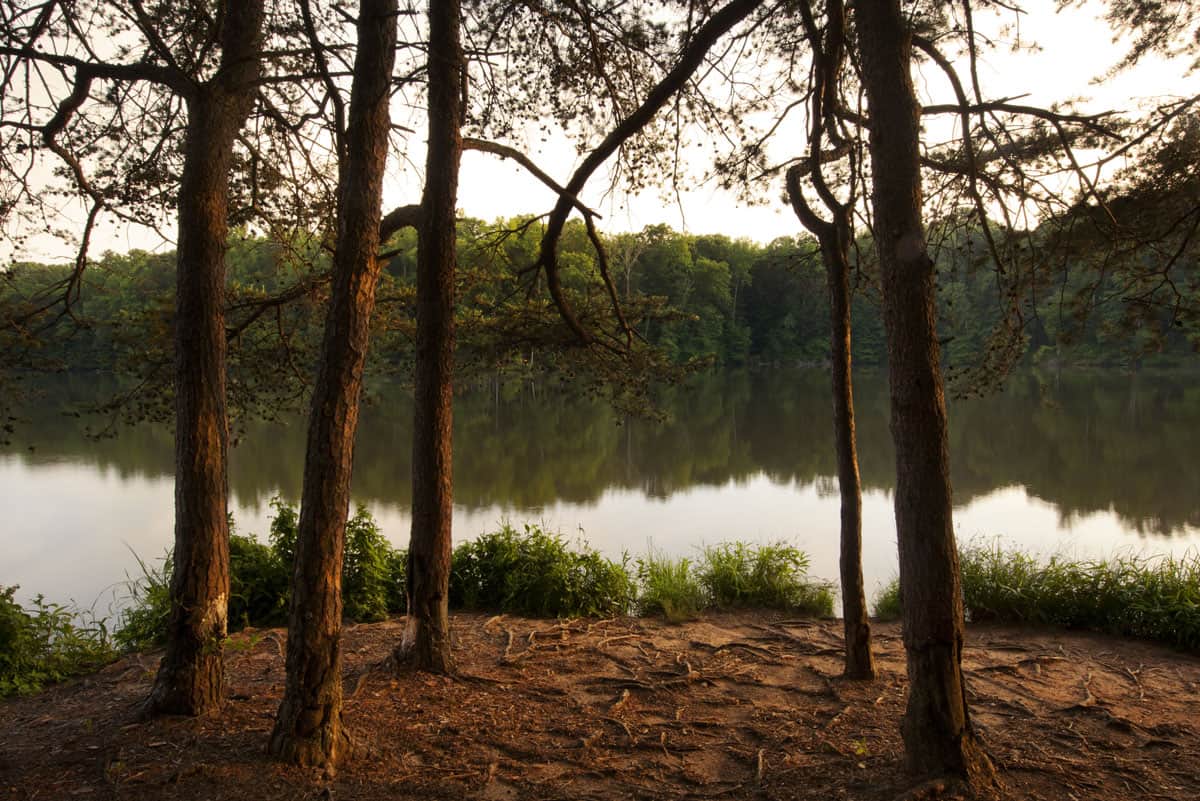 Lake Norman's size and strategic position have made it a local favorite, and it is now one of North Carolina's best lakes. Lake Norman, North Carolina's largest artificial lake, is just minutes from Charlotte, the state's largest city. The lake runs through the city's most popular suburbs, providing a unique environment that combines natural beauty and diverse activity.
Lake Norman, also known as North Carolina's "inland sea," spans more than 32,510 acres (132 km²) and has 520 miles of shoreline. Cornelius, Davidson, and Huntersville towns encircle Lake Norman. Huntersville is unquestionably one of North Carolina's best lake communities, but there's more to see out on the water.
    2. Lake Mattamuskeet
Spanning 40,000 acres (161.87 km²), Lake Mattamuskeet is North Carolina's largest natural lake, but it is shallow, averaging two to three feet throughout the lake. It has a shallow depth due to its closeness to the Atlantic Ocean. On the other hand, its proximity to the ocean makes for excellent birdwatching conditions. Northern Pintail, Green-Wing Teal, Canada geese, and tundra swans are all prevalent winter visitors to the area. Various plants and animals survive in this shallow water; both are neither totally aquatic nor entirely terrestrial. As these are wetlands, boat navigation can be difficult, but it is feasible.
    1. Kerr Lake
Kerr Lake (officially John H. Kerr Reservoir) is a reservoir that sits on the North Carolina and Virginia borders in the United States. It is North Carolina's largest lake, covering 50,000 acres (200 km2), and is ideal for swimming and leisure throughout the summer months. Fishing enthusiasts flock to Kerr Lake to catch different species, with some taking advantage of the boating ramp's 24-hour access to catch catfish at night.
Buggs Island Lake is another name for this lake, especially among locals, in honor of the Bugg family, who have owned the area since 1752. If you want to go fishing while you're here, you'll have the chance to catch white perch, catfish, and bass! There are numerous hiking trails, including two of the most popular which are the Big Poplar Trail and the Plantation Trail.
Summary of the 10 Biggest Lakes in North Carolina
| Ranks | Lake | Size |
| --- | --- | --- |
| 1 | Kerr Lake | 50,000 acres (200 km2) |
| 2 | Lake Mattamuskeet | 40,000 acres (161.87 km²) |
| 3 | Lake Norman | 32,510 acres (132 km²) |
| 4 | Lake Phelps | 16,600 acres (67 km2) |
| 5 | High Rock Lake | 15,180 acres (61.4 km²) |
| 6 | Jordan Lake | 13,940 acres (56.41 km²) |
| 7 | Falls Lake | 12,410-acre (50 km²) |
| 8 | Lake Wylie | 12,177-acre (49.28-km2) |
| 9 | Fontana Lake | 10,230-acre (41.4 km²) |
| 10 | Lake Waccamaw | 8,938 acres (36.17 km²) |
Up Next:
More from A-Z Animals
---
The Featured Image
---