The Meiolania had a massive head that it was unable to put fully inside its shell.
---
Advertisement
---
Meiolania Locations
---
Meiolania Facts
The Meiolania had a massive head that it was unable to put fully inside its shell.
Large horns on the side of its head
Meiolania Physical Characteristics
Hard Outer Shell
This post may contain affiliate links to our partners like Chewy, Amazon, and others. Purchasing through these helps us further the A-Z Animals mission to educate about the world's species.
View all of the Meiolania images!
---
---
This turtle species had strange horns on the side of its head. These prevented it from being able to fully go inside its shell.
Scientific Name
Meiolania is an extinct turtle species that lived primarily on Lord Howe Island and mainland Australia. This species was originally thought to be a lizard species similar to the 'Megalania.' They were giant roaming lizards that are now extinct. Both of these were named by paleontologist Richard Owen back in 1859. However, scientists later discovered through fossil analysis that these are, in fact, turtles. Their name Meiolania is still retained as a legacy. Meiolania means "small roamer".
Summary
The Meiolania were terrestrial (meaning land-dwelling) turtles that lived during the Middle Miocene period to the Pleistocene period, approximately 20 million to 50,000 years ago. Some experts even believe they went extinct as recently as around 12,000 years ago. This creature had a massive head with spikes that they used to protect themselves from predators.
Description & Size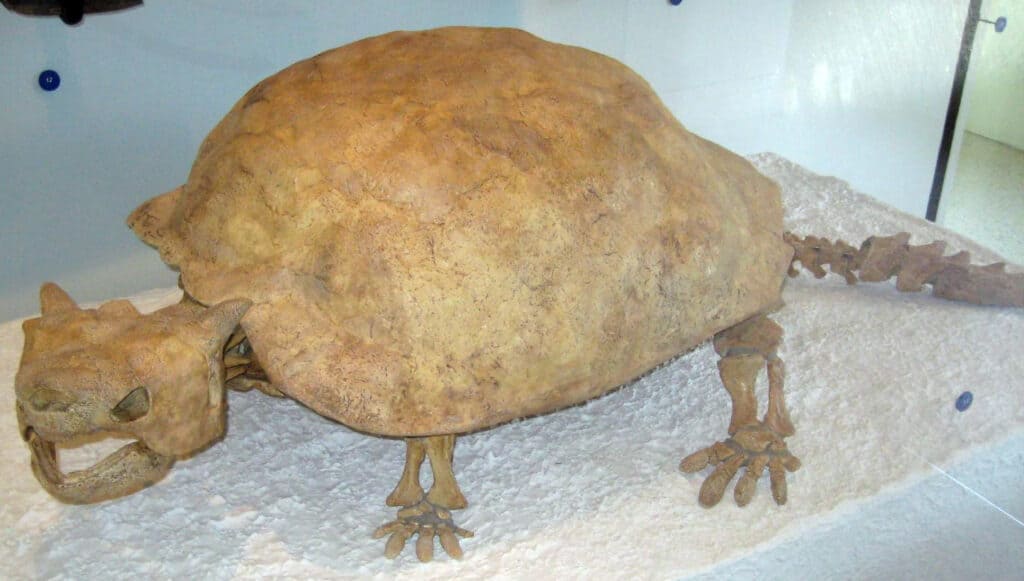 The Meiolania was a genus of reptiles that typically roamed temperate climates and lived near the water. These massive turtles weighed over 1000 lbs, were around 8.5 feet long, and were about 4.5 feet tall.
This mega-sized turtle had a tough shell and an armored head with a unique arrangement of spikes on top of the animal's skull and tail. The spikes on the side of their head prevented the animal from sliding into the shell, unlike the average turtle. Paleontologists remain confused as to why such a head existed in the first place. The most likely conclusion is that these animals used their skull to protect themselves. Even though most experts agree that the Meiolania was likely an herbivore, it is also possible that it occasionally hunted other animals and used their horns as a means to kill their prey. Their spiked tails were also a worthy weapon for defending themselves against predators or other aggressive Meiolania.
---
---
Diet – What Did The Meiolania Eat?
Most paleontologists believe that the Meiolania was an herbivore and primarily fed on grass and plants near bodies of water. But the unusual spikes on its tail and head also point to the fact that it could have hunted other animals. However, most likely, the spikes were used to protect the animal against predators.
Habitat – When And Where It Lived
The Meiolania was a genus of reptiles that typically roamed temperate climates and lived near the water. Until recently, scientists believed that these creatures were aquatic turtles because most Meiolania fossils have been found near the coast on Lorde Howe Island or in mainland Australia. The Meiolania lived from the Middle Miocene period, around 20 million years ago, until the Pleistocene period, around 12,000-50,000 years ago. After the last ice age, sea levels rose drastically, killing off many non-aquatic coastal animals. Fossils of the animal have been found in Australia and New Caledonia, but they also possibly lived in Fiji and Vanuatu.
Like many modern-day turtle species, the Meiolania were susceptible to predation by carnivorous animals that had an advantage over them in size or speed.
The main predators for fully grown Meiolania would have been large apex predators of Australasia at the time of their existence, such as the Diprotodon, the Megalania, and the Smilodon.
Birds such as hawks likely preyed on the newly hatched Meiolania, who were still weak and slow. Large snakes would also eat the eggs of the Meiolania. 
Discoveries and Fossils – Where Was The Meiolania Found?
Richard Owen discovered the first fossils of the Meiolania in 1886 on Lord Howe Island, which is about 375 miles from mainland Australia. After the initial discovery, several fossils were also found in mainland Australia and New Caledonia. Several specimens have also been found in Vanuatu and Fiji that some paleontologists believe belong to the Meiolania. Two main species of the genus have now been unearthed, M. platyceps and M. minor.
Extinction – When Did It Die Out?
The Meiolania went extinct about 50,000 years ago, during the Pleistocene period, after which humans began to surface. The first humans reached the Australian continent around 50,000 years ago, so while it is possible humans had something to do with their extinction, most experts believe that the Meiolania went extinct due to rising sea levels.
Similar Animals To The Meiolania
Similar reptiles to Meiolania include:
Sulcata Tortoise: This is one of the largest tortoise species in the world. Found in Africa the Sulcata Tortoise has serrated edges on its shell
Alligator Snapping turtle: This terrifying turtle species is a vulnerable species of turtle that live by rivers and have the same shell texture as the skin of an alligator.
View all 163
animals that start with M
---
Meiolania FAQs (Frequently Asked Questions) 
When was the Meiolania alive?
The Meiolania were alive from around 20 million years ago up until 12,000 to 50,000 years ago.
How big was Meiolania?
Their sizes varied from continent to continent. However, their general size was somewhere between 5-10 feet in length and 1000 lbs in weight.
Was the Meiolania an Herbavore, Carnivore, or Omnivore?
The Meiolania was most likely an Herbavore that fed on various plants and grasses. But some experts believe that they were omnivores.