Key Points:
The largest lake in Missouri is Truman Reservoir, named after President Harry S. Truman. It's also the largest artificial lake in the state, and popular for its fishing, wildlife, and hiking.
Lake of the Ozarks, the second largest lake in the state, is the setting of the TV series Ozark. Filming actually took place on Lake Lanier and Lake Allatoona in Georgia.
Lake Wappapelo was formed in 1941 due to the construction of the Wappapelo Dam to control flood waters. Anglers fish this lake for white bass, crappies, catfish, and largemouth bass.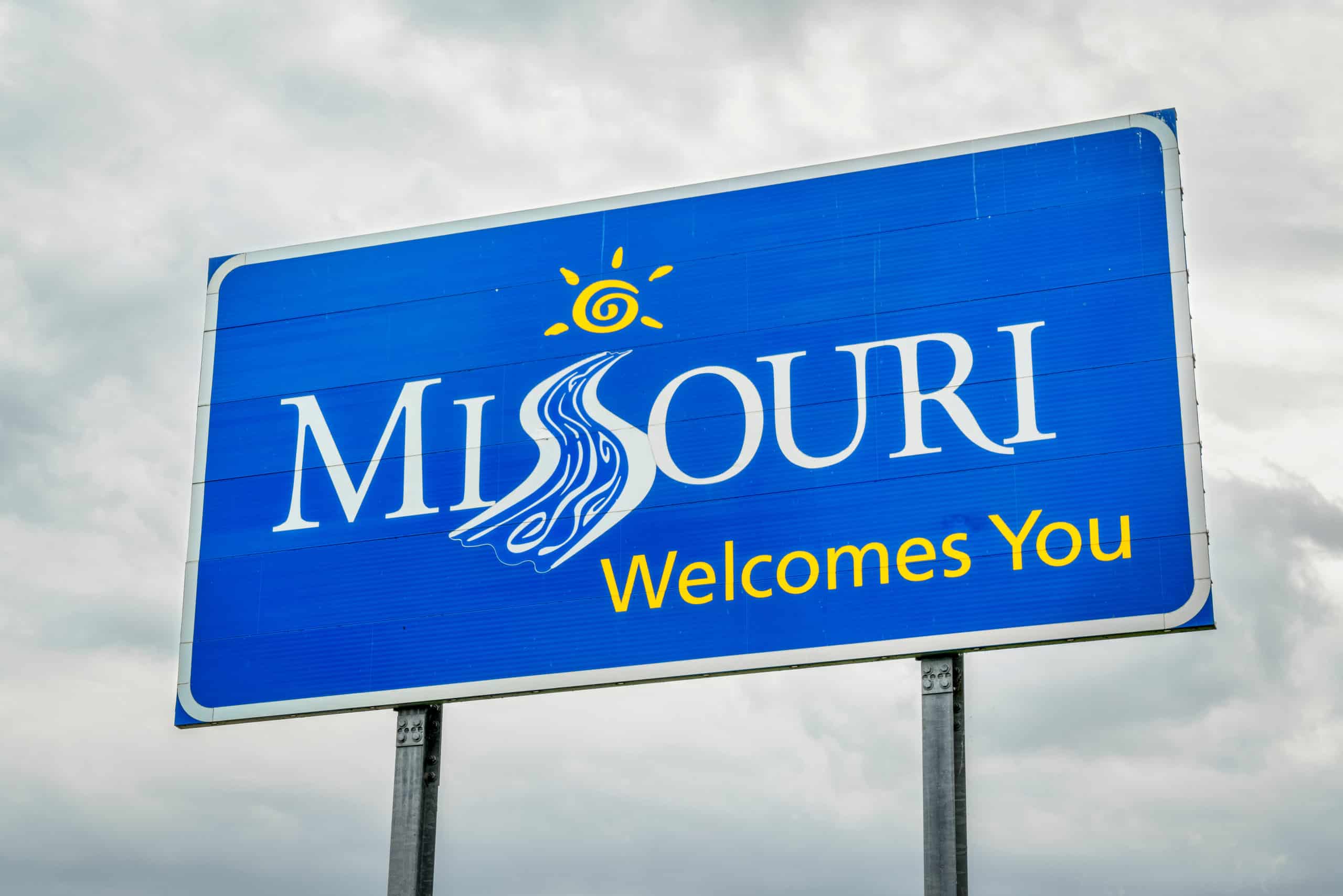 From the Dissected Till Plains and Mississippi Alluvial Plain to the Ozark Mountains, Missouri is a Midwestern state with a diversified landscape. Missouri lies towards the heart of the country, bordered by eight states. Among Missouri's rich flora and fauna are reptiles, mammals, birds, fish, trees, and shrubs. It also has abundance of freshwater, with rivers, streams, and lakes aplenty.
Interestingly, despite having many rivers and streams, Missouri has no natural lakes. All significant lakes in the state are artificial, except for oxbow lakes that form in old riverbeds. The real question remains: is there anything more relaxing than spending a weekend at a lake? They're ideal for relaxing, swimming, fishing, canoeing, kayaking, and whatever else your heart desires. There are several beautiful lakes to pick from in Missouri, spread out throughout the state. If you want to be closer to nature, below are the 11 biggest lakes in Missouri you can choose from.
Discover the Biggest Lakes in Missouri
11. Long Branch Lake
Long Branch Lake is a 2,400 acre (9.71 square kilometers) Corps of Engineers flood control reservoir in Macon County. Its functions include flood control, water storage, wildlife conservation, and recreational opportunities. Bluegill, channel catfish, and largemouth bass are a tried-and-true stocking combination that serves as food and sport fishing. The reservoir has a visitors' center at its southern end and the Atlanta State Wildlife Area at its northern end, aside from the nearby state-run Long Branch State Park with three independent units. Boating, swimming, water skiing, fishing, hiking paths, picnicking facilities, three boat ramps, a marina, and a camping area are just some of the outdoor activities available at the state park. The vast public space around the lake is home to white-tailed deer, wild turkeys, and migrating waterfowl.
10. Smithville Lake
Smithville Lake is a reservoir near Smithville that supplies water to the city and the rest of the state. The lake, created by damming the Platte River, spans two counties and has a surface area of 7,190 acres (29.1 square kilometers). Originally, its primary purposes were to manage fish and wildlife, reduce floods, and supply water. However, because of its beauty, the lake and its surroundings are now popular recreational areas for fishing, hunting, swimming, boating, hiking, horseback riding, bird-watching, and camping. There are a variety of campgrounds to choose from, with necessities and electricity, so there's something for everyone. From hiking to horse riding, there are miles of multi-use pathways. Anglers target channel, blue, flathead catfish, bluegill, largemouth bass, walleye, tiger muskie, and crappie at Smithville Lake.
9. Pomme de Terre Lake
Pomme de Terre Lake is another lake that offers everything a lake should: swimming, boating, dining, camping, and more. Furthermore, there aren't many limits or guidelines that apply to this lake. It is, however, one of Missouri's lesser-known and visited lakes. Pomme de Terre Lake sits in southwest Missouri, near the intersection of Pomme de Terre River and Lindley Creek. In addition, it is a stunning lake with a surface area of 7,907 acres (32 square kilometers) that is part of the lakes in the Osage River Basin.
Muskie fishing is also popular on the lake, stocked by the Conservation Department, and provides largemouth bass, crappie, bluegill, and walleye. Swimming, canoeing, and boating are all popular activities in this area. It provides an excellent balance of relaxation, festivity, and diverse possibilities. If you're looking for a quiet lake with a little nightlife tossed in for good measure, this is the lake for you.
8. Lake Wappapello
Lake Wappapello, formed in 1941 by the construction of the Wappapello Dam, is primarily used for flood control, although it is also a well-known recreational lake. The lake is about 118 miles (190 kilometers) from St. Louis, and many locals visit it on weekends and during the summer holidays. It covers an area of 8,402 acres (34 square kilometers), nestled in southeast Missouri in the foothills of the Ozarks. Swimming, boating, canoeing, kayaking, and fishing are popular activities at Lake Wappapello. Anglers from all over the country flock to the lake to catch white bass, crappies, catfish, and largemouth bass. Hiking, equestrian, and bicycle routes are available at Lake Wappapello State Park, along the lake's shoreline.
7. Mark Twain Lake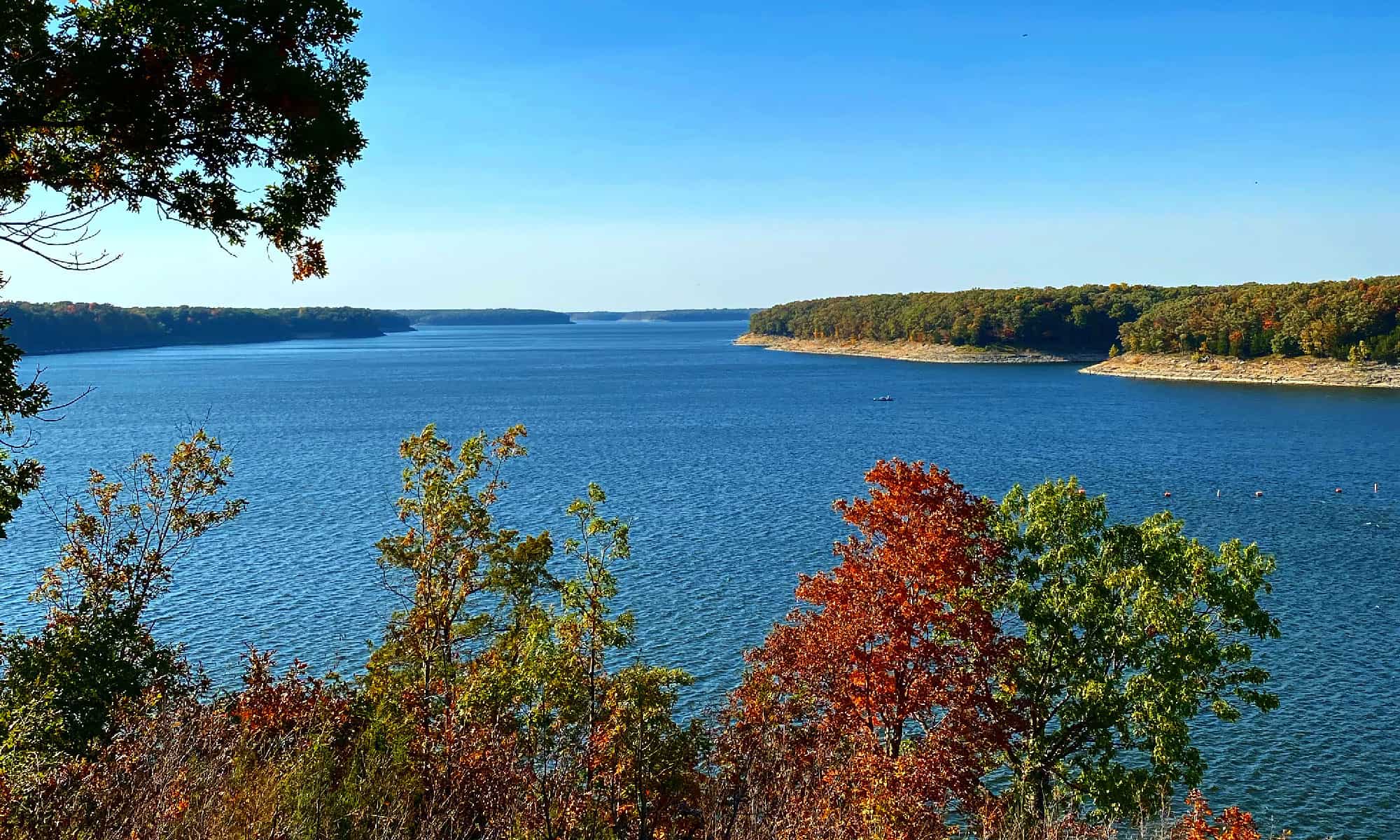 Mark Twain Lake is an 18,600 acre (75.27 square kilometer) body of water in northern Missouri's Ralls and Monroe counties. Its main functions are to generate energy, regulate flooding, supply water, and aid in fish and wildlife protection. Mark Twain Lake is an excellent fishing site and one of the larger lakes in size. However, it does not offer the same tourist-friendly amenities as other well-known Missouri lakes on our list. Swimming, kayaking, and boating are permitted anywhere on the lake, but if you plan on visiting, make sure you scout the area for restaurants ahead of time because your options will be restricted. The Mark Twain State Park nearby the lake is home to white-tailed deer, wild turkeys, foxes, raccoons, and bats.
6. Norfork Lake
Unspoiled and uncrowded, Norfork Lake is a 22,000-acre (89 square kilometer) lake located in the Ozarks. Norfork Lake is also in Arkansas, although the northern end is in Missouri. It was built in 1944 to control floods, provide water, and generate energy for north Arkansas. Because of the limited development around the lake, it became a famous hunting ground for wild turkeys, white-tailed deer, and game birds. Fishing is feasible all year because the lake does not freeze. In addition, there is plenty of black and smallmouth bass, stripers, white bass, crappie, walleye, and catfish. There are 342 miles of highly forested shoreline along the lake, 20 parks, and ten recreation sites. The lake is ideal for swimming, hiking, boating, scuba diving, nature viewing, and hiking because it has many bays, coves, branches, and sandy islands.
5. Stockton Lake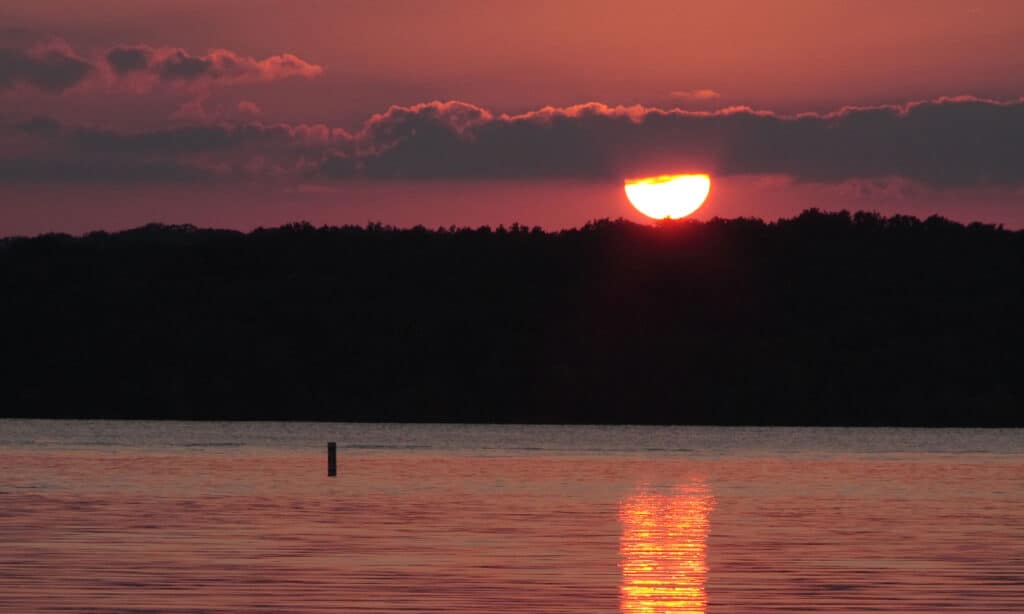 Stockton Lake is a 24,711-acre (100 square kilometer) 'V'-shaped lake that straddles four Missouri counties. As a result, the lake's rules are a little peculiar. Each county has its own set of laws and restrictions for its portion of the lake, making some of the lake's regulations a bit confusing. However, most of the same essential services are available in each county: swimming, eating, shopping, and basic recreational activities. Hundreds of acres of native prairie grasses, rolling hills, and deep forests turn scarlet in the autumn surround the lake. Wildlife such as wild turkeys, great blue herons, deer, and bald eagles thrive in and around the water.  
4. Table Rock Lake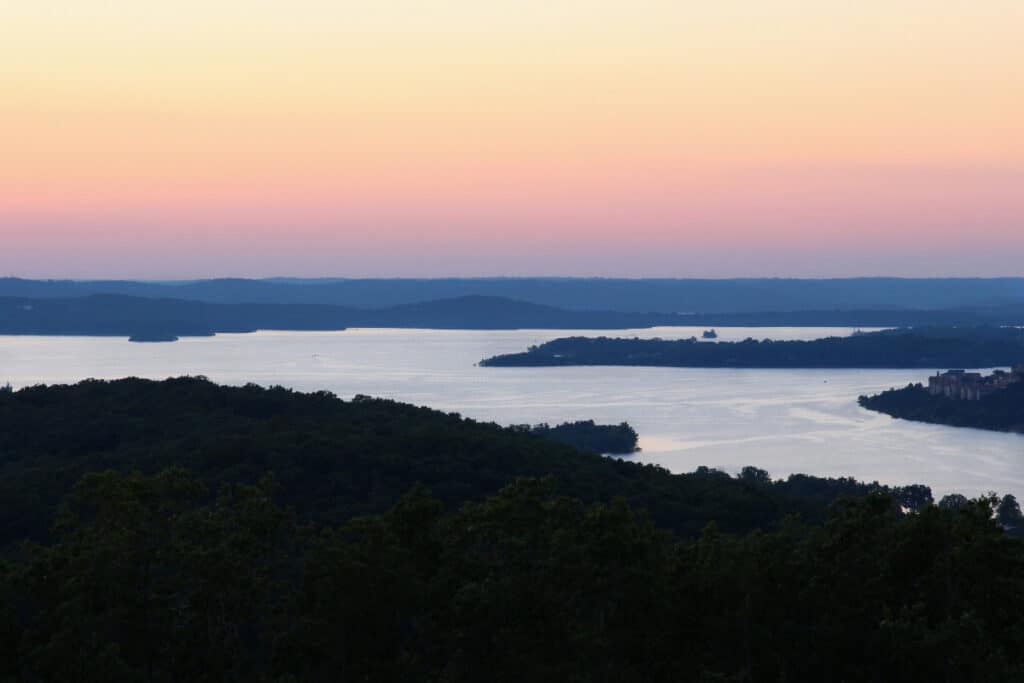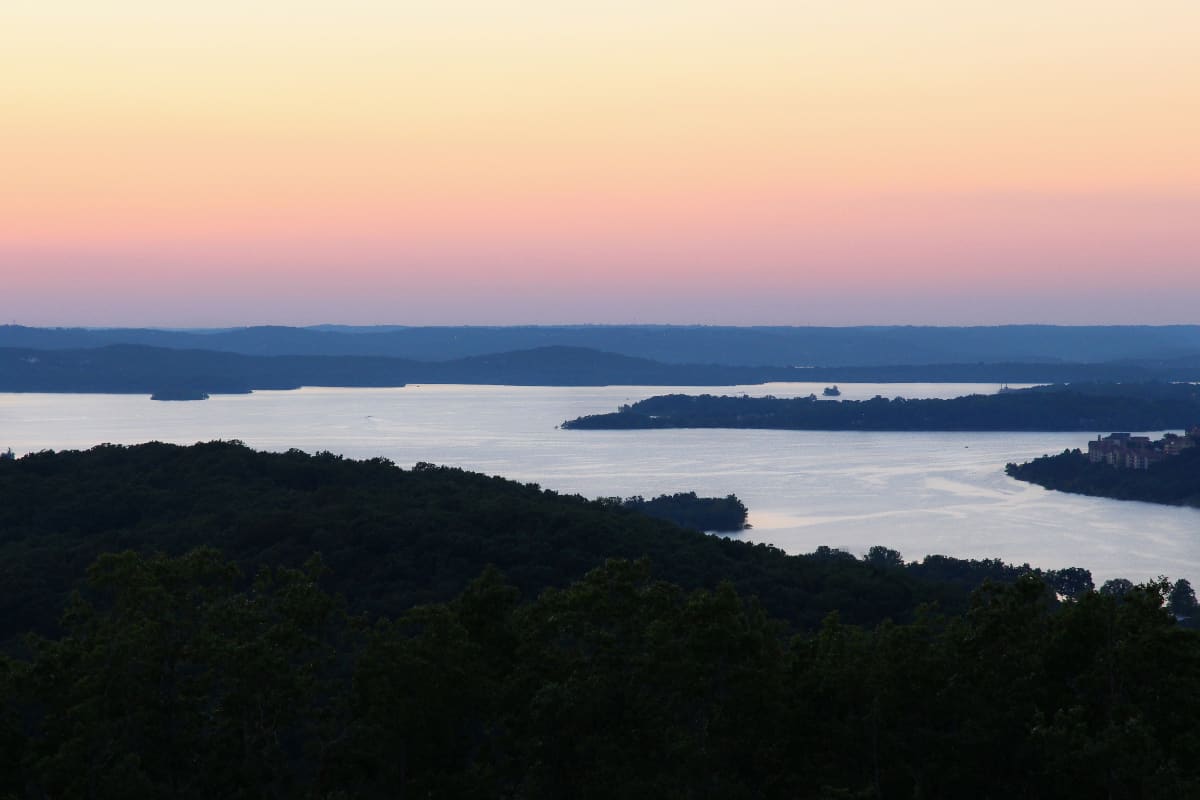 Table Rock Lake is a 43,095-acre (174.4 square kilometer) man-made lake located in the Ozark Mountains, sitting at an elevation of 919 feet (280 meters) above sea level. It's a lovely lake with stunning views of the surrounding mountains, making it a popular tourist attraction in Branson. Table Rock Lake is a popular fishing spot, with trout being stocked regularly by the Missouri Department of Conservation. Boating and swimming are among popular activities, and the surrounding area is perfect for hiking and cycling. From fishing to pubs to mini-golf, this lake has it all. The main drawback is that all of the lake's best spots are on the Arkansas side. If you're from Missouri and want to visit this lake, you can still do so; to get to the good stuff, you'll just have to cross the border.
3. Bull Shoals Lake
Bull Shoals Lake is a 45,150-acre (182.7 square kilometer) reservoir or human-made lake in the Ozark Mountains of northern Arkansas and southern Missouri. Boating, water sports, swimming, and fishing are popular activities on the hundreds of miles of lake arms and coves, and nineteen built parks on the shoreline offer campgrounds, boat launches, swimming areas, and marinas.
If you're into fishing, you will not be disappointed by the healthy population of largemouth, smallmouth, spot bass, walleye, white crappie, bluegill, and long-ear sunfish that are among the game and panfish species that thrive in Bull Shoals. You can also go hiking around the lake; there are various intriguing routes for a short or long hike, depending on your interests and abilities. The lake paints the splendor of Arkansas and Missouri, which everyone should see at least once.
2. Lake of the Ozarks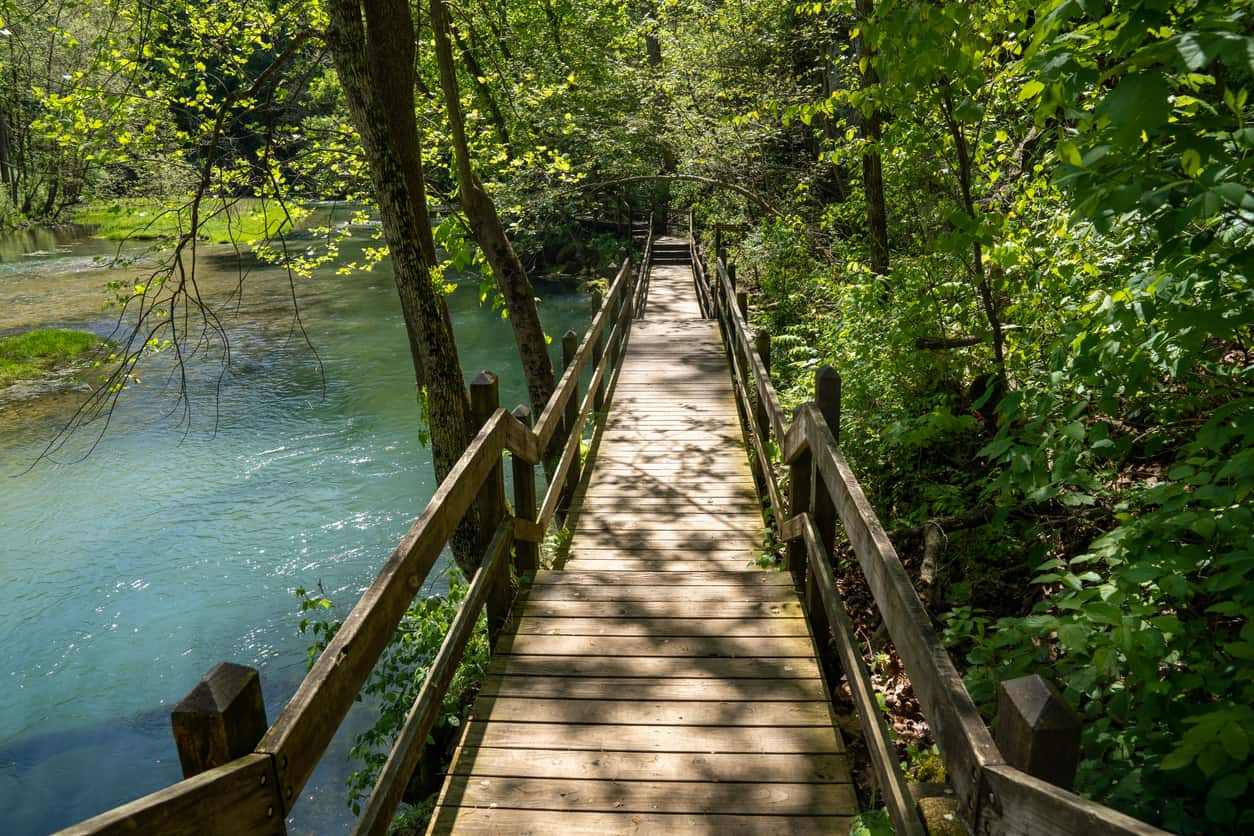 The Lake of the Ozarks, nicknamed "The Magic Dragon" because of its serpentine shape, lies in central Missouri and spans four counties. It is a gigantic 54,000-acre (218.5 square kilometer) aquatic playground, 130 feet deep, 92 miles long and with more than 1,150 miles of shoreline, located only 180 miles from St. Louis and 170 miles from Kansas City. The lake is teeming with fish, particularly bass. Swimming is allowed anywhere in the lake, but two sandy beaches are specifically attractive. Many Ozarks-native animals make their homes here, such as minnows and darters, pickerel frogs, northern water snakes, pileated woodpeckers, belted kingfishers, muskrats, and bobcats. In the 1980s, the nine-banded armadillo and river otter were introduced to the area.
If you're a Netflix buff, you've probably watched the TV series Ozark, which follows the lives of the Byrde family, who have relocated to the Ozark region after the patriarch, Marty Byrde, gets wrapped up in a money laundering scheme. In the drama, they reside in a '70s style A-frame house on the banks of Lake of the Ozarks, and much of the action in the storyline takes place there. But disappointingly, the series was not actually filmed on that lake. Rather, it was filmed on Lake Lanier and Lake Allatoona in Georgia.
1. Truman Reservoir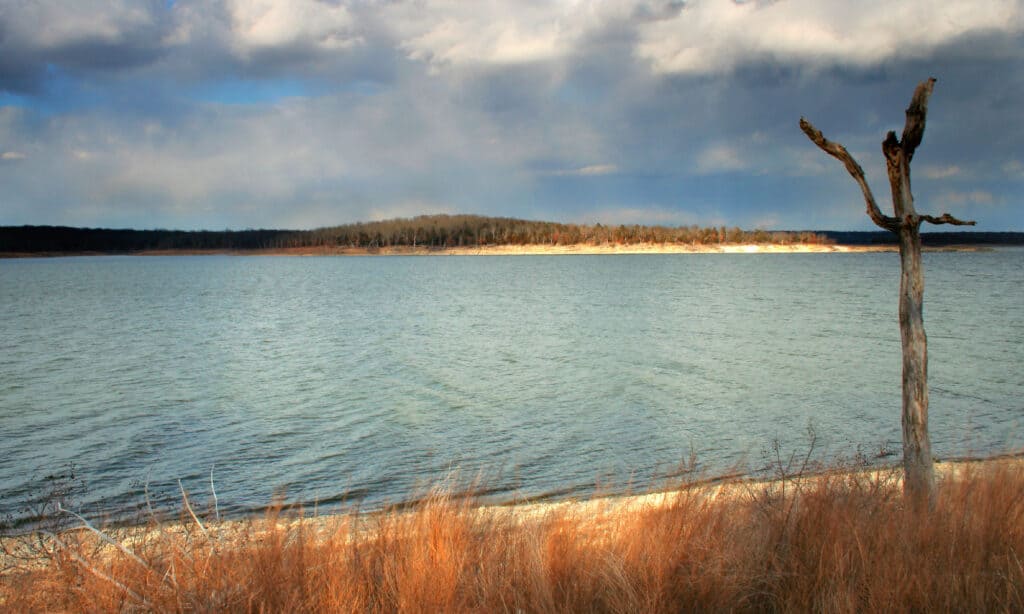 With 55,600 acres (225 square kilometers) of surface area, the Truman Reservoir remains in our first spot. However, unlike Ozark Lake, which is known for partying, this lake is primarily for fishing. Truman Reservoir, named for former President Harry S. Truman, is Missouri's largest man-made lake. Between the communities of Clinton and Warsaw, the lake runs along the Osage River, spanning four counties. Lush vegetation encircles the lake, perfect for hiking, picnicking, and camping. Around the lake, there are a plethora of animals to be seen, and it is a popular area for bird viewing. It does have party coves, although they aren't popular. It boasts good food, lodging, and plenty to do. If you're thinking about staying at a lake for a few days, this is the one.
Types of Animals Around Missouri's Lakes
Due to its humid and subtropical climate, Missouri offers a large diversity of wildlife in its vast wilderness areas, public forests, and plentiful lakes. The water draws many mammals, birds, insects, reptiles, amphibians, anthropoids, and, of course, fish. Some mammals found in and around the lakes of Missouri include beavers, river otters, white-tailed deer, black bears, cougars, and coyotes, among many other species. Even American bison take a drink from the many water sources. Wading birds such as herons and egrets will be seen in the lakes as well as geese, ducks, and swans. Fish found in Missouri's lakes include rainbow and brown trout, alligator gar, blue gill, sunfish, crappie, carp, bass, and many more.
Summary of the 11 Biggest Lakes in Missouri
Here's a recap of the largest lakes in the state of Missouri, ranked according to their total surface area:
| Rank | Lake | Size |
| --- | --- | --- |
| 1 | Truman Reservoir | 55,600 acres (225 km²) |
| 2 | Lake of the Ozarks | 54,000 acres (218.5 km²) |
| 3 | Bull Shoals Lake | 45,150 acres (182.7 km2) |
| 4 | Table Rock Lake | 43,095 acres (174.4 km²) |
| 5 | Stockton Lake | 24,711 acres (100 km²) |
| 6 | Norfork Lake | 22,000 acres (89 km²) |
| 7 | Mark Twain Lake | 18,600 acres (75.27 km²) |
| 8 | Lake Wappapello | 8,402 acres (34 km²) |
| 9 | Pomme de Terre Lake | 7,907 acres (32 km²) |
| 10 | Smithville Lake | 7,190 acres (29.1 km²) |
| 11 | Long Branch Lake | 2,400 acre (9.71km²) |
The photo featured at the top of this post is © Colton lee garcia/Shutterstock.com
---