Hogfish
Lachnolaimus maximus
Last updated: February 23, 2023
Verified by: AZ Animals Staff
© Leonardo Gonzalez/Shutterstock.com
Hogfish can change their sex from female to male
---
Advertisement
---
Hogfish Scientific Classification
Animalia
Chordata
Actinopterygii
Labriformes
Labridae
Lachnolaimus
Lachnolaimus maximus
Hogfish Locations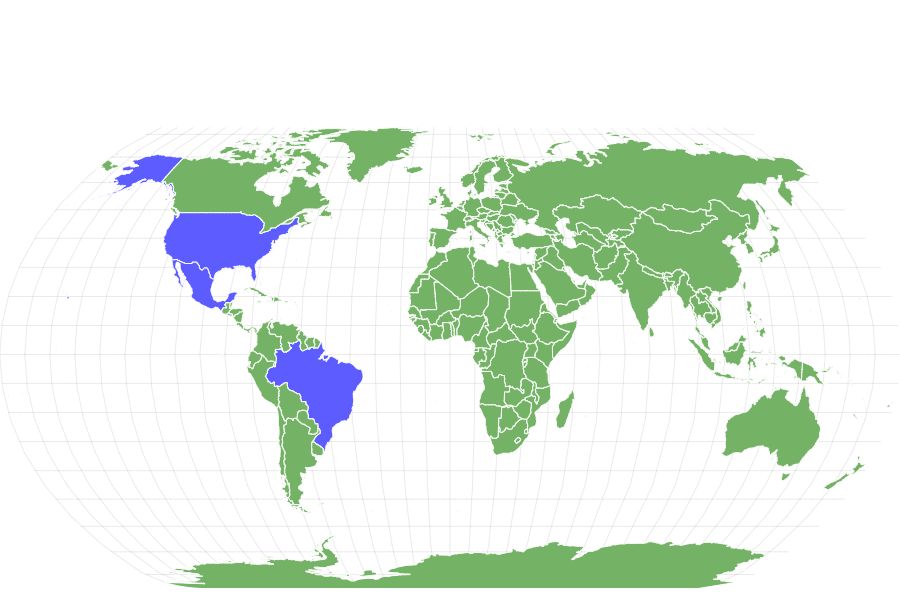 ---
Hogfish Facts
Hogfish can change their sex from female to male
Hogfish Physical Characteristics
View all of the Hogfish images!
---
---
The Hogfish is a species of wrasse fish found in the Atlantic Ocean and the Gulf of Mexico. It has a distinctive pig-like snout and is known for its delicious taste and firm flesh, making it a popular choice for seafood lovers. This attractive fish can measure up to 24 pounds and reach a maximum length of 36 inches. It is also a popular sportfish, with anglers targeting them for their strong fighting ability and vibrant colors. However, not only are Hogfish found in shallow waters near coral reefs they also make beautiful-looking pets in saltwater aquariums.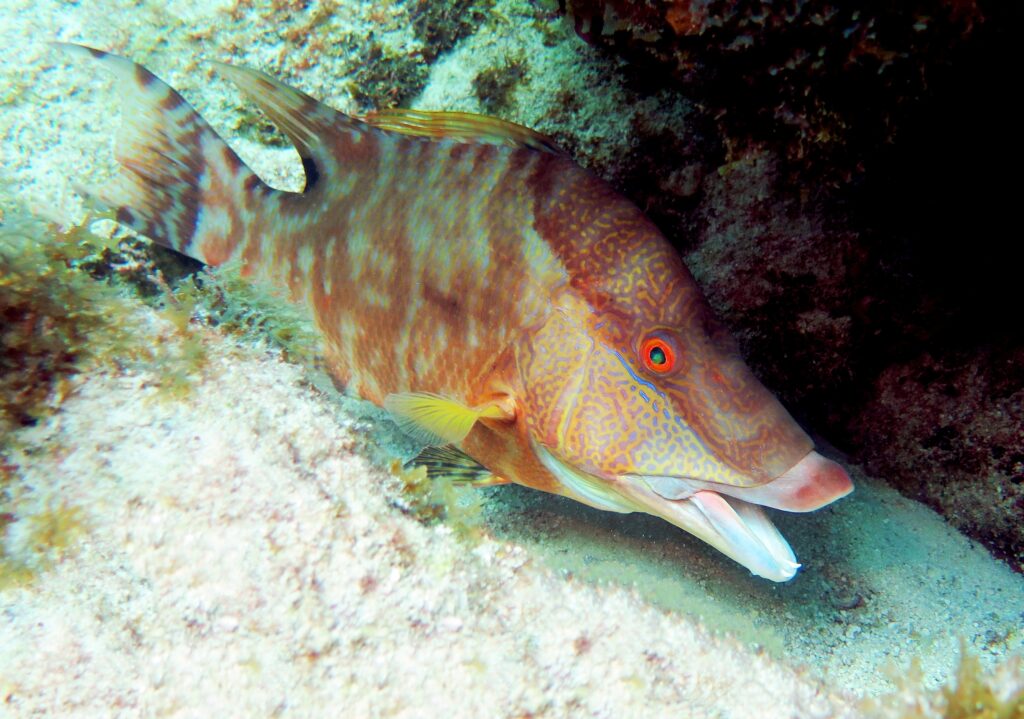 4 Hogfish Facts
Hogfish can change their sex from female to male. The largest and most dominant female in a group will usually change its sex to become the male.
Hogfish are known to change color in response to different stimuli, such as aggression, courtship, or stress
They use their protruding jaw to find prey in the sand and coral.
This fish is vital to coral reef ecosystems because they keep the reef healthy.
Classification and Scientific Name
This species of fish belongs to the wrasse family known as Labridae. It is classified as a ray-finned fish called Actinopterygii. Therefore, giving its scientific name Lachnolaimus maximus.
Types of Hogfish Species
There are roughly 45 different varieties of Hogfish species, but the following are the most prevalent ones, namely:
Yellow candy Hogfish
Masuda Hogfish
Spotted Hogfish
Coral Hogfish
Spanish Hogfish
Cuban Hogfish
Red Hogfish
Cleaner Hogfish
Caribbean Hogfish
Great Barracuda Hogfish
The Appearance of the Hogfish
Hogfish have a distinctive appearance that makes them easily recognizable. They have a long, laterally compressed body that is similar in shape to snapper or grouper fish. Their body color varies from a reddish-pink to yellow color, with white and yellow fins. Its most notable feature is their large, protruding lower jaw, which gives them a characteristic "hog-like" appearance.
---
---
Hogfish also have large, expressive eyes and a dorsal fin that runs the length of their body. They can grow up to 2 feet in length, with males being larger than females. Hogfish are known for their ability to change color, which they use to communicate with other Hogfish or to blend in with their surroundings.
Distribution, Population, and Habitat
These fish have a broad distribution ranging from North Carolina to the coast of Brazil, including the Bahamas, Bermuda, and the Gulf of Mexico. The population of this fish species is considered stable due to fishing limitations and fishermen being monitored by the Wildlife Conservation Commission. All these regulations protect these unique fish from overfishing.
Hogfish are bottom-dwelling fish found near coral reefs and deeper waters at depths of 10 to 100 feet. Because they don't migrate, they typically stay in the exact location all year round.
Evolution and History
The term Lachnolaimus maximus is derived from the Greek words lachne meaning wool, and laimos meaning throat, referring to the hairy throat some species of wrasse possess. The specific epithet Maximus means most significant and refers to the fact that Hogfish is one of the largest species in the wrasse family.
Originally found only in the Western Atlantic Oceans, Hogfish are now found all over the globe.
Predators and Prey
Hogfish are preyed upon by a variety of larger fish and marine mammals. Their natural predators include larger predatory fish such as barracuda, groupers, and jacks, as well as marine mammals such as dolphins and seals. Juveniles are particularly vulnerable to predation and are often preyed upon by a variety of smaller fish and invertebrates.
To avoid predation, they will often take refuge in crevices in the reef or bury themselves in the sand, using their ability to change color to blend in with their surroundings. In some cases, Hogfish may also form schools with other fish species for protection from predators.
These predatory fish have been observed to consume a range of prey, such as shrimp, crabs, calamari, and other small fish. Hogfish search for food in coral and sand using their sharp, protruding lower jaw, where they go on a feeding spree. Hogfish have a variety of diets depending on their size and age. Still, they are usually considered opportunistic feeders who use any available food sources in their environment.
Reproduction and Lifespan
Hogfish reproduce by external fertilization, and when they are ready to spawn, the males and females gather in big groups. During the breeding season, the male frequently establishes and protects a territory, luring females to deposit their eggs, which the male then fertilizes.
The fertilized eggs grow into larvae that float on the ocean's surface before maturing into adults by settling there. However, before developing into juvenile fish, this species is unique because all the spawned eggs are only born as females but can later transform into males. In addition, they can have a long lifespan of approximately 11 years.
Fishing and Cooking
Due to its popularity as a game fish, commercial and recreational fishermen greatly value Hogfish. The most widely used method for catching this species is bottom fishing. Bottom fishing involves casting a line into the ocean's floor while weighted and equipped with a hook and bait. Other methods include using a spear gun or chumming the water with a mixture of fish byproducts and capturing the fish using a net. In addition, these fishing techniques can be successful depending on the angler's skill level and the water conditions.
It is prized for its delicate, sweet taste and tender, flaky flesh, which make it a delicacy. There are numerous methods to prepare this fish which include grilling, sautéing, broiling, and baking. It should not be overcooked because the toughness of the flesh can result from doing so. Tacos, ceviche, and linguine are a few well-known ingredients that can be added to create a Hogfish dish. In addition, it's important to cook your fish at an internal temperature of 145°F to eliminate any potential foodborne pathogens.
View all 104
animals that start with H
---
Hogfish FAQs (Frequently Asked Questions)
Why do Hogfish change color?
Hogfish are known for their ability to change color when wanting to communicate with other Hogfish or to blend in with their surroundings.
What is the lifespan of a Hogfish?
They can have a long lifespan of approximately 11 years.
Where have Hogfish been distributed?
These fish have a broad distribution ranging from North Carolina to the coast of Brazil, including the Bahamas, Bermuda, and the Gulf of Mexico.
Sources

university of Florida, Available here: https://blogs.ifas.ufl.edu/collierco/2021/06/28/fish-of-florida-hogfish-lachnolaimus-maximus-species-profile/
Gulf hogfish, Available here: https://gulfcouncil.org/fishing-regulations/gulf-hogfish-lachnolaimus-maximus/
fishbase, Available here: https://www.fishbase.se/summary/Lachnolaimus-maximus.html