Below you can find a complete list of Haitian animals. We currently track 200 animals in Haiti and are adding more every day!
The country of Haiti is found in the Caribbean, sharing an island with the Dominican Republic where many of the Hispaniolan Trogons – Haiti's national animal – lives. Much of the land is still in recovery after an earthquake over a decade ago, and the flooding and deforestation of the area leave much of Haiti's wildlife endangered.
Haiti is home to one of the only venomous mammals in the world, though seeing one is incredibly rare.
The Official National Animal of Haiti
Haiti has a rather beautiful and vibrant national animal – the Hispaniolan Trogon. This bird has a rich assortment of bright feathers along its wings and breast, though the blend along its tail offers a unique pattern. Though they have a rather slow song, it can be heard within quite a large area.
While the species is relatively common in the Dominican Republic and Haiti, it is specifically found in Hispaniola, which is an island that the two areas share. It is also one of the only two trogons found in the entirety of the Caribbean.
The main reason that the Hispaniolan Trogon was chosen as the national bird is due to the threat of extinction. By declaring it to be a national symbol, this bird was granted protection against deforestation in Haiti.
Where to Find the Top Wild Animals in Haiti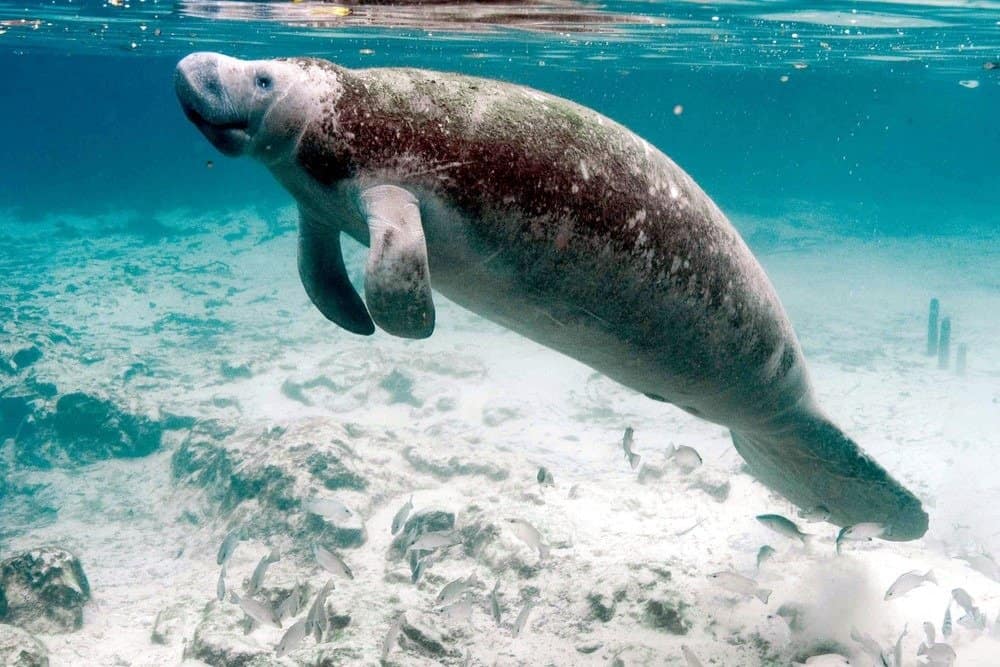 Since Haiti is largely surrounded by water, the marine mammal fauna is part of what makes the country so unique. Some of the most popular wildlife in Haiti includes:
The Most Dangerous Animals in Haiti Today
Due to the unique wildlife found in Haiti, you may not be surprised to find that there are multiple dangerous (and even deadly) animals that live in the area. The majority of these animals thrive peacefully together, but there are a few to look out for, including:
Tarantula spider. While the painful bite may not be fatal to humans, most people experience intense effects like nausea and fever. Dogs, however, may not be so lucky against this creature.
Banana spider. With an incredibly painful bite, the banana spider is easily identifiable by its yellow body. Luckily, they don't go after humans unless someone tries to hold them or they feel threatened, so stay away!
Haiti chery. This mammal is one of the most venomous creatures in the area, and it is currently endangered as the result of deforestation. However, very little is known about the creature.
Even though fear of the snakes in Haiti is common, you can find solace in the fact that none of them actually have dangerous levels of venom if they were to bite a human. That's not to say that the snakes aren't venomous – they are! However, the venom in these snakes is usually reserved for the prey it plans to eat, rather than nearby tourists.
The Largest Animal in Haiti
The largest animal in Haiti is the American crocodile (Crocodylus acutus). The apex predator which is known for its ability to tolerate salty water and even live in hypersaline lakes, is capable of growing to 2,000 lbs and 20 feet. 
It is also known for its preference for warmer climes owing to a lower cold tolerance compared to its relative, the American alligator. 
In Haiti, the American crocodile can be found in one single location alone. These reptiles live in the Caribbean nation's largest freshwater lake, Etang Saumatre (also referred to as Lake Azuei). The body of water itself is located in Haiti's southeastern region close to the Dominican border. The population of its scaly residents is rapidly shrinking owing to heavy hunting.
The Rarest Animal in Haiti
Cuviers Hutia is one of the rarest animals in the island nation.  The rodent which is also known as Plagiodontia aedium is capable of reaching one foot in length with a tail which is half that length as well. The mammal is generally nocturnal and herbivorous and nibbles fruit and roots. They generally take five months to deliver their young and give birth to one to two of them at a time. 

The frugivorous mammal which is called zagouti on Haiti has seen its habitat shrink owing to deforestation, competition from other rodents such as mice and rats, and certain predators such as cats, dogs, and mongooses. Its current circumstances are a direct reversal of its teeming numbers which occurred in the absence of few predators.
Endangered Animals in Haiti
With the deforestation and floor in Haiti, there are a substantial number of species that have become endangered in the region. Some of the animals that are currently endangered (which could lead to them becoming extinct) include:
Ball bearing frog
Bicknell's thrush
Bigeye tuna
Buff-breasted sandpiper
Black rockfish
Cuban lesser funnel-eared bat
Cuvier's hutia
Giant Hispaniola galliwasp
Plain pigeon
Oceanic whitetip shark
Yellow cave grouper
The local government has made efforts to conserve some of these species. Unfortunately, there are several extinct species that have not been so lucky, including the creole pig and the Acratocnus (a species of sloth).
Researchers estimate that, without changes, it is possible that Haiti will no longer have its primary forest in less than 15 years. In fact, over 40 of the 50 largest mountains have no primary forest area anymore, so there are many species that have already likely gone extinct before they were ever researched by the public.
Haitian Animals
Haitian Animals List
Animals in Haiti FAQs (Frequently Asked Questions) 
What kind of animals live in Haiti?
Haiti is home to plenty of interesting and diverse wildlife. Among the marine mammal fauna, it is easy to find manatees, whales, and dolphins in the region. Haiti is also home to many unique bat species that can only be found in this country.
What is the most dangerous animal in Haiti?
Haiti is the home to several dangerous species, like the tarantula spider and the centipede. Many locals and tourists alike fear the painful bite of the banana spider as well.
Are there monkeys in Haiti?
No. Surprisingly, neither Haiti nor any other Caribbean country is home to any indigenous monkey species.
Are there dangerous animals in Haiti?
Yes. Many insects pose a serious and fatal threat to locals, include several spiders and poisonous centipedes.
Are there tigers in Haiti?
While saber-tooth tigers used to exist in nearby regions, the ecosystem is far too harsh for the tiger to live there today. Some researchers believe that saber-toothed tigers used to roam in the region before they went extinct.
What are the chief animals raised in Haiti?
Some of the chief animals raised in Haiti include the Tiburon Banded Racer, the Port-au-Prince Blindsnake, and the La Hotte Long-snouted Anole. The unique fauna also includes many endemic bats.