Below you can find a complete list of Lithuanian animals. We currently track 223 animals in Lithuania and are adding more every day!
The forests, wetlands, meadows, and field habitats of Lithuania are home to a varied collection of animals. Bison, Roe deer, moose, foxes, wolves, marsh frogs, and the white stork are just a few examples of wildlife in Lithuania. Lithuania has 45 mammal species, 9 reptile species, 13 amphibian species, 50 plus species of fish, and 392 bird species.
The Official National Animal Of Lithuania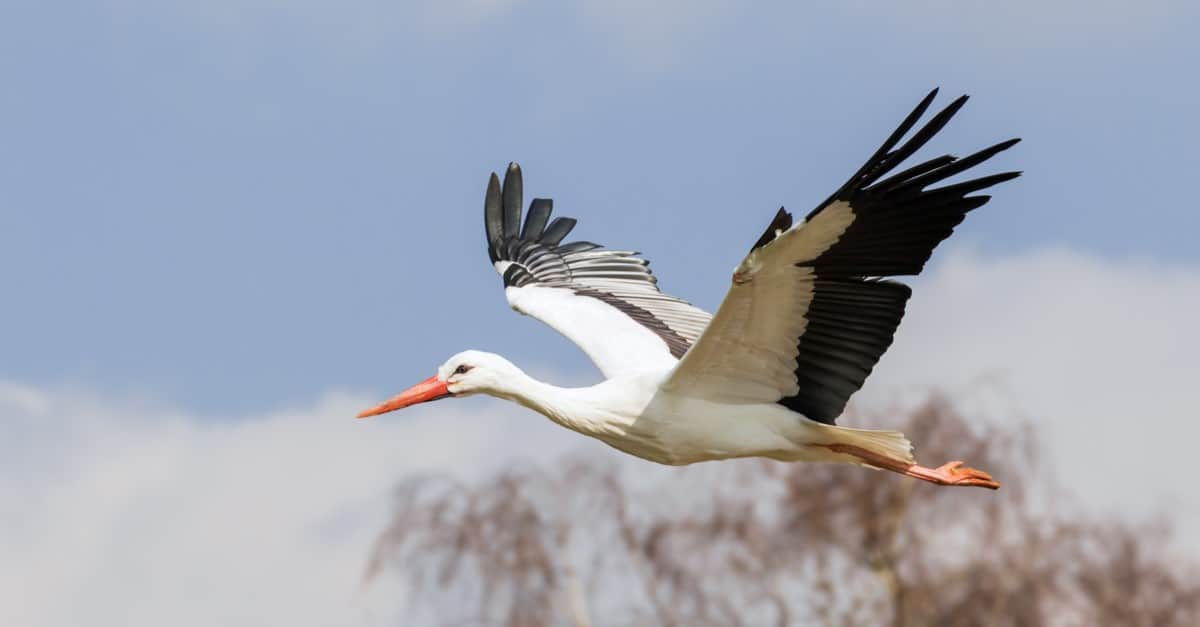 In 1973, the White stork became the national animal of Lithuania. This bird with its long beak and elegant white and black feathers represents harmony. In fact, many Lithuanians believe that allowing this bird to nest near their home brings peace to the entire household. The White stork even has its own day! On March 25th each year, these storks are celebrated and honored. Kids are given small gifts such as chocolate, toys, and fruit. Also, people dye eggs and hang them on tree branches.
The stork is a symbol of domestic life, family, birth and prosperity. It is said that if your property is located where they nest, it will bring your family into harmony. The story that storks bring babies to expectant mothers continues to be told to children in Lithuania today.
Not surprisingly, there's an abundant and increasing population of White storks living in Lithuania. This bird is such a popular creature it is the national bird of Poland and Belarus as well.
The Most Dangerous Animals In Lithuania Today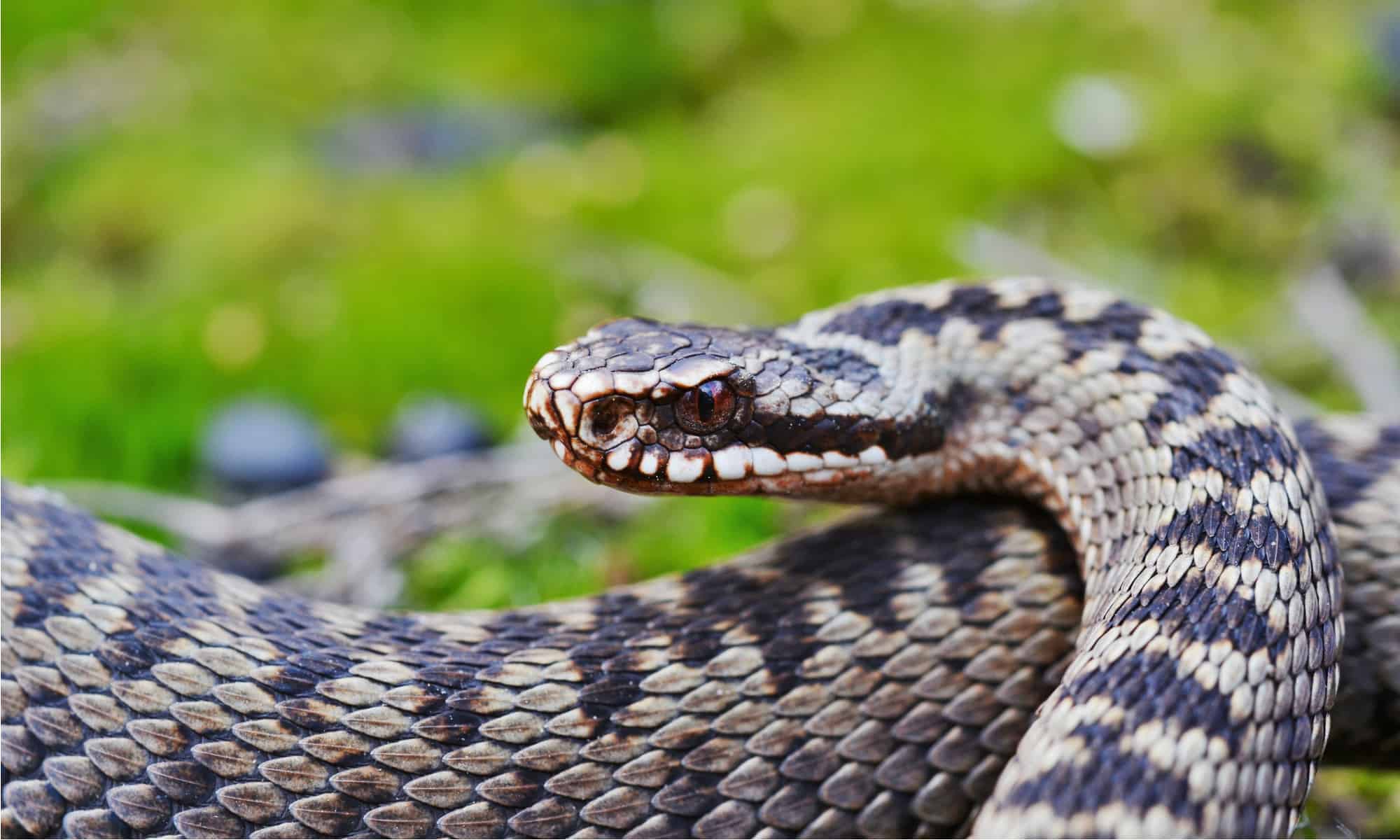 Like any other country, there are some dangerous animals in Lithuania while others are known to be non-aggressive. As a note, most wild animals try to stay away from humans as much as possible. But, when encountered, some can be more dangerous than others.
Discover the most dangerous animals in Lithuania today:
Common Adder – This is the only venomous snake living in the wild in Lithuania. These snakes are well-hidden in their environment so when they bite people, it's usually because they are accidentally stepped on or otherwise disturbed in their habitat. Fortunately, there have only been 14 total deaths from common adder bites since 1876. Pain in the bite area, dizziness, and sometimes an irregular heartbeat can be the result of an adder bite. Treatment is needed at a hospital as soon as possible. Some people who are bitten by common adders receive what is known as a dry bite. This means the snake did not release any of its venom.
Wolves – From 1989 to 2001, there have been just 22 wolf attacks in Lithuania. Wolves tend to stay hidden, so if they attack a human it's because they feel threatened or they feel their young cubs are at risk. These animals are fast and have a powerful bite.
Moose – When you think of dangerous wildlife, you may not picture a moose. But these big mammals have the potential to be dangerous. Though it's not clear how many moose attacks there have been in Lithuania, these large and strong mammals can use their tremendous hooves to kick at or trample a human who's entered their territory. Though these mammals are usually mild-mannered, they can quickly become dangerous if they feel their young are at risk of being injured by a person or another animal.
Wild Boar – Wild boar in Lithuania have attacked hunters and others in their territory or near their young. This animal is aggressive and will run at a person causing deep cuts with its teeth and tusks. Though the number of fatalities from wild boar attacks is unknown, treatment at a hospital is needed to prevent excessive blood loss and infection.
Although the common adder is considered one of the most dangerous snakes, it is still not thought of as exceedingly dangerous in Lithuania. Because they are not very aggressive, they very rarely bite unless they are provoked, stepped on or picked up. They are located in many habitats like forests, meadows and pastures, so when in these areas, it's always best to remain alert.
Where To Find The Top Animals In Lithuania
It's an amazing experience to witness the native wildlife in Lithuania. Fortunately, there are many national parks designed to offer protection to the animals while educating the public about them. Look at where you can find the top animals in Lithuania.
The great crested newt is not only one of the top animals to find in Lithuania but is also in danger of extinction. In their natural habitats, which include ponds, fish tend to dine on the larvae of this newt and it's not possible to restore their population. It isn't known exactly what their numbers are and although they are a protected species, things like loss of pond plant coverage, will effect numbers.
Endangered Animals In Lithuania
Each year, species are added to the list of those on the brink of extinction. Habitat loss, change in environmental conditions and hunting activity are three major reasons why some animals in Lithuania are considered Endangered. Check out some of the Endangered or Critically Endangered animals in Lithuania:
European mink
Saker falcon
Aquatic warbler (Vulnerable)
Black-tailed Godwit (Vulnerable)
Let's take a look at the two most endangered species from the list. The European mink faces the greatest threat of extinction due to several factors. In 1997, there were an estimated population of 41,000 mink. As of today, that estimate is closer to less than 5,000. Being a more specialized species, the European mink has additional competition as well as concern for disease due to the invasive American Mink being released in Europe, as a result of escaping fur farms.
Saker falcons, which are the second-largest falcon species, are listed an endangered not only due to habit loss but because of trapping and indirect poisoning. Although this bird of prey's population may be increasing in some locations, overall it is still in decline. It is believed that there are only about 200 pair of these large birds left in the world.
Rarest Animal In Lithuania
One of the rarest animals to find in Lithuania is the aquatic warbler. This bird is the only one of its kind found in mainland Europe to be internationally threatened. As its breeding grounds are found entirely in Europe, with only a small portion extended to Western Siberia, the aquatic warbler's biggest threat is loss of habitat. There is currently an estimated population of 11,000 to 15,000.
While this warbler lives primarily in Europe, it does spend its winters in Senegal, West Africa and can be found at the Djoudj National Bird Santuary.
Largest Animals In Lithuania
There are a number of large animals in Lithuania and the first two are from the same species – the deer family. Starting with the most abundant of these is the roe deer. There is an estimated population of 120,000. This deer has an average weight of 66 pounds and stands almost 3 feet tall. The moose has a population of around 7000 and stands at 6 feet tall, with a typical weight of 1000 pounds.
The bison, which became extinct in Lithuania in the 17th century, was reintroduced here in 1969. The first wild bison were released in 1973. Due to a change in habit and increased hunting, there is currently only has a population of about 200. The bison can weigh up to 2500 pounds and has a height of 6.6 to 9 feet.
Flag Of Lithuania
The flag of Lithuania has a long and meaningful history, with symbolism that reflects the past as well as modern times. There are two official flags — a national tricolor and a historical national flag that depicts a charging white knight. Both flags represent Lithuania's long and historical participation in the battle for independence while honoring the bravery and sacrifice of those who fell for their cause.
The tricolor flag, which was officially designated in 1918, was re-institued in 1988. Each stripe of color has a different meaning. The yellow stipe represents light, goodness and sun. The green embodies hope, freedom and the beauty of nature and the red stripe signifies the courage, land and blood spilled for Lithuania.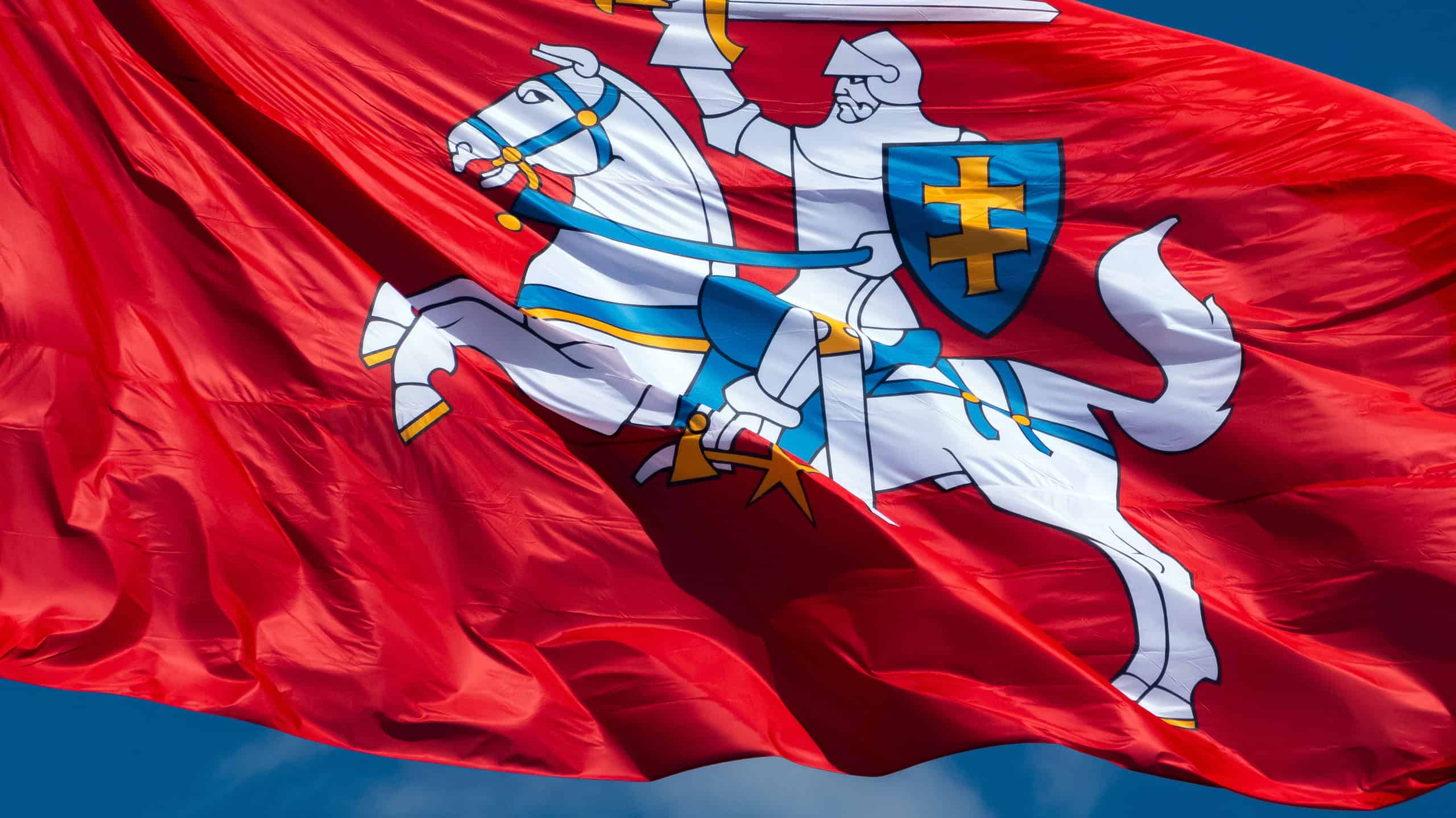 The historical national flag dates back to the 15th century. It was originally for the Grand Duke of Lithuania although in the late 16th to the late 18th century, it came to represent the Grand Duchy of Lithuania. This flag was used by the President of the Republic and in 2004 the Law on the National Flag was amended to include this version. To evade puzzlement over the two flags, this one was named the historical, while the tricolor was kept at the national flag.
Lithuanian Animals
Lithuanian Animals List
Animals In Lithuania FAQs (Frequently Asked Questions)
Are there wolves in Lithuania?
Yes, there are gray wolves native to Lithuania. They live in forests and rocky areas of the country. This is one of those animals that like to stay away from people and keep moving through the range of their territory. These mammals have a conservation status of Least Concern with a stable population.
Are there any bears in Lithuania?
Yes, but they don't live within the country. Brown bears are considered extinct in Lithuania. However, these mammals are not entirely extinct as a species. Brown bears sometimes cross the border into Lithuania from Latvia and Belarus. Bears are not concerned about borders!
Are there snakes in Lithuania?
Yes, there are snakes in Lithuania. The venomous Common Adder lives in the wild. Grass snakes and smooth snakes are also plentiful in this country. There are other types of snakes both venomous and non-venomous living in Lithuanian zoos and even in private collections of wildlife.