Below you'll find a complete list of Italian animals with pictures. We currently track 279 animals in Italy and add more daily!
National Animal of Italy: Italian Wolf
Approximate Number of Animal Species in Italy (Excluding Bacteria, Viruses): 57,000
Most Dangerous Animal in Italy: Marsican Brown Bear
Italy Wildlife and Geography
Italy is a biodiversity hot spot that's home to more animal species than any other European country. Impressively, a third of the continent's fauna is represented in Italy. Why? Because the boot-shaped peninsula is the joint connecting Eastern Europe, Western Europe, Africa, and the Middle East. As such, it's a cornucopia of ecological features that includes the Alps and Apennine mountain ranges, central woodlands, and southern shrublands. The fauna-rich cherry on top is Italy's 4,900 miles (8,000 kilometers) of coastline that falls smack in the middle of the Mediterranean Basin biodiversity zone.
Italy's wildlife is so impressive that UNESCO declared the Dolomiti Bellunesi National Park a World Heritage Site in 2009.
Animals of Italy
Excluding bacteria, viruses, and most microscopic invertebrates, Italy is home to about 57,000 known species, 4,777 of which are endemic to the region.
Italian Mammals
Between 102 and 126 mammal species live within Italy and its surrounding waters. According to the IUCN, of those mammals, four are  Near Threatened, nine are Vulnerable, two are Endangered, and one, the North Atlantic right whale, is Critically Endangered. 
Commonly spotted mammals in Italy include several types of shrews, Alpine marmots — which look like chubby squirrels — European snow voles, wild boars, and steinbocks.
Notably, Etruscan shrews — the smallest known mammal by mass — reside in Italy. The tiny and solitary animals weigh only .063 ounces, which is about half as heavy as a pencil. Another standout Italian mammal is the Alpine ibex. Found in northern Italian mountain ranges, males of the goat-antelope species are known for their gigantic, backward-hooking horns.
Italian Birds
How many bird species are in Italy? The latest count stands at 516, but only about 267 nest in the nation. Bluethroats, hoopoe, and the stunning European roller, with its turquoise and electric blue feather patterns, are common. Birds of prey in the region include Bonelli's eagles, Eurasian eagle-owl, and the griffon vulture. 
The bluethroat is a small, migratory bird native to Europe and Asia. It can be found in grasslands, thickets, forests, and wetlands during migration. The Hoopoe is a colorful bird that lives in open countryside with trees or shrubs for cover. It eats invertebrates like worms and insects, as well as fruits and berries. The European roller has an impressive turquoise-and-electric blue feather patterning which makes it stand out from its peers. They inhabit open countries with plenty of trees, such as farmland, steppes, wooded areas, and even coastal regions at times.
Birds of prey are common across Italy's diverse landscapes, too, including the Bonelli's eagles which feed on medium-sized birds while hunting over open country or near woodland edges. The Eurasian eagle owl inhabits mountain meadows, forest clearings, and cultivated lands. The griffon vulture prefers mountainous terrain but can also live along cliffs close to rivers or coastlines where they feed on carrion mostly obtained by scavenging carcasses of dead animals such as deer or sheep left behind by hunters.
Italian Reptiles and Amphibians
Scientists cannot agree on the number of reptiles and amphibians in Italy. Numbers range between 44 and 59 each. Common reptiles and lizards found in the country include spectacled salamanders, Italian newts, Italian stream frogs, Sicilian pond turtles, and the Italian Aesculapian snakes.
Spectacled salamanders are found mostly in the northern part of Italy, living in moist forests and alpine meadows. Italian newts make their home near ponds and slow-moving streams, typically preferring wooded areas such as beech forests. The Italian stream frogs live mainly along fast-flowing rivers in central Italy, with a preference for rocky habitats.
Sicilian pond turtles inhabit shallow ponds, marshes, and lakes across the island of Sicily while the Italian Aesculapian snakes can be found all over the country, usually close to agricultural lands or scrublands, which provide them with plenty of food sources. All five species share an affinity for humid climates, but they also have specialized requirements that must be met if they are to survive in their respective habitats.
Italian Fish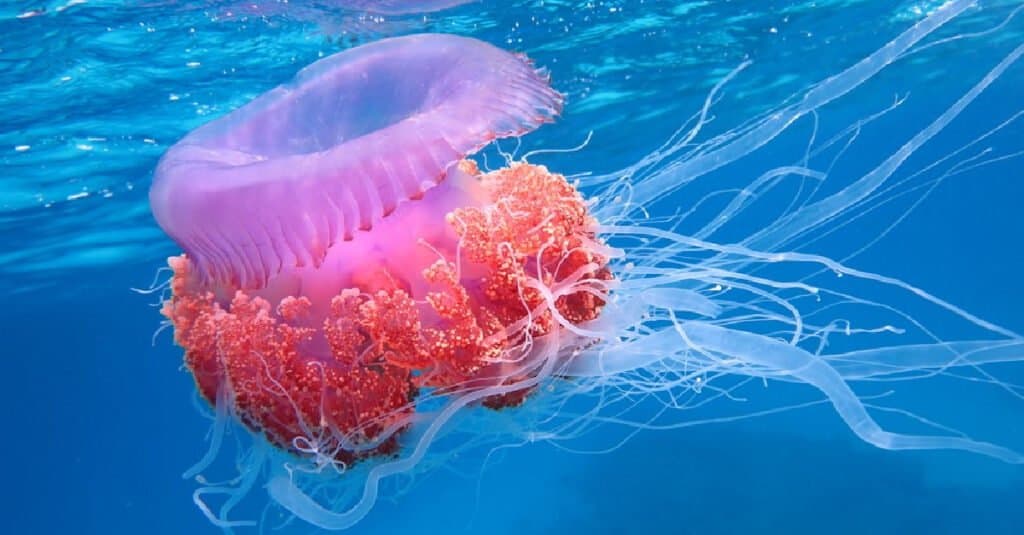 Hundreds of fish and marine mammals swim through Italian waters. Common species include the Italian loach and Italian barbel. Jellyfish, porcelain crabs, and octopus are also plentiful.
In addition to the Italian loach and Italian barbel, many other fish species inhabit the waters of Italy. These include sea bass, mackerel, sole, anchovies, mullet, and tuna. All of these species can be found in abundance in the Mediterranean Sea or the Adriatic Sea.
The largest fish living in Italian waters is probably the bluefin tuna which can grow up to 6 feet long and weigh over 882 lbs. The smallest fish native to Italy is likely one of the goby species, such as the Sicilian Tyrrhenian Goby, which only grows up to 1.5 inches long.
Other aquatic creatures commonly seen around Italy's coasts include lobsters, shrimps, crabs, and cuttlefish. There are also numerous types of coral reef organisms, such as sponges and anemones, lurking beneath its waves!
Italian Insects
Insects in Italy are varied and plentiful, with more than 32,000 species recorded. This includes a variety of dragonflies and damselflies, grasshoppers and crickets, butterflies and moths, beetles, true bugs, bees, wasps, ants and sawflies, and flies, as well as many other orders.
Italy is also home to several endemic insect species, including some rare beetle species located in the alpine regions. Insects play an important role in Italian ecology, providing essential services such as pollination for plants but also serving as food sources for birds and mammals.
Researchers and naturalists have observed nearly 200 butterfly and moth species flit through the nation's skies. Scarlet dragonflies, Cleopatra butterflies, and Praying mantes are all at home in the southern European country. 
Endangered Animals in Italy
Below is a table that details a sampling of Italian animals deemed threatened, to some degree, by the International Union for the Conservation of Nature. This Italian endangered animals list is not exhaustive.
| Animal | Alternative Name | IUCN Classification | Region | Threats | Interesting Fact |
| --- | --- | --- | --- | --- | --- |
| Corsican Hare | Apennine Hare, Italian Hare | Vulnerable | Southern and Central Italy | Habitat Loss, Hunting, Food Competition | Once Regarded As a Subspecies of the European Hare |
| Sardinian Long-Eared Bat | NA | Vulnerable | Three Caves in Central Sardinia | Tourism Disturbance, Habitat Loss | Only Surviving Mammal Species Endemic to Sardinia |
| Corsican Red Deer | Corsican Deer, Sardinian Deer | Near Threatened | Corsica Island, Sardinia Island | Habitat Loss | Smallest of the Red Deer Subspecies |
| Brown Cave Salamander | Gene's cave salamander, Sardinian cave salamander, Sardinian salamander | Vulnerable | Sardinia | Habitat Loss | Habitat Loss |
| Italian Cave Salamander | NA | Near Threatened | Northern and Central Apennine Mountains | Habitat Loss | Prefers to Live around Limestone Rock |
| Monte Albo Cave Salamander | Stefani's salamander | Near Threatened | Sardinia | Habitat Loss | Reproduces Through Direct Development of Terrestrial Eggs |
| Sardinian Brook Salamander | Sardinian mountain newt | Endangered | Sardinia | Habitat Loss, Pollution, Tourism Disturbance | Stays Close to Water at All Times |
| Apennine Yellow-Bellied Toad | NA | Endangered | Throughout Italy | Habitat Loss | Hibernates from November to April |
| Aeolian Wall Lizard | Raffone's Wall Lizard | Critically Endangered | Aeolian Islands | Competition with Italian Wall Lizard | Only Four Populations Remain |
| Salmo Carpio  | Carpione, Carpione del Garda | Critically Endangered | Only in Lake Garda | Overfishing, Pollution, Competition | Didn't Survive in any Other Lakes to which it Was Introduced |
| Salmo Fibreni | Fibreno Trout | Vulnerable | Lago di Posta Fibreno | Habitat Loss | Freshwater Trout |
| Common Bent-Wing Bat | Schreibers's Long-Fingered Bat, Schreibers's Bat | Vulnerable | Africa, Asia, Europe, Middle East | Pesticides, Habitat Loss | Named after Austrian Naturalist Carl Franz Anton Ritter von Schreibers |
| Italian Wolf | Apennine Wolf | Vulnerable | Apennine Mountains, Western Alps | Human-Wolf Conflict, Poaching | Protected Since 1970s |
| Marsican Brown Bear | Apennine Brown Bear | Critically Endangered | Apennine Mountains | Human-Bear Conflict, Habitat Loss | Has a Different Hibernation Routine than Other Brown Bears |
Italian officials keep an eye on conservation, and the country supports 20 national parks and 130 regional parks. Additionally, lawmakers have carved out 150 federally protected wildlife territories, 270 state ones, and 16 marine reserves. 
The Italian government has taken many steps to protect endangered species in Italy. In particular, the government has established a network of federally protected wildlife areas throughout the country. These areas are important habitats for threatened and endangered species, providing them with much-needed protection from threats such as poaching and habitat destruction.
The Italian government also works closely with environmental organizations, conservation groups, and other stakeholders to develop plans for protecting these areas and their associated species. Additionally, they have created laws that severely punish those found guilty of violating these protections or engaging in activities that could harm the animals living there. All of these efforts are aimed at ensuring the survival of some of Italy's most vulnerable species so they can continue to be cherished by future generations.
Most Dangerous Animals in Italy
Italy is bursting at the seams with fauna species, and some are dangerous! Although, compared to a country like Australia, which is awash in lethal animals, Italy's creatures are comparatively tame. 
The six most dangerous animals in Italy are:
Marsican Brown Bears
Eurasian Lynx
Asp Vipers
Jellyfish
Weever Fish
Marsican Brown Bears, also known as Apennine brown bears, are an endangered species of bear found in the mountains of central Italy. They typically shy away from human contact and rarely attack unless threatened or provoked. However, they can become dangerous if habituated to humans through feeding or carelessness around their young.
Eurasian Lynx is the only species of lynx present in Italy, and it inhabits forest areas across northern and central parts of the country. The animals are generally shy but may become aggressive if startled or cornered by a person.
Asp Vipers are common throughout much of Europe, including Italy, where they inhabit grassy meadows and forests at low altitudes up to about 2200 meters (7,200 feet) above sea level. Though normally non-aggressive towards humans, these snakes will strike when disturbed or threatened and have large fangs that deliver a painful bite with potentially serious consequences for those sensitive to venomous snake bites.
Jellyfish stings can be an issue along Mediterranean beaches, especially during summer months when jellyfish populations swell and warmer water temperatures bring them closer to shorelines than usual. Even though most jellyfish sting sensations will range from just irritating to mildly painful, depending on the severity of the sting. Some box jellyfish species may produce life-threatening reactions in people who experience severe allergic reactions to their toxins.
Weever Fish live on sandy bottoms near rocky coastlines along Italian coasts where they bury themselves in the sand waiting for prey. Their sting is venomous and long-lasting.
3 Rarest Animals in Italy
The rarest animals in Italy that are not extinct or endangered are the Iberian lynx, the Marsican brown bear, and the Italian wolf. The Iberian lynx is a wildcat native to the region of Andalusia in Spain and can occasionally be spotted across southern Italy. Its habitat includes forests, shrubland, mountains, and grasslands.
The Marsican brown bear is an endangered species found only in central Italy's Abruzzo National Park, where it inhabits forested areas near rivers and streams. Lastly, we have the Italian Wolf, which lives mainly within protected national parks throughout mainland Italy but can also be seen roaming through alpine regions bordering France and Switzerland. These wolves typically inhabit mountainous terrain with dense vegetation located close to water sources such as lakes or rivers.
Largest Animals in Italy
The largest animal in Italy is the brown bear. They can grow up to 6 feet long and weigh around 478 pounds!
The Marsican brown bear is the largest animal in Italy, but it is also one of the most endangered species. It was estimated that only 50-60 bears were living in Italy's Central Apennines as of 2018. Unfortunately, their numbers have been decreasing due to poaching, habitat destruction, and illegal hunting. The Italian government has taken steps to protect the remaining Marsican brown bears by setting up protected areas for them. They are currently listed as an endangered species on the IUCN Red List, and efforts are being made to increase their population through breeding programs.
Other large animals that live in Italy include wolves, wild boars, foxes, roe deer, chamois, red deer, marmots, and ibex. These animals are all found in the Italian Alps or other mountainous regions throughout the country. Some of them also inhabit forested areas as well as fields and wetlands.
National Animal of Italy
The Italian wolf — also known as the Apennine wolf — is the national animal of Italy. Its symbolism dates back to the mythological story of Romulus and Remus. According to legend, a she-wolf discovered the infant twins and kept them alive via interbreed suckling. Eventually, humans took the boys in, and they went on to found the nation of Rome.
Italian wolves are a subspecies of grey wolves native to the Italian Peninsula. Today, between 600 and 700 individuals are alive and well. But in the not-too-distant past, only about 70 Italian wolves were left. Thanks to public and private conservation efforts, the species is making a comeback.
Flag of Italy
The flag of Italy is a vertical tricolor with the colors green, white, and red. These three colors have been associated with Italy for centuries, but it was Napoleon who first chose them for the modern Italian flag.
It is said that he designed this tricolor to combine the symbolic colors of two existing flags. One from Milan (red and white) and another from Genoa (green). On January 7th, 1797, the design was formally adopted by France as its national flag.
The meaning behind this combination has changed over time. It was originally used to represent the House of Savoy, a powerful Italian dynasty that once ruled over much of what is now modern-day Italy. Today however, the tricolor represents hope in renewal for Italy after years of strife, faithfulness to traditional values and culture, as well as love for one's homeland. In addition to its symbolic importance in terms of national pride and identity, it also serves as an important reminder that despite their differences, each region within Italy still works together towards a common goal – making Italy great again!
National Parks in Italy
Italy is a country of unparalleled beauty, and its national parks are no exception. From the majestic Dolomites in the north to the lush greenery of Maremma Natural Park in Tuscany. Italy features some of the world's most spectacular outdoor scenery. Whether you're looking for thrilling hikes, scenic drives, or peaceful camping trips, there's something for everyone at any one of these ten popular national parks in Italy.
At Gran Paradiso National Park near Aosta Valley, visitors can explore alpine lakes and meadows filled with wildlife, such as ibex and chamois. For a more coastal experience, head to Asinara National Park on Sardinia Island, where you can take part in activities such as snorkeling and boat tours around the island's many coves. And if it's history that interests you, then visit Pollino National Park, located along southern Italy's Ionian Sea coastline, which was once home to ancient Greek settlements dating back thousands of years ago.
For an unforgettable adventure through some of Europe's most beautiful landscapes, be sure to explore one or all ten of these stunning national parks when visiting Italy!
Plants Native to Italy
The landscape of native Italy is incredibly diverse and is home to many breathtaking trees. While most of Italy is made up of evergreens, the country boasts a wide variety of ornamentals and fruit trees. Among the most breathtaking trees, we can find the Mediterranean cypress, the Italian stone pine, the downy oak, the black poplar, and more.
Italy is home to a wide variety of native plants and wildflowers, from the Mediterranean coastline to the Alps. Commonly found wildflowers in Italy include cyclamen, edelweiss, crocus flowers, buttercups, poppies, lilies, and gentians. These can be found throughout the country during springtime when they are at their most vibrant and abundant.
The most common type of tree in Italy is the Italian alder tree (Alnus cordata), which grows across much of the north-central part of Italy. This species has an impressive growth rate that allows it to thrive even in challenging climates with cold temperatures or poor soil conditions. Additionally, this species produces nitrogen-rich fruits that attract wildlife, such as birds and other small animals.
Italian Animals
Italian Animals List