Below you can find a complete list of Ghanaian animals. We currently track 256 animals in Ghana and are adding more every day!
There are 221 amphibian and reptile species, 724 bird species, and 225 mammalian species in this nation renowned for its copious quantities of gold which sits on the West African coast with its upper limits extending just shy of the Sahara desert.
Of the bird species found in Ghana, about 66% live in the country all the time while the others are seasonal visitors. At least 20 species of endemic or near-endemic species of butterflies live in the country. That said climate change, a shrinking habitat, and possible poaching may pose a threat to existing wildlife populations in the coastal nation.
The Official National Animal of Ghana
The tawny eagle is the national animal of Ghana. This bird was chosen as a symbol of protection and strength. Two tawny eagles appear on the country's crest, their gaze vigilant as though overseeing the wellbeing of the nations.
A large raptor somewhat reminiscent of a golden eagle with lighter-colored plumage, this avian can be found throughout western Africa, eastern, and southern Africa, and India. It may also be found in a few north African locations, such as south-central Morocco and even Algeria.
This national emblem is a skilled hunter although it is not above eating carrion or engaging in theft to obtain a meal. Compared to other eagles which live in the tropics, it enjoys a rather varied diet and hunts 200 species including flamingos, genets, and pigeons. The tawny eagle has a preference for savannahs, dry steppes, and desert regions.
As far as eagles go, the tawny eagle certainly isn't the biggest and is actually considered rather small in size for a member of the Aquila genus, and medium-sized in general. That said, it is pretty large for a raptor and is capable of reaching 30 inches in length, and 7 lbs in weight.
The eagle is fairly tolerant of humans in Asia and may remain passive when approached by observers as long as a certain distance is maintained. About 100,000 individuals are believed to exist in the wild, at present.
Where To Find The Top Wildlife in Ghana
If you want to see wildlife in Ghana, visit the country's different ecosystems. As various animals live in each one.
The Most Dangerous Animals in Ghana Today
While most Ghana animals are friendly if you do not hurt them, there are some deadly animals in the country.
Endangered Animals In Ghana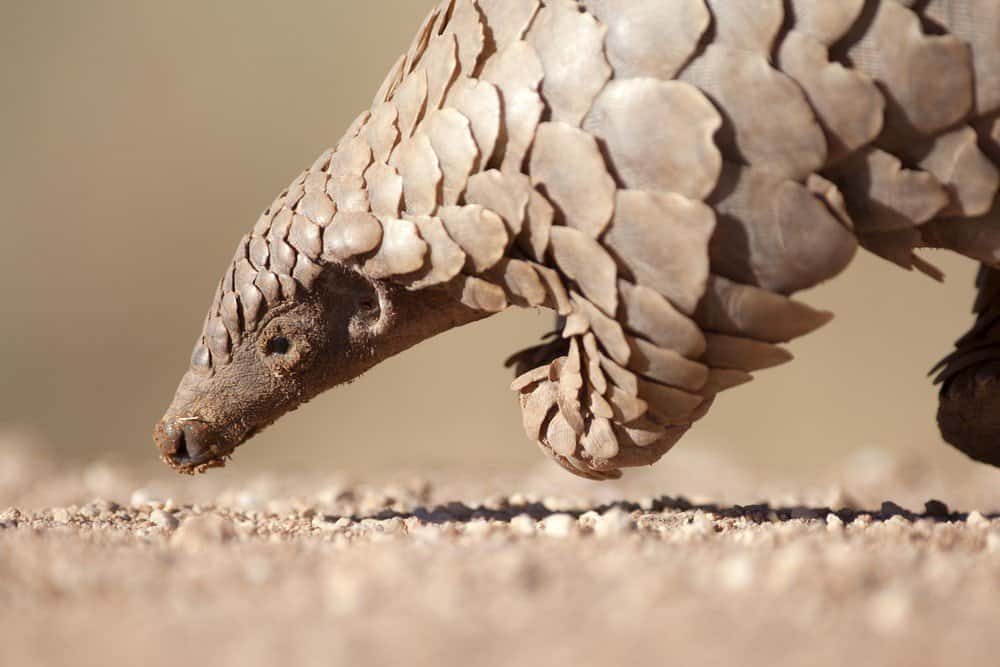 There are many types of endangered animals in Ghana, and the number continues to grow as humans encroach on more native habitats regularly. Other animals are poached, and their body parts are sold for use in traditional medicine. The country is home to five endangered mammals, 11 vulnerable species and 14 near-threatened species. While shrews and bats make up many of these endangered animals, there are also other threatened species. Most of them are not poisonous.
African white-bellied pangolin: Also known as the tree pangolin (Phataginus tricuspid), this elusive mammal looks something like a sentient pineapple, with its pale three-pointed scales which seem to slightly extend outwards. Found in Western, Central, and Eastern Africa, it prefers humid heavily forested areas.
Baer's wood mouse: A tiny rodent with light brown fur, this wood mouse also has large dark eyes, and can be found in neighboring Sierra Leone and Ivory Coast. Not much is known about the diminutive critter although scientists agree it is threatened by its shrinking habitat.
Big-eyed forest treefrog: This medium-sized, arboreal amphibian is characterized by light brown skin, bulging brown eyes, and large dark pupils. It is mostly found close to streams.
Other endangered species include:
Bobini reed frog
Dark-brown serotine
Ghana river frog
Ivory Coast frog
Ivory Coast running frog
Johnston's genet
Liberia River frog
Olive colobus
Sooty mangabey
The Largest Animal in Ghana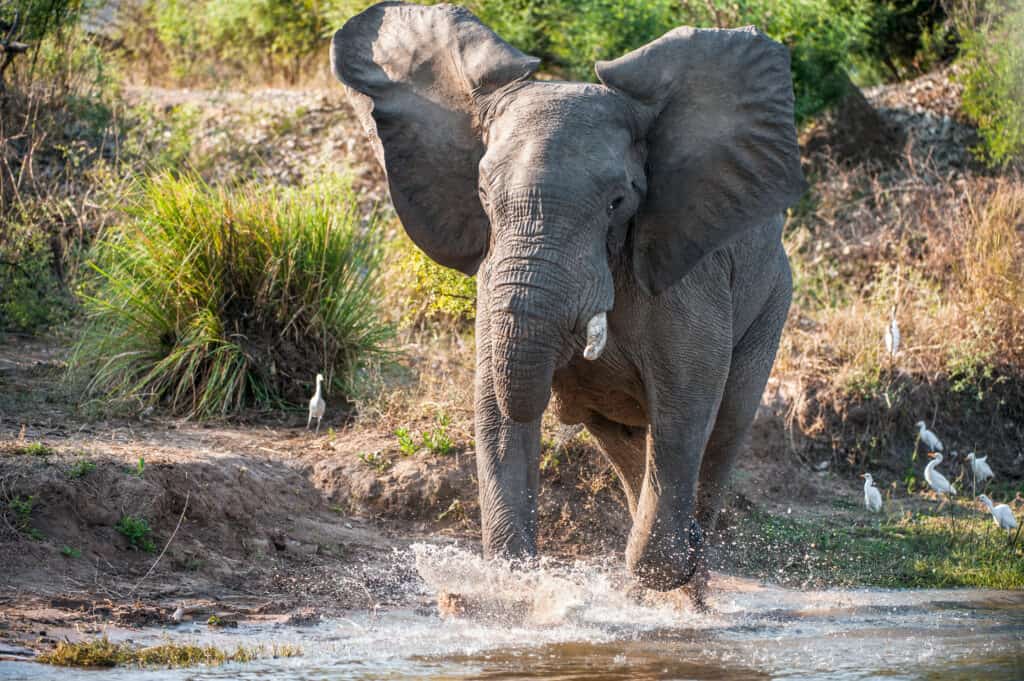 Ghana's largest animal is the African forest elephant (Loxodonta cyclotis) which can be found in its deciduous evergreen forests. Like their larger relatives, the African savannah elephant, they possess two protuberances at the end of their trunks.  Unlike them, however, males of this subspecies reach a maximum height of 9 feet at the shoulder and are capable of weighing of 7 tons at the most.
Like their southern cousins, they are also highly sociable and can form groups as large as 20 individuals comprising of mothers, calves, and youngsters, under the sage direction of the family matriarch. They also enjoy a diet of calcium-rich bark, leaves, and fruits, and sip on mineral-rich water while also taking advantage of mineral licks to supplement their nutritional needs.
Unlike their cousins, their tusks are straight rather than curved and point downwards. These pachyderms which were revered as a symbol of power in ancient Ghana have experienced a drastic decline in terms of their population: at the start of the 19th century, they numbered 26  million as opposed to less than 100,000 today.
The Rarest Animal in Ghana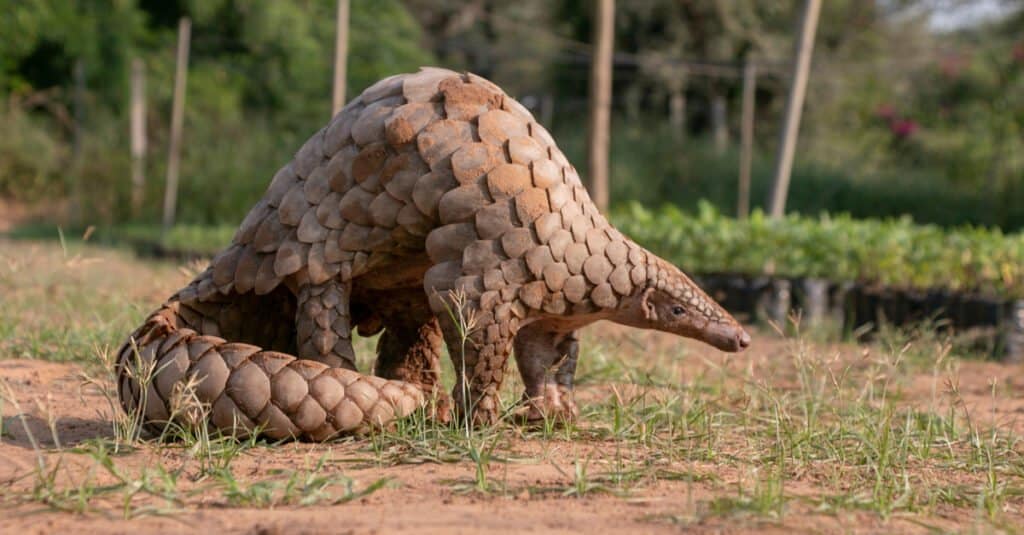 The giant pangolin (Smutsia gigantea) is one of this west African nation's rarest, and most elusive creatures. Found along the heavily forested regions close to the Atlantic coast, the largest of all pangolin species can also be found in Central and Eastern Africa. It is also capable of living in the savanna and prefers lowlands with water supplies.
The insectivore which spends its spare time breaking open termite mounds and extracting proteinous goodness thanks to a sticky tongue, is capable of measuring 16 inches in length. Such a feat of strength however is often beyond young giant pangolins and they must traipse after their mother tucking in once she's exposed the hidden arthropods by shattering their mound.
Males of the species are capable of growing to 4.6 feet and weighing up to 72 lbs. Wildlife experts aren't too sure just how many of these scaly mammals are left in the wild. However, they are certain that poaching and an interest in their scales has resulted in them becoming rather vulnerable.
The Flag of Ghana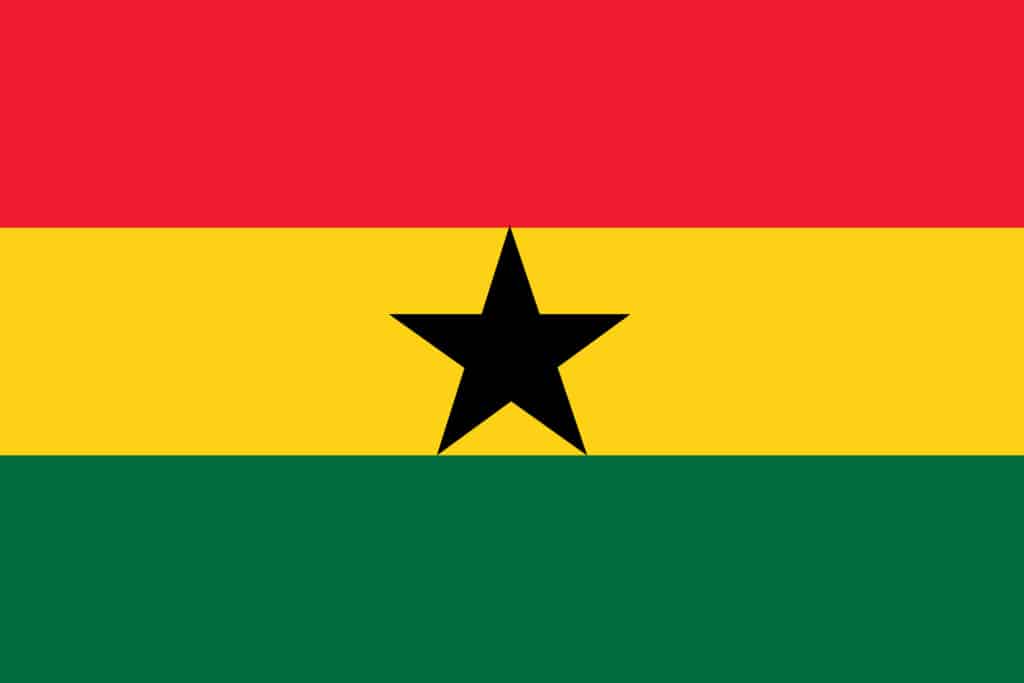 Ghana's flag is comprised of red, gold, and green, with a black star situated in the center. Red symbolizes those who lost their lives as the country struggled to gain independence from British rule. The gold color symbolizes the mineral which once gave the nation its name, of which there is an abundance, as well as bauxite and diamond.
The flag's green stripe represents Ghana's verdant forests and fertile land which provides abundant crops and the timber and shea butter it is renowned for. Finally, the black star, also known as the Lodestar of African Freedom, represents Ghanaians' ownership and control over their land. The flag itself was designed by artist and academic Theodosia Okoh and made official at the moment of the nation's independence from Britain, on March 6, 1957.
Ghanaian Animals
Ghanaian Animals List
Animals in Ghana FAQs (Frequently Asked Questions) 
What Animals Live in Ghana?
Many different types of poisonous and non-poisonous animals live in Ghana. The country has dense forests and open savannahs. You may be able to see African elephants, lions, leopards, cheetahs, caracals, wildcats and bushbucks.
What is the Most Common Animal in Ghana?
The most common animals in Ghana are usually found on farms. Domestic cattle breeds include Ghana shorthorn, N'Dama, Sokoto gudali and sanga. If you visit Ghana farms, you are may also see domestic dwarf and long-legged goats being raised along with guinea fowl. The government is active in producing better genetics in domestic Ashanti black pigs, and you may also see large White and landrace pigs.
Are There Elephants in Ghana?
Yes, there are elephants in Ghana. While they live in many different places, the best place to see elephants in Ghana is at Mole National Park. The best time to see the Mole National Park elephants is between mid-December and mid-April, when the elephants stay close to the Mole Lodge because of their need for water.
How Many Animals Are in Ghana?
There are thousands of animals in Ghana. All different types of animals live in the country. Some live in national parks while others live on farms.