Below you can find a complete list of Ghanaian animals. We currently track 250 animals in Ghana and are adding more every day!
There are 221 amphibian and reptile species, 724 bird species, and 225 mammalian species in Ghana. Of the bird species found in Ghana, about 66% live in the country all the time while the others are seasonal visitors. At least 20 species of endemic or near-endemic species of butterflies live in the country. There are several pressures on Ghana animals, including increased human land usage and overhunting. Poachers kill some wildlife for ivory or other body parts to use in traditional medicine.
The Official National Animal of Ghana
The tawny eagle is the national animal of Ghana. This bird was chosen as a symbol of protection by strength. Two tawny eagles appear on the country's crest, where they are seen with vigilant eyes as they are watching for signs of trouble.
Where To Find The Top Wildlife in Ghana
If you want to see wildlife in Ghana, visit the country's different ecosystems. As various animals live in each one.
Mole National Park – In Northern Ghana, Mole National Park is a great place to go hiking, where you may see many examples of native animals, including hippos, buffalo, elephants, lions, and leopards. While you can visit animals in zoos in Ghana, like the Accra Zoo and the Kumasi Zoo, you may also want to see them in their natural surroundings.
Bui National Park – The Black Volta River, which is home to a large herd of hippos, bisects this national park. You are also very likely to see other native animals, like antelope, leopards, and monkeys.
Boin Tano Forest Reserve – The swampy area created by the Bisao and Tano rivers at this reserve is a great place to see endangered yellow-backed duiker and ursine colobus primates. This reserve's bush-filled areas are also a fantastic place to see many of Ghana's endangered birds, including white-breasted guinea fowls and the yellow-bearded greenbuls, along with other wildlife.
Nini Suhien National Park and Ankasa Resources Reserve – Managed as one unit, this area in southern Ghana is a great place to see African elephants and endangered Diana monkeys. Look in the bush at this park and reserve to see how many of the 260 bird species known to have visited this park you can spot.
Kakum National Park – The 1,150-foot high Kakum Canopy Walkway is a fantastic place to spot Diana monkeys, yellow-backed duikers, red river hogs, and African elephants. This park's bush-filled areas are home to many endangered birds, including African grey parrots and hornbills.
The Most Dangerous Animals in Ghana Today
While most Ghana animals are friendly if you do not hurt them, there are some deadly animals in the country.
Hippopotamuses are large animals that often weigh more than 3,000 pounds, and they are highly unpredictable. They often use their tusks as weapons. Hippos have enormous teeth that can tear predators, including humans, to shreds. They are some of the most deadly animals in Ghana.
Mosquitoes – While the mosquito is tiny, but it is one of the most deadly animals in Ghana because it can transmit malaria. If you are going to travel to Ghana, be sure to take precautions to avoid this deadly animal.
Elephants – While elephants tend to be peaceful animals when left alone when humans encroach upon their territories, elephants often become dangerous. They often crush people to death.
Black mamba – The black mamba is the longest poisonous snake in Africa, and it can strike up to 12 times within a minute. These strikes shut down the respiratory system, so they are generally fatal. Help usually cannot act fast enough, which makes this one of the most dangerous animals in Ghana.
Lions – While the number of lions in Ghana is relatively small, there have been reports of lions killing humans.
Endangered Animals In Ghana
There are many types of endangered animals in Ghana, and the number continues to grow as humans encroach on more native habitats regularly. Other animals are poached, and their body parts are sold for use in traditional medicine. The country is home to five endangered mammals, 11 vulnerable species and 14 near-threatened species. While shrews and bats make up many of these endangered animals, there are also other threatened species. Most of them are not poisonous.
African white-bellied pangolin
Baer's wood mouse
Big-eyed forest treefrog
Bobini reed frog
Dark-brown serotine
Ghana river frog
Ivory Coast frog
Ivory Coast running frog
Johnston's genet
Liberia River frog
Olive colobus
Sooty mangabey
The Flag of Ghana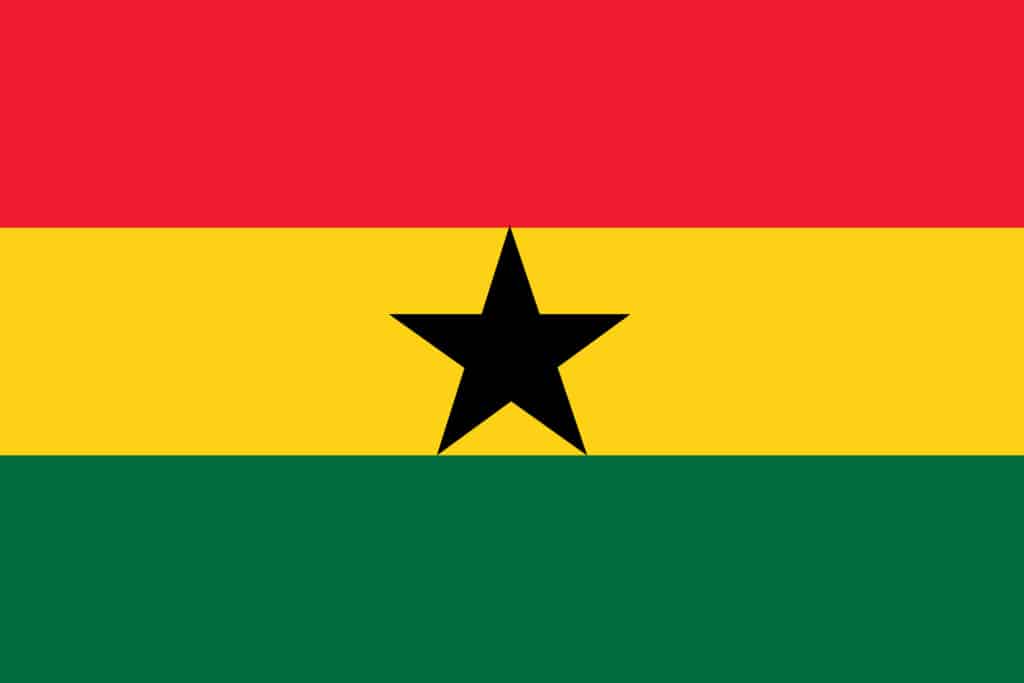 Ghana's flag is comprised of red, gold, and green, with a black star situated in the center. Red symbolizes those who lost their lives as the country struggled to gain independence from British rule. The gold color symbolizes Ghana's mineral wealth, of which there is an abundance. The flag's green stripe represents Ghana's rich forest cover. Finally, the black star, also known as the Lodestar of African Freedom, represents Ghanaians' ownership and control over their land.
Up Next…
Ghanaian Animals
Ghanaian Animals List
Animals in Ghana FAQs (Frequently Asked Questions) 
What Animals Live in Ghana?
Many different types of poisonous and non-poisonous animals live in Ghana. The country has dense forests and open savannahs. You may be able to see African elephants, lions, leopards, cheetahs, caracals, wildcats and bushbucks.
What is the Most Common Animal in Ghana?
The most common animals in Ghana are usually found on farms. Domestic cattle breeds include Ghana shorthorn, N'Dama, Sokoto gudali and sanga. If you visit Ghana farms, you are may also see domestic dwarf and long-legged goats being raised along with guinea fowl. The government is active in producing better genetics in domestic Ashanti black pigs, and you may also see large White and landrace pigs.
Are There Elephants in Ghana?
Yes, there are elephants in Ghana. While they live in many different places, the best place to see elephants in Ghana is at Mole National Park. The best time to see the Mole National Park elephants is between mid-December and mid-April, when the elephants stay close to the Mole Lodge because of their need for water.
How Many Animals Are in Ghana?
There are thousands of animals in Ghana. All different types of animals live in the country. Some live in national parks while others live on farms.