Below you can find an extensive list of Ethiopian animals. We currently track 258 animals in Ethiopia and are adding more every day!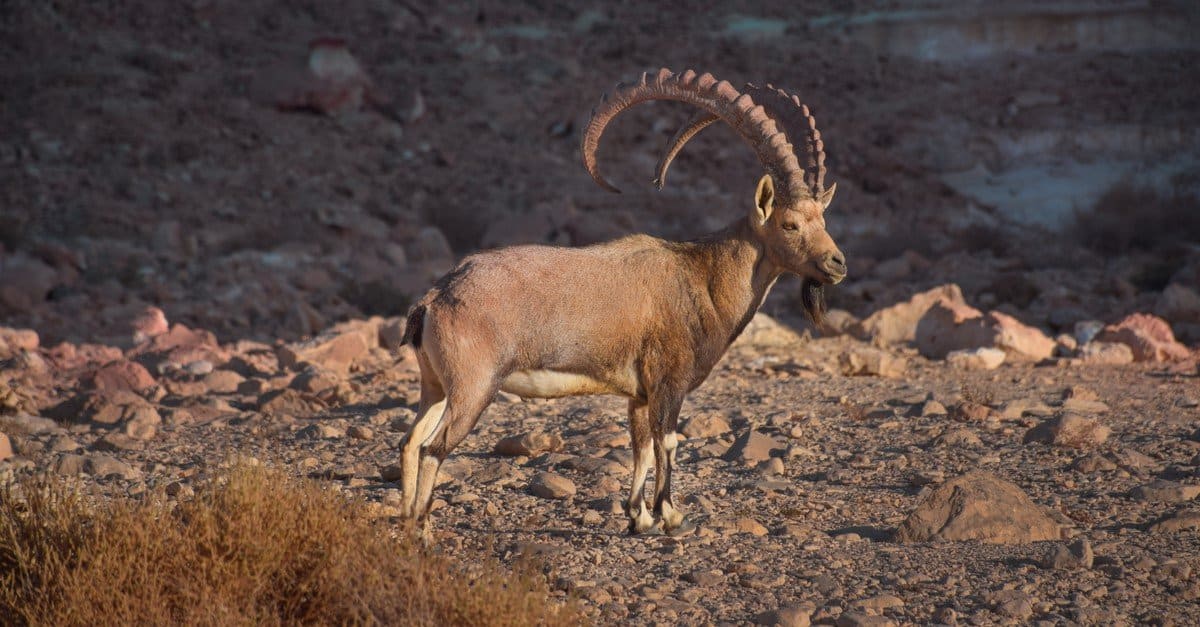 Ethiopia is home to some of the most unique wildlife in Africa, including 10 species that can only be found within its borders. While the famous baboon can be found in both Africa and Asia, the lesser-known Gelada is baboon-sized wild animals commonly found in the Semien Mountains of Ethiopia. These wild animals are considered to be some of the least dangerous wildlife in their order. The last surviving Walia Ibex goats (Capra walie)  also call this mountain range home. The Ethiopian Wolf, or simien fox , is the rarest canid on earth and happens to be Africa's most endangered carnivore.
The Bale Mountain Vervet is a small monkey that can be found in the bamboo forests of the Bale Mountains, indicated by its informal classification. The Mountain Nyala and Menelik's Bushbuck are both antelopes that are closely related, perhaps explaining why they are also both endemic to the Bale Mountains of Ethiopia, where dense forests can be found along the southern slopes.
Swayne's Hartebeest is an antelope that prefers grassland habitats during both the wet and dry seasons. While they used to be found in Somalia, they underwent local extinction, or extirpation, there. These animals are famous for being named after the British officer that discovered them. There are eight recognized subspecies of the hartebeest, and the Lelwel and Swayne's hartebeests are endangered, while the Tora hartebeest is critically endangered.  
With a bright green body and yellow head, the Yellow-Fronted Parrot is a spectacularly unique bird found only in Ethiopia. Named for its characteristic dark tresses, the Black-Maned Lion varies genetically when compared to all other African Lions.
Official National Animal
The official national animal of Ethiopia is the lion. This national animal is highly endangered, however, and conservationists are fighting to stabilize their populations and secure their habitats.
These wild animals are found in grassland and savanna biomes, where lions can roam freely near watering holes, seasonal rivers, and prey. This diet consists of zebras, gazelles, buffaloes, and antelopes that roam nearby.
There are estimated to be a remaining 1700 or fewer lions in Ethiopia today, a far cry from the once burgeoning lion population of the past.
Where to Find The Top Wild Animals In Ethiopia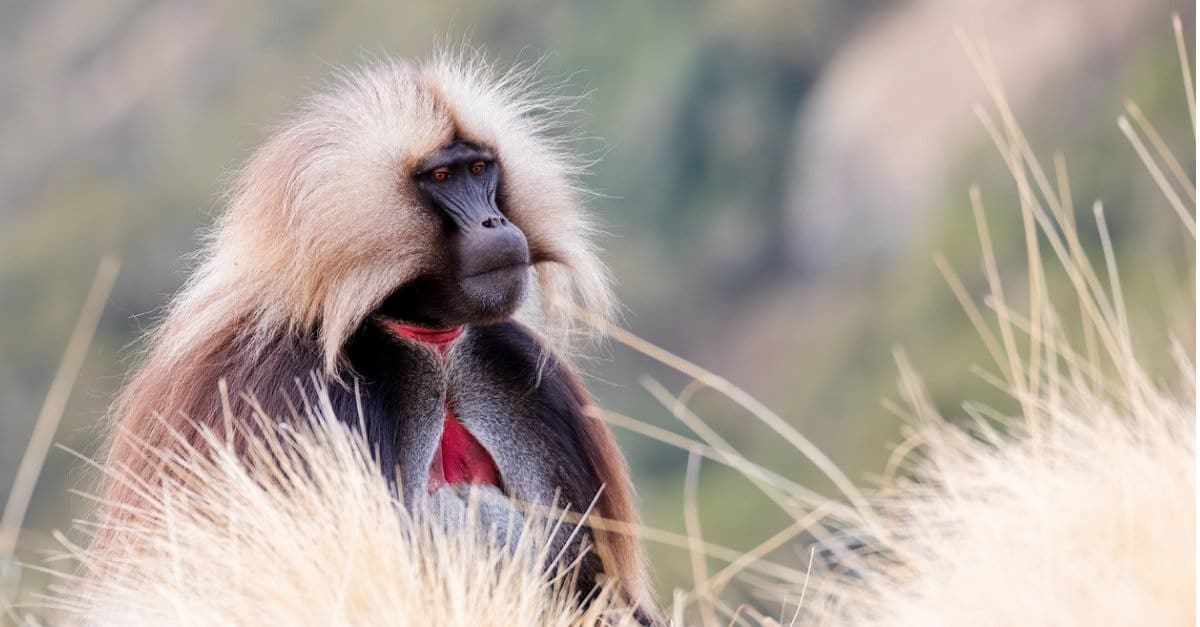 Ethiopian Wolf – If you are lucky enough to visit the Sanetti Plateau in Bale Mountains National Park, you'll spot the world's rarest wolf. At fewer than 500 left in the wild, almost all of them live on this specific plateau.
Black-Maned Lion – Another tenant of the Bale Mountains National Park, these ferociously enthralling animals have been spotted frequently in the Harenna Forest sector of the park.
Gelada – Curious to see how these primates compare to baboons up close? You'll only find them in the Simien Mountains, so be sure to prepare for a bit of a hike to see these incredible creatures.
Flamingos – While not exclusively Ethiopian like most of the animals discussed here, flamingos are a popular family of birds that can be found wading on the shores of Lake Chitu and Lake Shalla located in the Rift Valley.
There are also zoos in Ethiopia such as the Addis Ababa Zoo and the Unity Park Zoo in the capital city. In addition, Ethiopia has two lion parks, and various national parks and animal sanctuaries.
Most Dangerous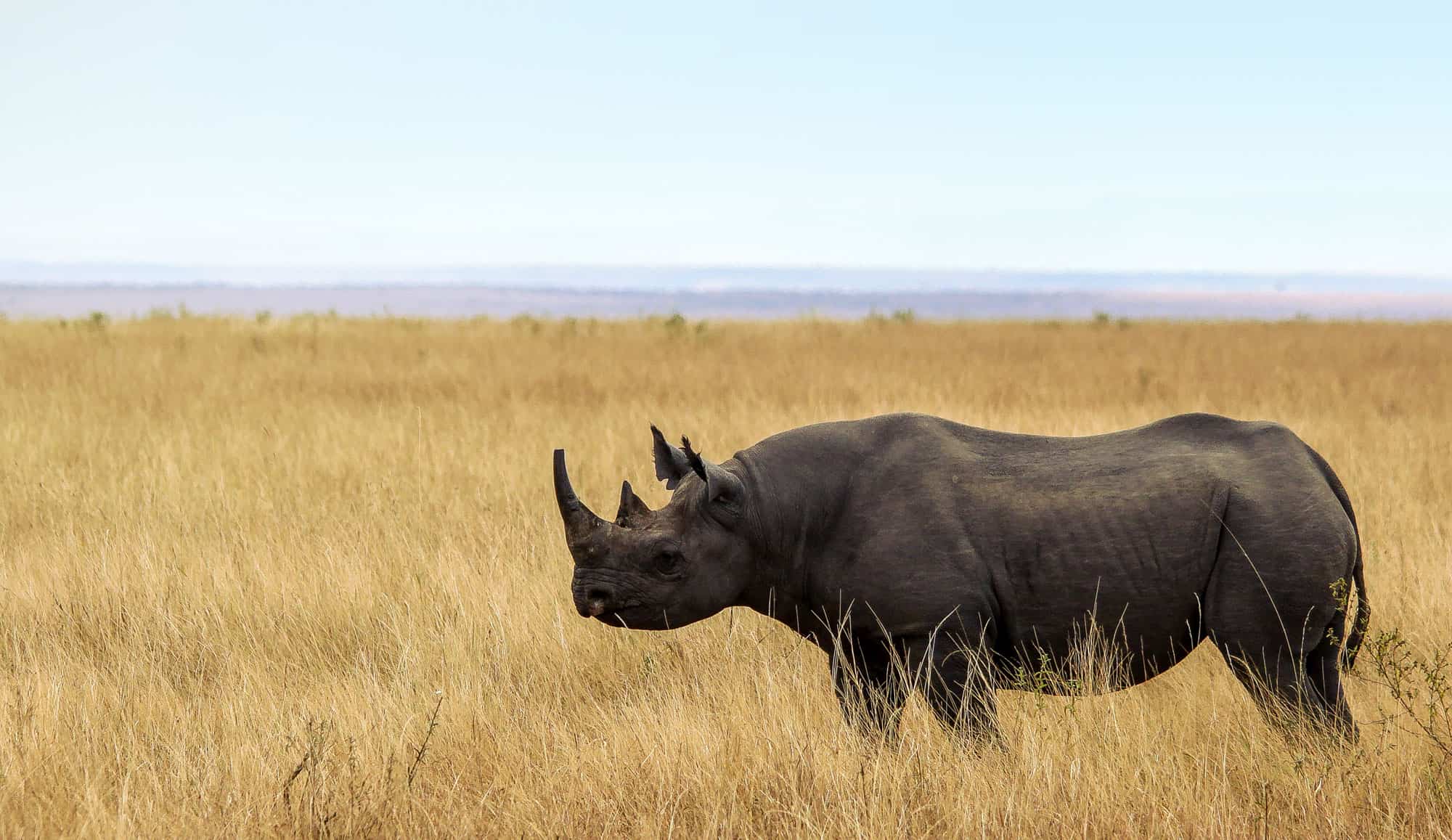 Lions might be the national animal of Ethiopia, but they are also famous for being one of the most dangerous, reportedly killing around 250 people per year across the continent. It should be noted that this is still a relatively uncommon occurrence, and it is believed that only sick or elderly lions turn to humans when they are unable to hunt their natural prey.
White and Black Rhinos are another contender for Ethiopia's most dangerous animal. The Black Rhino is traditionally considered the more aggressive of the two, though both charge when threatened.
Endangered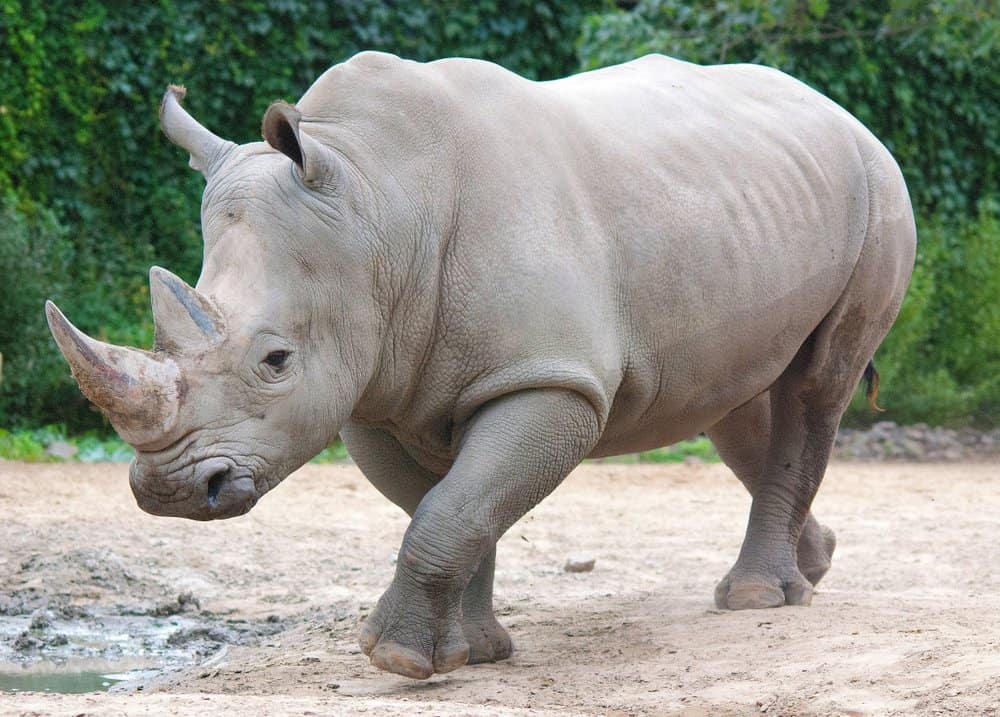 Before 1895, southern white rhinos were thought to be extinct. Then a group of about 100 was discovered in South Africa. From that group, conservationists carefully grew the population until there are now about 16,000 white rhinos in the world. What a success story!
The Ethiopian Wolf is not only the most endangered carnivore in Africa, with fewer than 440 individuals remaining, but also it is endemic to the country's highlands, restricted to just seven isolated enclaves in the region. As Africa's only wolf species and one of the largest wolf species, the impending threat of extinction is grave.
Many of the most dangerous animals happen to be the most endangered, as well. The Black Rhino and Lion commonly fall victim to severe cases of poaching. There are many other endangered species in the country, which can be found here.
Rarest
The Somali Wild Ass is a subspecies of the African Wild Ass, which is a relative of the donkey. There are likely only about 700 in the wild and about 200 in captivity in zoos around the world. The IUCN Red List of endangered species described it as "critically endangered." They live in Somalia, Somaliland, Entrea, and Ehtiopia.
Largest
The African Bush Elephant is the largest living animal on land. The white rhino is the second largest. The elephant has a similar lifespan to humans at around 70 years. Poaching continues to be the largest threat to these animals, as the ivory trade ignores the laws and other international efforts toward regulation. Habitat loss is another major threat to this species. Although humans have been known to be trampled by male elephants who become particularly aggressive in musth, a normal periodic rise in reproductive hormones, these occurrences are exponentially less than those of humans killing elephants.
Ethiopian Animals
Ethiopian Animals List
Animals in Ethiopia FAQs (Frequently Asked Questions) 
What kind of animals live in Ethiopia?
Ethiopia is home to a wide variety of wildlife, including 22,000 species of butterflies and moths, over 800 bird species, and about 320 species of mammals. This is along with the 10 animals mentioned above that can only be found in Ethiopia.
Are there lions in Ethiopia?
Yes, in fact, lions are the national animal of Ethiopia!
Are there elephants in Ethiopia?
There are elephants in Ethiopia, with a unique subspecies in Babille Elephant Sanctuary.
What animals are disappearing in Ethiopia?
The list of endangered animals in Ethiopia is a long one. It includes African Elephants, African Lions, the African Spurred Tortoise, African Wild Ass, African Wild Dog, African White-Backed Vulture, Bale Monkey, Bale Mountains Frog, Bale Shrew, and more.