Below you can find an extensive list of Ecuadorian animals. We currently track 270 animals in Ecuador and are adding more every day!
Ecuador's very name tells much about it. It means "equator," and it is found at the point where the equator meets South America. Its climate and terrain help make Ecuador one of the most biodiverse regions on the planet, with many animals found nowhere else. Part of the Amazon rainforest, after all, is found in Ecuador. Not only this, but Ecuador owns the Galapagos Islands, home of many rare, exotic, and unfortunately endangered or extinct species. The very constitution of Ecuador recognizes that the natural world has rights.
Ecuador shares borders and some of its wildlife with Colombia and Peru. The Pacific Ocean, which is rich in marine life, is on the west side of the country.
The Official National Animal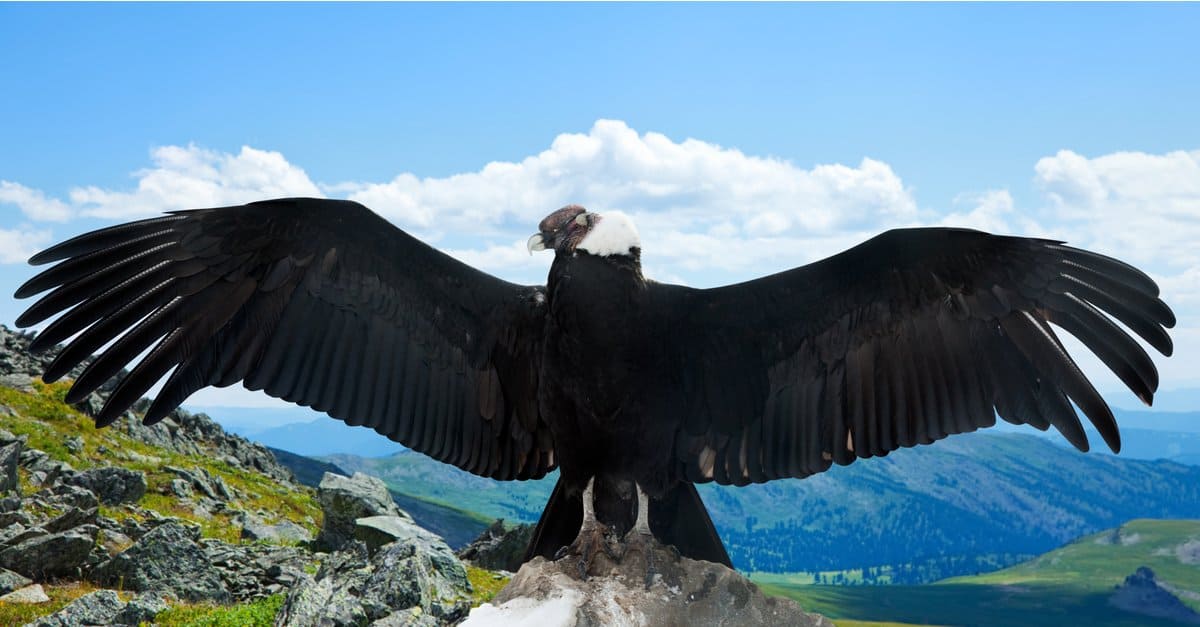 The official national animal of Ecuador is the Andean condor. This vulture is the largest flying animal on earth: it is 4.25 feet long and can have a wingspan of up to 10.5 feet. Like most vultures, its head and neck are naked, though it has a ruff of white feathers around the neck. Overall, its body is black with white markings on the wings.
Andean condors coast on warm air currents and can float from thermal to thermal to continue flying without flapping their wings for extended periods. They live in the Andes Mountains and use their high vantage point to locate food below. Their excellent eyesight helps them locate their next meal, which is always some kind of dead animal.
The male has a wattle and a caruncle on top of its head, and unlike other vultures, he is bigger than the female. The males can get to 33 pounds, and the females closer to 24 pounds.
The Andean condor is on the country's flag and coat of arms as a symbol of strength and nobility.
The Official Flower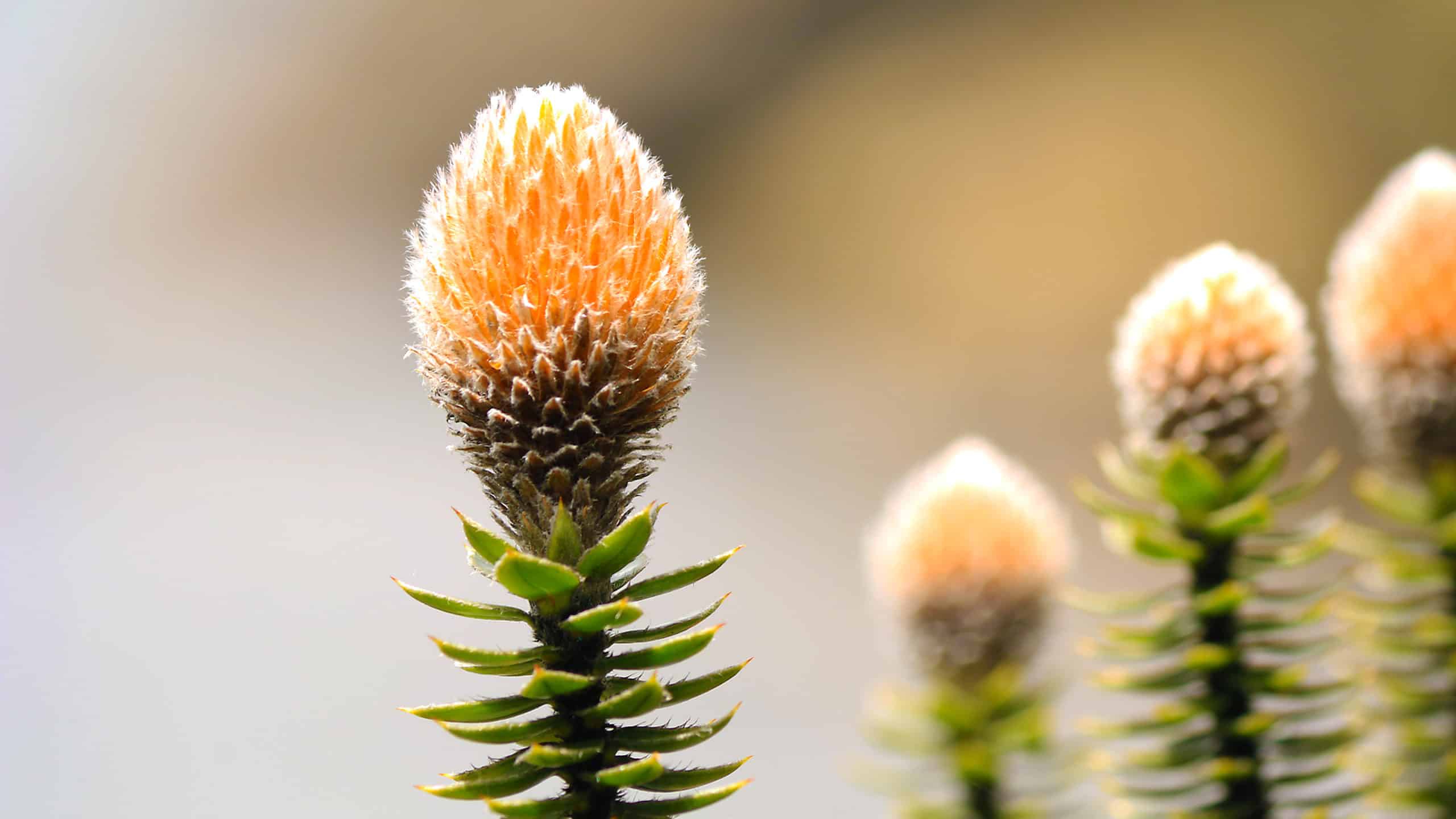 The particular species that Ecuador chose as its national flower is Chuquiraga jussieui. Locally known as chuquiraga, Chuquiraga jussieui grows natively in Ecuador and Peru in mountain highland areas between 3,000-5,000 meters (9,842-13,123 feet) above sea level. Because it grows in the Andes Mountains, this species is also known as the "flower of the Andes" or the "walking flower."
The chuquiraga grows on a shrub with small, spiky leaves. This flower plays a very important role in its ecosystem. However, it is considered a vulnerable species at high risk of extinction. Habitat loss, changes in the climate, deforestation, and unsustainable agricultural practices threaten this plant.
Where To Find The Top Wild Animals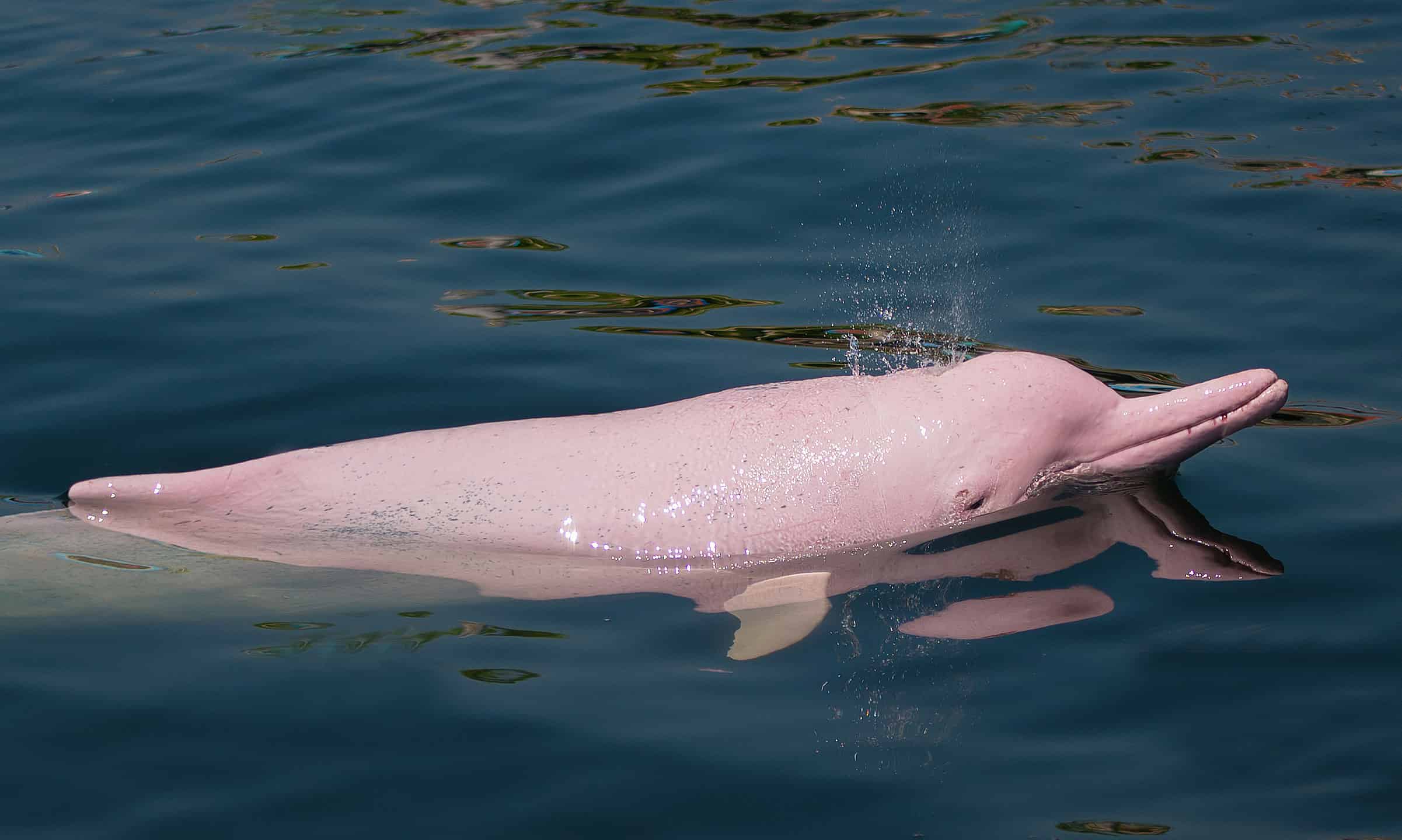 Ecuador is a country with a robust conservation program. As of 2021, the country plans to set aside 32 percent of its land for the preservation of wildlife. Even though it is a small country, it has many national parks: El Cajas National Park, Llanganates National Park, Cayambe-Coca National Park, Yasuni National Park, and Sumaco Napo-Galeras National Park. In addition, there are a number of reserves and refuges, including the Galapagos Islands.
Ecological reserves in Ecuador include Arenillas Ecological Reserve, Mache-Chindul Ecological Reserve, Manglares Churute Ecological Reserve, and Antisana Ecological Reserve. Biological reserves are El Quimi Biological Reserve, El Cóndor Biological Reserve, Limoncocha National Biological Reserve, and Cerro Plateado Biological Reserve.
The country has 10 wildlife refuges including El Zarza Wildlife Refuges, Isla Corazón y Fragata Wildlife Refuges, Pacoche Wildlife Refuges, El Pambilar Wildlife Refuges, and the Rio Muisne Estuary Swampland Wildlife Refuges. There are also a number of private refuges.
Among Ecuador's abundant wildlife are: sloths, pink river dolphins, a variety of monkey species, giant otters, piranhas, anacondas, tapirs, jaguars, iguanas, ocelots, pumas (mountain lions), spectacled bears, crab, coati, pacarama, tortoise yellow-bellied sea snake, sea lions, seals, giant and silky anteaters, guinea pigs, bats, and manatees.
Most Dangerous
Endangered Animals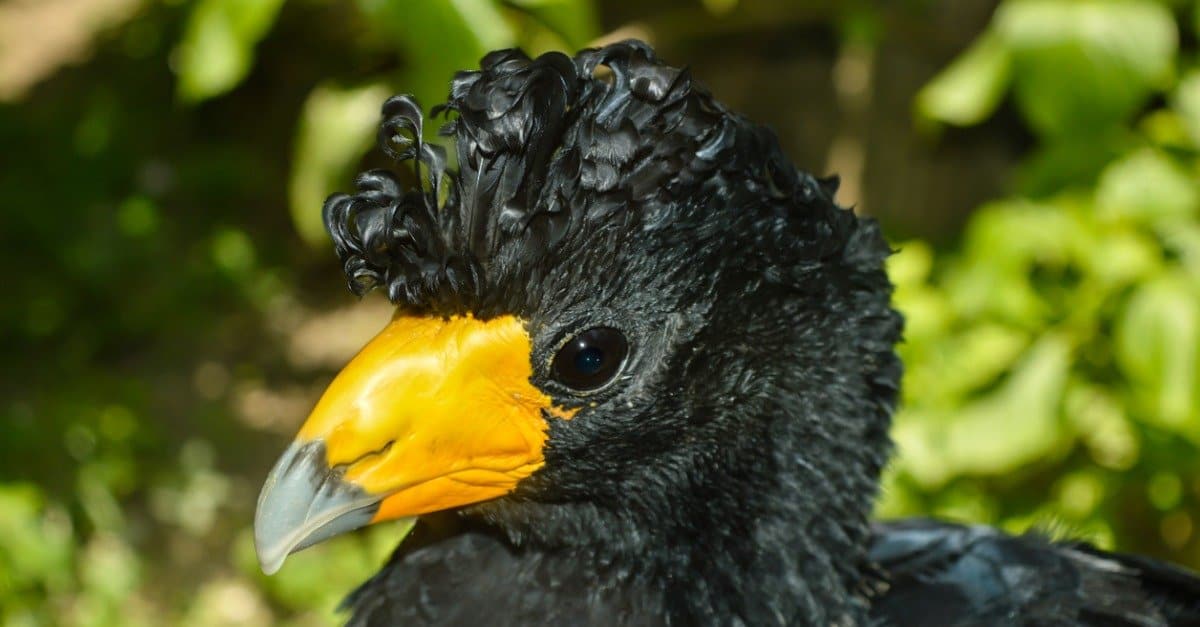 Giant tortoise: There are several species of Galapagos tortoises on the exotic islands named for them, and their status ranges from vulnerable to extinct. Indeed, Lonesome George, a Pinta Island giant tortoise, passed away in 2012 at age 102 or so. He was the last of his species, and now that species is no more.
Giant otter. Found around and in the Amazon River, this 5.6-foot long weasel is considered endangered thanks to poaching for its lush fur and habitat degradation.
Baird's tapir. This tapir is the largest type of tapir and the largest land mammal in South and Central America. It's endangered in Ecuador.
Great Curassow. This bird resembles a large pheasant, and the male has black feathers and a curly crest while the female can come in three colors. Its status is vulnerable.
Glass frog. Glass frogs get their name because their bellies are transparent, and their internal organs can be seen. They are small frogs, only 1.2 to 3 inches long, and live most of the time in the rainforest canopy until it's time to mate. Hyalinobatrachium crybetes, Centrolene ballux, Centrolene Heloderma, Centrolene gemmatum, Centrolene puyoense and Cochranella anomala are critically endangered and may already be extinct in some places.
Several species of monkeys are also endangered: Spider monkeys, night monkeys, marmosets, tamarins, woolly monkeys and capuchins.
Among birds, the Andean toucan, the harpy eagle, the Picoespada hummingbird, and Andean condor (the national symbol of Ecuador) are all endangered.
Rarest
The gaudo guan (Penelope ortoni) is a very rare species highly sought after by birdwatchers. It inhabits only the humid forests of the Choco-Darien ecoregion in the west Andean foothills of western Colombia and northwestern Ecuador. The gaudo guan is very important to seed dispersal in its habitat, but it is in danger of extinction because of deforestation and hunting.
Largest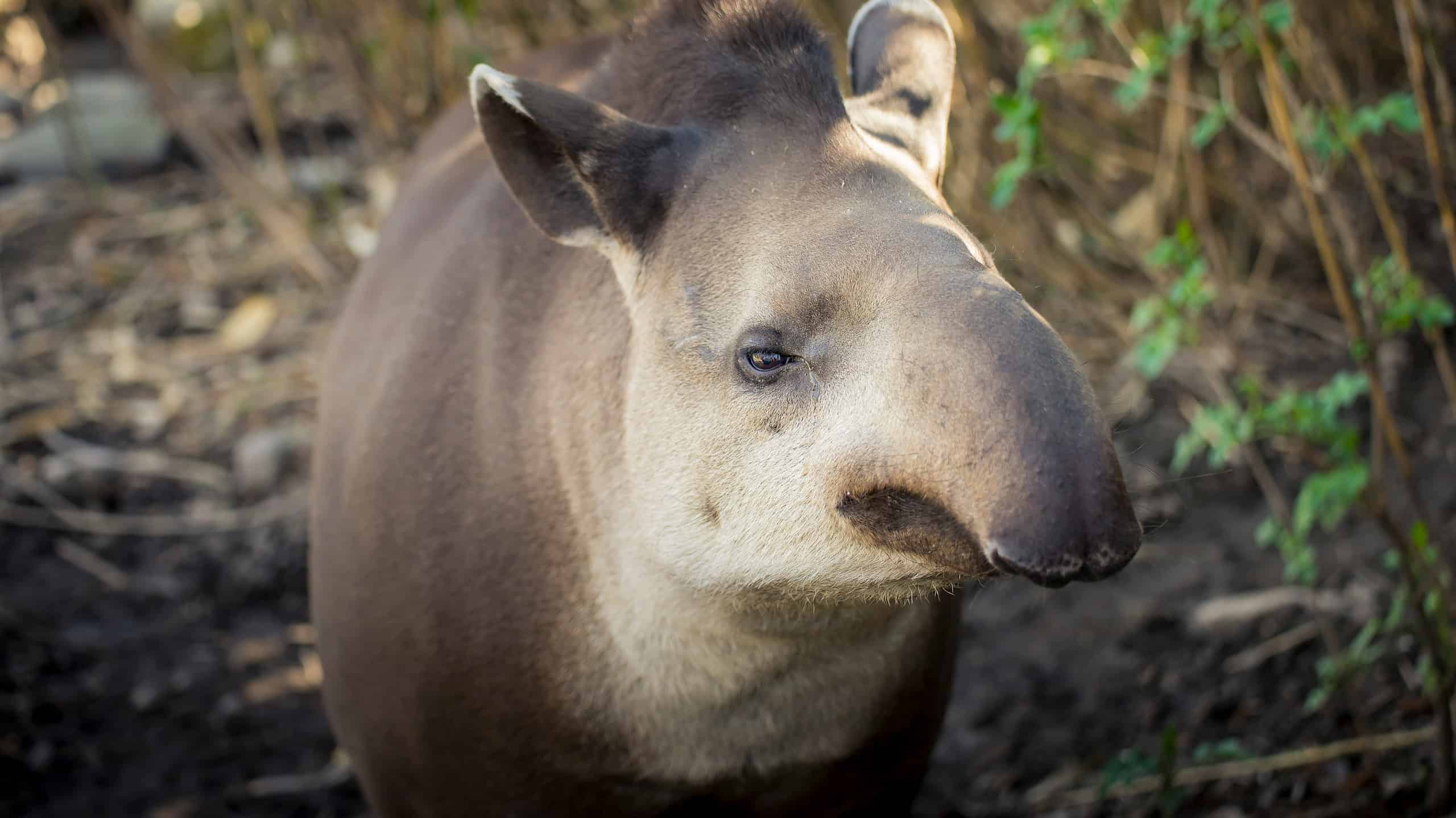 Baird's tapir. This animal resembles a a wild boar or rhino, but it weighs from 400 to 800 pounds and can be more than six feet long. It also can stand between two and four feet high at the shoulder. Its tough hide provides protection from most predators.
In general, modern Tapirs all have a long snout, known as a proboscis, that is omnidirectional. They use this flexible appendage to gather berries, fruits and other vegetation from all surrounding areas. Their mouth contains between 42 and 44 teeth that are largely flat to help grind plants and fruits.
Generally solitary creatures, they will gather in small groups, called candles, to procreate, and for social interaction. Babies, known as calves, remain with their mothers until they reach six to eight months of age.
Ecuadorian Countries Animals Lists
Click any of the countries below to see a detailed list of animals located in that country!
Ecuadorian Animals
Ecuadorian Animals List
Animals in Ecuador FAQs (Frequently Asked Questions) 
What kind of animals live in Ecuador?
The number of animal species that live in Ecuador is too numerous to list, but the diversity of its wildlife is amazing. The country has 15 percent of all the known species of birds in the world. There are 6000 kinds of butterfly alone, 317 types of mammals, 459 species of reptile, and over 580 species of amphibian, including poison dart and glass frogs. There are 450 species of freshwater fish, including the notorious piranha and the somewhat rare pirarucu, a man-sized, predatory, air-breathing guppy, several kinds of catfish, and the peacock-eye stingray. There are at least 100,000 species of insects besides butterflies, including grasshoppers, mantids, crickets, leafhoppers, and lantern bugs. Spiders include tarantulas and black widows.
What dangerous animals live in Ecuador?
Dangerous animals include venomous snakes, jaguars, crocodiles, black widow spiders, and poison dart frogs. Bullet ants, found in the rainforest, are notorious for a sting so terrible that the agony doesn't stop for up to 24 hours. If a person enters the Pacific Ocean, dangers there include hammerhead, great white and Galapagos sharks, and the Pacific man o'war, a colony animal that looks like a jellyfish. All are dangerous to people.
Are there jaguars in Ecuador?
The jaguar does indeed live in Ecuador, but its status is near threatened. This is a large wild cat that resembles the leopard but is bigger and more muscular. It lives in a variety of habitats, including rainforests, wetlands, and grasslands.
What animals live in the Ecuador rainforest?
Animals that live in the Ecuadoran rainforest include frogs, toads, jaguars and ocelots. Other rainforest denizens are the enormous huntsman spider, the two-toed sloth, tapirs and the Southern, naked-tailed armadillo. There are primates, including capuchin and squirrel monkeys, species of tamarins and marmosets and rodents such as the pacarana. Birds of the Ecuador rainforest include hummingbirds, the grey-winged trumpeter and the Andean pygmy owl. The exotic and gorgeous butterflies include semicherry-bordered metalmarks; the Ecuadorian Heliconian, which is found only in Ecuador; the Ecuadorian lipstick-skipper and different types of morpho.