Below you can find a complete list of Nepalese animals. We currently track 263 animals in Nepal and are adding more every day!
Nepal is an Asian country that borders Tibet on one side and India on the other. The climate ranges from subtropical forests in the lowland Tarai valley to ice and snow on the Himalayan mountains. This small country is home to eight of the tallest mountains in the world. Nepal's native animals include the Bengal fox, Bengal tiger, snow leopard, wild ox, many species of deer, the Himalayan tahr, yak, and blue sheep.
National Animal of Nepal
Nepal's national animal is the cow. Cows may roam free in the country, and it is illegal to mistreat or kill one in accordance with the country's national religion of Hinduism. For Nepali Hindus, the cow is the holiest animal and an embodiment of mother Earth. Every year there is a three-day-long festival dedicated to celebrating cows called Tihar, though bovines are venerated year-round.
Although not a national animal, the yak is key to the survival of Nepali people who live in the mountains. These shaggy, cow-like animals thrive at high altitudes and are important sources of milk, butter, and dung. Without the help of the resilient yak, it would be impossible for local sherpas to brave the treacherous trails of the high Himalayas.
Where To Find The Top Wildlife in Nepal
Some of the best places to see wild animals are the country's national parks.
Sagarmatha National Park is a UNESCO World Heritage Site that includes Mt. Everest. It is home to rare wildlife like the Himalayan tahr, goral, musk deer, and serow.
Bardiya National Park is a protected area where you can spot rare, exotic animals like the wild elephant, one-horned rhinoceros, blackbuck, swamp deer, gharial crocodile, and the Ganges River dolphin. It also protects more than 200 endangered bird species.
Rolwaling Valley Sanctuary is a protected area for yaks. It's also a grazing area for wild cows, wild sheep, and other wildlife.
Shey Phoksundo National Park is the largest national park in Nepal. From the breathtaking height of 11,850 feet above sea level, you can experience the gorgeous serenity of Phoksundo lake which boasts the highest waterfall in Nepal. Snow leopards, Himalayan tahr, and rhesus monkeys are some of the wildlife you can find in this park.
Most Dangerous Animals In Nepal
To adapt to the harsh, freezing conditions of Nepal, many creatures have developed deadly traits to ward off predators. Others are simply possessed of an impressive amount of physical strength, or have sharpened appendages like claws, tusks or fang-like teeth that cause fear to fill the hearts of those who encounter them.
Nepal is home to many dangerous snakes, including the king cobra, the Himalayan krait, and the green pit viper. Other dangerous animals that live in Nepal include the Bengal tiger, Tibetan wolf, Snow Leopard, and marsh mugger crocodile.
The Largest Animal in Nepal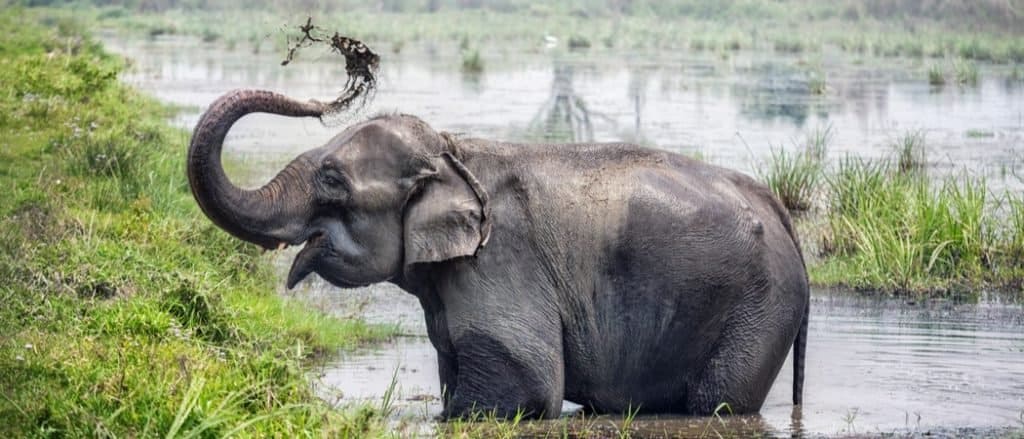 With the gargantuan measurements of up to 10 ft in height and 11,000 lbs in weight, the Indian elephant is the largest creature in Nepal. The local relationship with these gentle giants is one fraught with paradox. Due to years of poaching and destruction of their natural habitat from the expansion of human populations, the Indian elephant's population has dwindled down to fewer than 200 individuals in the Nepali wild.
Efforts to conserve the species have been met with concerns from native farmers who can experience millions of rupees worth of damage to their crops from these elephants every year. When agitated, these creatures can also inflict serious harm on humans who are caught in the path of their frenzy. Though they may be a nuisance to many Nepali farmers, efforts to protect these well meaning pachyderms are actively enforced by the local government.
Endangered and Extinct Animals in Nepal
For a small, but immensely biodiverse country like Nepal, it is difficult to maintain an ecological balance between the native species and the humans who live there, as there is simply not much livable space to go around. This is why conservational efforts like the establishment of National Parks and protective legislature for endangered species is vital to the survival of some of nature's most beautiful and unique forms of life.
Nepal's endangered animals include the Indian rhino, which is also known as the greater one-horned rhinoceros or great Indian rhinoceros. Once widespread in Asia, the rhino is now almost extinct.
Other endangered animals in Nepal are the red panda, Bengal tiger, musk deer, Chinese and Indian pangolin, great hornbill, and snow leopard. Extinct animals include the pygmy hog and Tibetan antelope.
Nepal's diverse ecosystems are home to rare, exotic wildlife you won't see anywhere else, set amidst the vibrant, breathtaking majesty of the Himalayan mountains. The best place to see them is one of the country's many national parks.
What is the Rarest Animal in Nepal?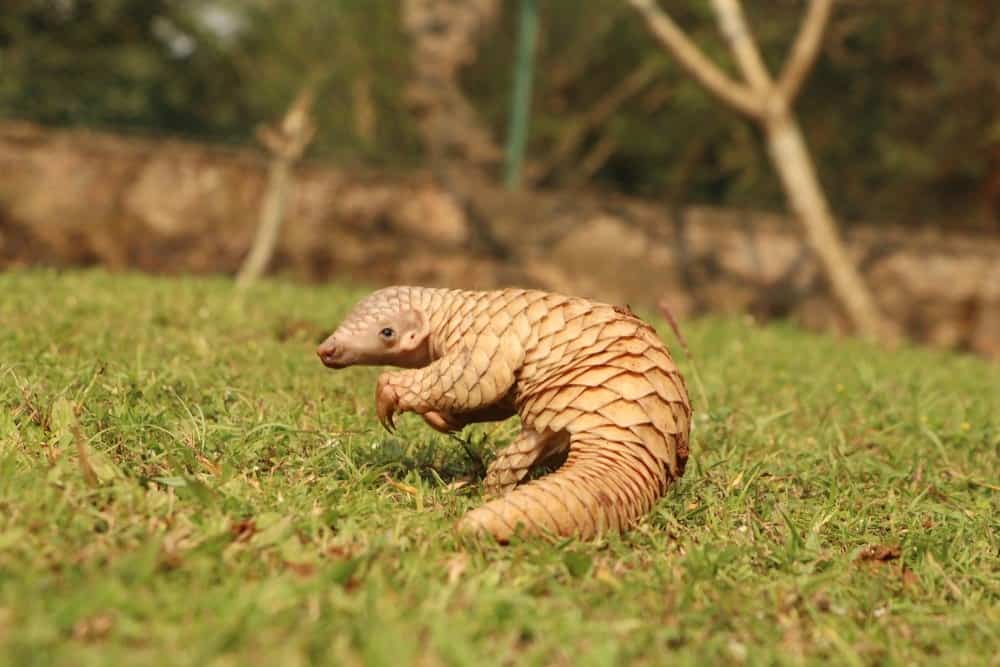 Pangolins are one of the most unique animals in the world. These cute, shy creatures are the only living mammal with scales. Unfortunately this feature has led the pangolin to be highly sought after in traditional Chinese medicine, leading them to become the most heavily trafficked animal on Earth.
Due to it's key position at the border of China where pangolin trade is at it's most rampant, Nepal is also a hot spot for poaching these extremely endangered animals. There are no definite statistics on how many Indian pangolins remain in the wild in Nepal, but the local government is taking measures to revitalize and protect these creatures at all costs.
Nepalese Animals
Nepalese Animals List