Below you can find a complete list of Korean animals. We currently track 234 animals in South Korea and are adding more every day!
South Korea is a small country located in East Asia. Bounded on three sides by the sea, it also shares a long land border with the formerly unified country of North Korea. Beyond the dense cities, the countryside teems with unique wildlife. Approximately 70% of the country is covered by hills and mountains, including the three largest ranges of Taebaek, Sobaek, and Jiri Massif. The remaining landmass is covered by grassland, wetland, and forest biomes.
©iStock.com/kamponwarit
Once farmland, the region between South and North Korea (DMZ) has remained untouched since the end of hostilities and has reverted to an almost pristine state to create a refuge for wildlife. In addition to forests, the area includes wetlands and estuaries frequented by migratory birds. Hundreds of bird species enjoy the sanctuary – among them several endangered cranes. Asiatic black bears, lynxes, and other mammals also inhabit the region.
The Official National (State) Animal of South Korea
The Siberian tiger is the official national animal of South Korea. An important historical and cultural symbol, the tiger, unfortunately, hasn't existed in Korea since the early 20th century. The animal, once a very real presence in the mountains and valleys, vanished in the 1940s after being hunted to extinction.
©Robert Ang/Shutterstock.com
In addition, the Korean magpie is the national bird of South Korea. A relative of the crow, the magpie is a symbol of luck and good fortune. It also served a similar mythological purpose as the tooth fairy.
Where to Find the Top Wild Animals in South Korea
South Korea has more than 20 beautiful national parks across the country's rich biomes. They still contain plenty of undisturbed wild animals for visitors to experience and explore. Here's just a small list of them.
©iStock.com/Rixipix
The Most Dangerous Animals in South Korea Today
South Korea is relatively free of large carnivores that may pose a danger to people. But a few venomous insects and snakes can still be found throughout the country.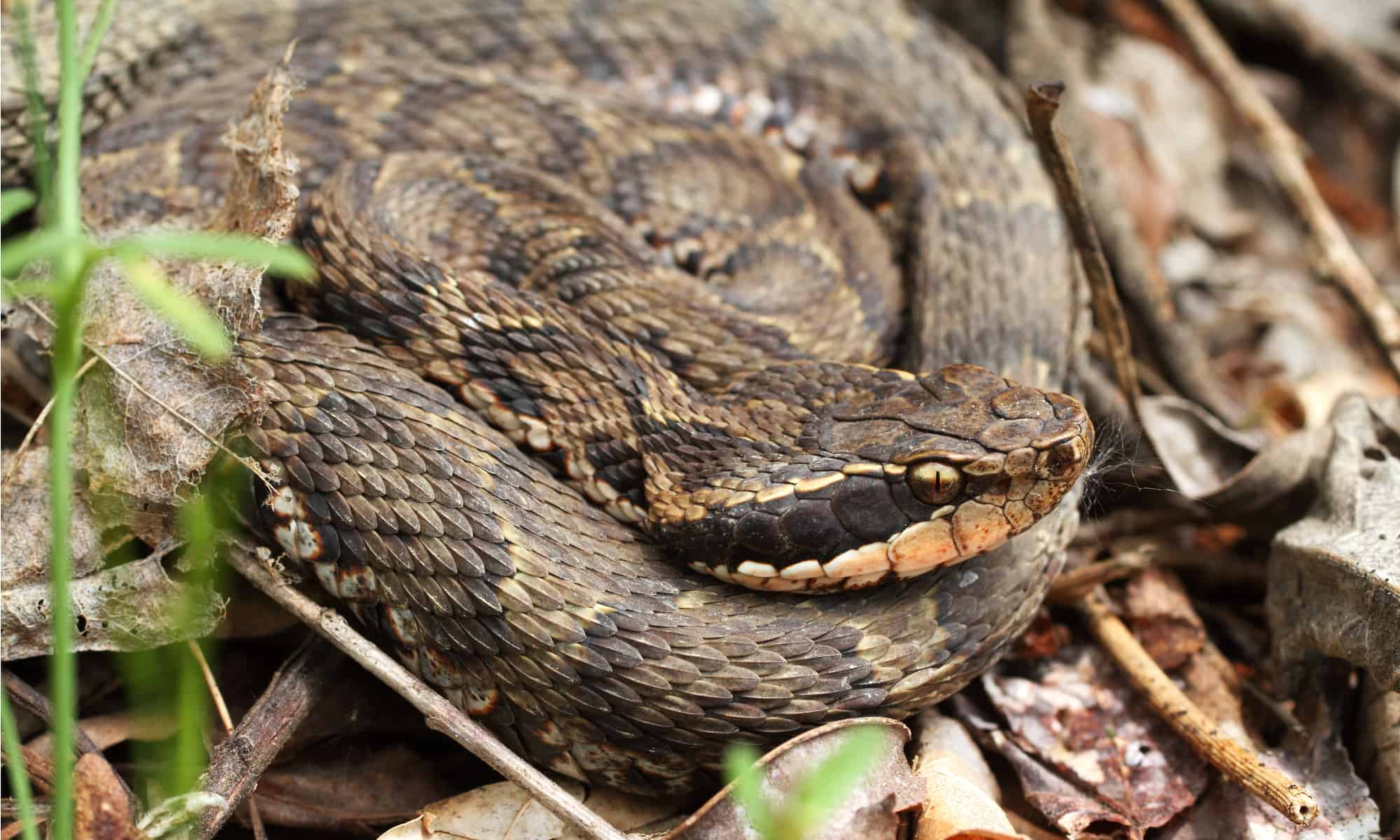 Asian Giant Hornet – Having gained notoriety worldwide as the "murder hornet," the Asian giant hornet can deliver a painful neurotoxin. While a single hornet cannot produce these toxins in sufficient quantities to kill a human, multiple stings can be life-threatening to non-allergic people in very rare circumstances. The threat is multiplied in people with allergies. Fortunately, only a handful of people die every year from their stings.
Japanese Pit Viper – Also known as the mamushi, this snake is native to China, Japan, and Korea. Death is relatively rare, but it can deliver a painful toxin that may require a week of treatment in the hospital.
Yellow-bellied Sea Snake – Located throughout the entire Indo-Pacific region, the yellow-bellied sea snake has a highly potent toxin that may cause muscle pain, stiffness, vomiting, and drowsiness. In very rare cases, it can lead to paralysis and death. Anyone bitten by this species needs to seek immediate medical attention.
Largest Animal in South Korea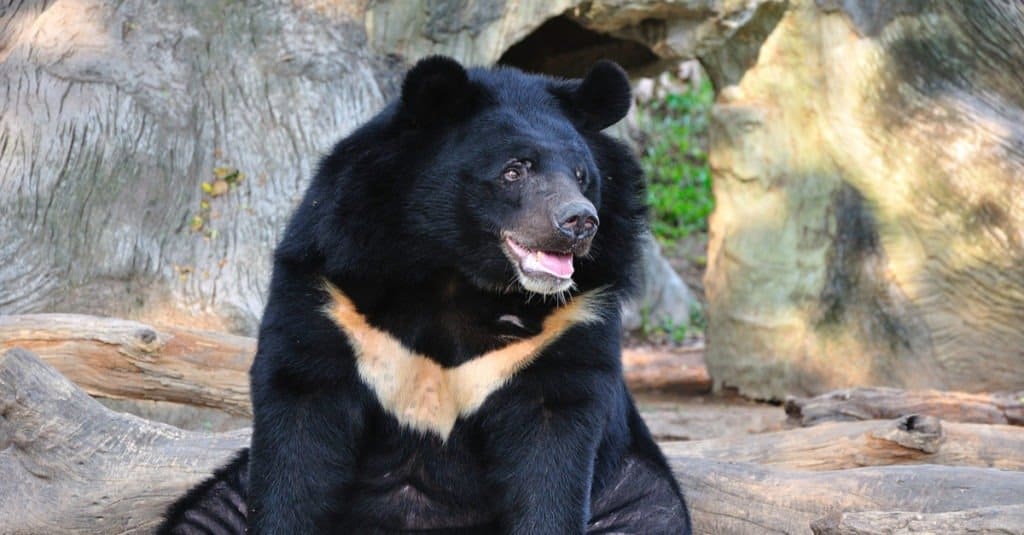 The Asiatic black bear, also known as the moon bear, is native to South Korean forested hills and mountains and can be found throughout Asia. This bear has a glossy black coat with a light-colored marking shaped like a crescent moon on its chest. Its long neck and shoulder hair looks like a cropped mane.
This omnivorous bear eats insects, fruit, nuts, bees and honey, small mammals, birds, and carrion. An adult male weighs 100-200 kg (220 – 440 pounds) while females are half that size. Asiatic black bears live as long as 25 years in the wild and up to 39 years in captivity.
Excellent climbers, these bears will climb trees to feed, rest, sun, and elude enemies. Half of their life is spent in trees and they are one of the largest arboreal mammals. The Asiatic black bear is classified as a vulnerable species, due to the loss of habitat from logging and from hunting. The bear's gallbladder and bile are highly valued for use in traditional Asian medicines.
The Rarest Animal in South Korea
The Amur leopard is not only one of the rarest animals in South Korea – it is also the world's rarest big cat. There are under 100 of these magnificent animals left in the entire world – with the majority in Russia after conservation efforts there have increased.
Strong and nimble-footed, Amur leopards are able to tackle prey up to 10 times their own weight (100 lbs) and carry it high in trees to keep it from other predators. Like other leopards, they can run at speeds of up to 37 mph and leap more than 19 feet horizontally and 10 feet vertically.
Adapted to living in cold, harsh forests, the coats of this leopard are paler than most subspecies – with large, dark, widely spaced rosettes with thick unbroken rings. Amur leopard fur can grow to 7 centimeters in length during the cold winter months.
The beautiful coat of the Amur leopard has led to its critically endangered status, as they have been poached heavily. Loss of habitat and scarcity of food are other factors. The leopard's prey, roe deer, sika deer, and hare are hunted by local communities for food.
Endangered Animals in South Korea
While South Korea has made strides to protect its wildlife, many of its large carnivores have dwindled or become completely extinct from the country.
South Korea's Flag
South Korea's flag features a white background, with a round symbol in the center. This symbol, called a Taegeuk, dates back to Chinese Taiji. It is reminiscent of the concept of yin and yang, or polarities. The red and blue colors represent land and sky, respectively. A trigram sits in each of the flag's four corners. Trigrams come from bagua in Taoist philosophy, and they represent worldly elements working together to achieve balance.
The color white is seen as a traditional color in Korean culture, commonly used in daily clothing in the 19th century. The white background represents purity and peace.
Korean Animals
Korean Animals List
Animals in South Korea FAQs (Frequently Asked Questions)
What animals live in South Korea?
South Korea is home to many types of wild deer, weasels, seals, bats, rodents, snakes, insects, freshwater fish, and marine animals. Dolphins and whales are particularly common off the coast of South Korea.
What animal is South Korea famous for?
The magpie, Asian hornet, and black bear are perhaps some of the best known species that still inhabits the country. While the Siberian tiger is sometimes associated with South Korea, this endangered species is no longer found in the country.
Are there any dangerous animals in South Korea?
South Korea has several dangerous and venomous species that may cause several deaths every year.
Are there tigers in South Korea?
South Korea was once home to the Siberian tiger as recently as the early 20th century. But the combined effect of habitat loss and hunting has almost eradicated the tiger from the entire peninsula.
Are there monkeys in South Korea?
South Korea does not have any native monkey species, even though nearby China and Japan both have some.